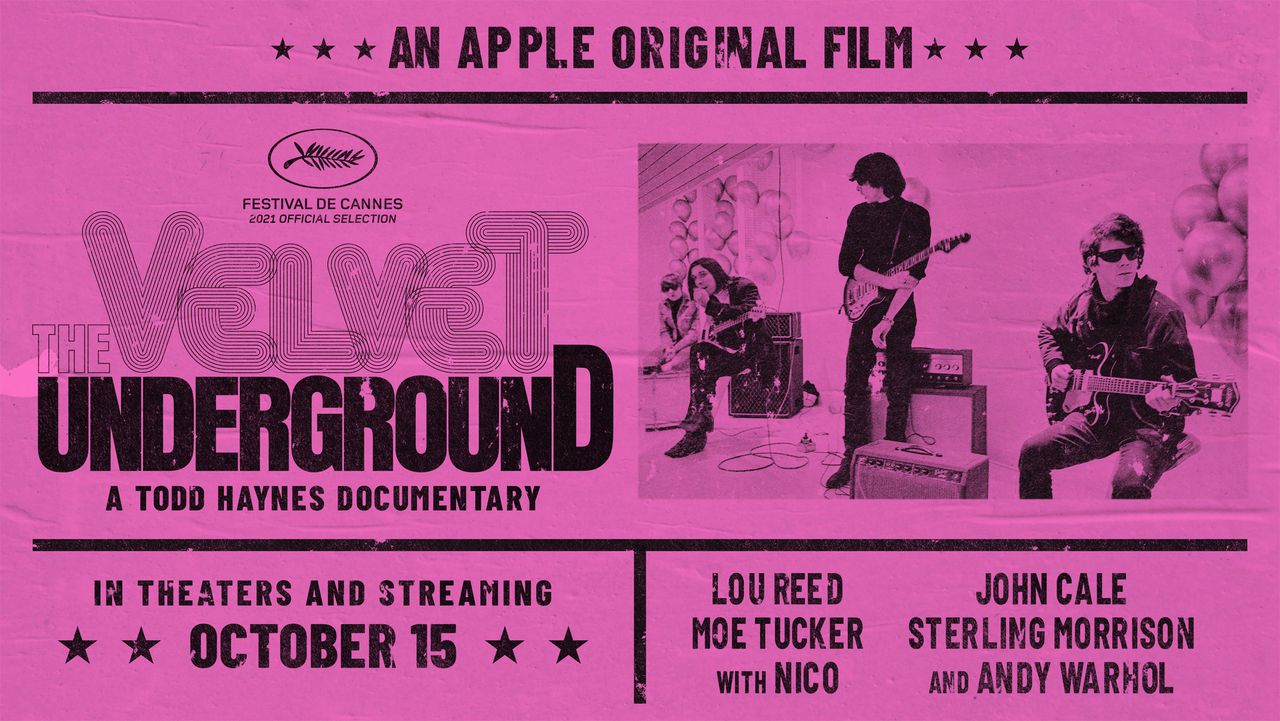 (Todd Haynes turns his lens towards the indelible Velvet Underground in the doc, The Velvet Underground which is in theaters as well as streaming today on Apple TV. Like what you see here on Hammer to Nail? Why not give just $1.00 per month via Patreon to help keep us going?)
When your subject-matter is as kinetic as the Exploding Plastic Inevitable, Danny Williams' and Andy Warhol's inspired collision of light and sound, how do you effectively represent that kaleidoscopic cacophony on the screen? A cinematic kludge, perhaps, of cleverly assembled odds-and-ends. An unconventional musical group requires an unconventional tale-telling, no doubt.
I cannot be more thankful that this documentary exists at all.
With a title simply as-is — no subtitle to further clarify, just the name-of-the-band-from-the-title-of-a-book alone — the implication is that this is a complete history of the Velvet Underground. It is, to a point. Then, once pivotal members disappear from the group and it all changes shape into something more musically pedestrian, the film stops progressing with the chronology. It is said that a mere few-thousand folks bought the first VU album when it was released but that all of them started their own bands. Obviously, neither of those things are true and yet, like sardonic humor, there is a bit of truth hidden within Brian Eno's oft-quoted remark, nonetheless. [For instance, the Buzzcocks were supposedly formed due to a mutual affinity for one of the Velvet's songs.]
It is also said that films should primarily be seen in a cinema-setting. That certainly isn't true of most movies these days which do far too little with the extraordinary tools available to them (and particularly many documentaries with their flat, made-for-television dimensions) and yet this one would definitely benefit from being seen on the "big screen" — and, ideally, the biggest screen available — since the frame is intermittently halved or quartered throughout its nearly two-hour duration. 
On paper, an iconoclastic and influential director is the ideal choice for a documentary about one of the most iconoclastic and influential bands of all-time. It cannot lose! True to form, The Velvet Underground (the film) plays to Todd Haynes' — and the band's — many strengths (despite occasionally succumbing to a few first-time non-fiction filmmaker foibles). The 'maker of Safe takes the unsafe route with The Velvet Underground's plentiful imagery and apt assemblage of assorted recordings throughout the band's divergent career.
[In the beginning…]
First, they were the Primitives (later the name of an entirely different band). Then they were the Warlocks (also a pre-fame name for the Grateful Dead). Thereafter, they were even known for a brief moment as the Falling Spikes. Lou Reed, from the start, was somewhat of the "Dylan school": a fantastic poet and clever songwriter with a voice that could be considered an acquired taste. Sterling Morrison was a college friend of Reed's and they paired-up post-Primitives. John Cale had initially collaborated with Reed on the recording of the single "The Ostrich"; he and Angus MacLise first met in the Theatre of Eternal Music. Tony Conrad, late-great filmmaker and musician (and past-member of ToEM) allegedly found a copy of the "Velvet Underground" book tossed on the street. MacLise suggested that this evocative title should be the name of the band and that was that. As VU began to receive some nominal success with a booking at a New Jersey high school (opening for the largely forgotten Myddle Class), Angus MacLise decided that the band was "selling-out." He was replaced by Mo Tucker in 1965 (although MacLise later, briefly, rejoined when Lou Reed was out while recovering from hepatitis).
This improbable show at Summit High School is wonderfully rendered in Robert Pietri's and Anthony Jannelli's The Velvet Underground Played at My High School (2017). In an ideal world, the documentary and the short would be paired together. 
I digress.
Their persistently transgressive lyrics opens of a doorway in the film to an intermittent fixation on Lou Reed as a gender-fluid revolutionary. I am all there for that (even if it doesn't quite place his casual bisexuality in the context of everything else happening in the late-'60s / early-'70s). The queering of VU is appropriate enough for a group with a name associated with paraphilia, sado-masochism and so-called sexual deviancy. "Venus in Furs" is that all over. 
However, in a band with as many different line-ups as there were studio releases, it is worthwhile to dive into each one individually.
[By the numbers…]
The first record (1967) gets the majority of the screen-time, understandably. It is a remarkable album, no doubt, although it feels somewhat like a compilation record in-between the trio of tracks Nico leads and the others sung by Lou Reed. These songs exist on collections and bootlegs in a number of pre- and post-Nico permutations and the superiority of the songwriting comes through regardless of the instrumentation. [One of the earliest Velvets-attributed recordings appeared on a flexidisc in an issue of Aspen Magazine (despite the slight detail that "Loop" was largely a John Cale solo piece) although that oddity gets no mention in the film.]
The second album (1968) gets slightly less coverage although it is arguably their greatest record, fully free of inhibitions and cares. Admittedly, I still have issues with a few of the questionable lyrics in "Sister Ray" but "Here She Comes Now" and "Lady Godiva's Operation" and the title-track ("White Light / White Heat") are some of the finest songs ever written.
Third, self-titled (1969), also grand, sans Cale (who was forced out of the band at the end of the previous year), gets discussed largely in that temperamental context. Many of their best songs — "Beginning to See the Light," "What Goes On" and "Some Kind of Love" amongst them (although some might otherwise gravitate to "Candy Says" and "Pale Blue Eyes" instead) — makes this immensely listenable but not as out-there as their sophomore release.
Their fourth (1970), "Loaded" with hits, is referenced in large part for the notable "Sweet Jane" and "Rock & Roll" and a handful of other tunes, making it clear that Lou Reed wrote-and-recorded another collection of terrific tracks and then departed the band after an extended series of shows at Max's Kansas City—from which a justifiably celebrated live record was culled, i.e. "Live at Max's Kansas City" — before "Loaded" was even released. Sterling Morrison left after touring to promote the record the following year.
The fifth studio LP (1973), "Squeeze" isn't mentioned in the film at all. Released under the banner of the Velvets although it is ultimately a Doug Yule solo record with a bunch of session-musicians (since his request to have Moe Tucker and the other latter-day Velvets — Walter Powers and Willie Alexander — perform on the recordings was rejected by then-manager Steve Sesnick).
[Delighted to discover in the process of revisiting these details that they recorded "Ride Into the Sun" on my birthday. Another digression.]
Fast-and-loose with some of these historical details, one could only wish that this immensely appreciated  and enjoyable documentary had been made two decades earlier while Sterling Morrison was still alive or even a decade ago while Lou Reed was still with us. However, Doug Yule is still around, living in Seattle and largely absent from the telling (although he was the last Velvet standing). This is completely understandable, I wager, since the reunion in 1993 and their induction in the Rock and Roll Hall of Fame in 1996 excluded him, too. John Cale's marriage to Betsey Johnson (only five months prior to his leaving VU), a wedding which Nico and Warhol and the band-members attended? Unmentioned. Cale ultimately produced (or co-produced) Nico's first four solo records and performed on Nick Drake's second album among numerous other notable achievements over his many decades in the business. All mostly unnoted. Even his fantastic post-VU solo LPs are merely glimpsed in a collage and given short-shrift. Fine, of course. This isn't about him. No reference either of Billy Yule, Doug's brother, who subbed for Mo Tucker when she was pregnant. The joint Cale / Reed "Songs for Drella" and the reunion shows and subsequent live album in the 1990s gets a scant nod. They opened for U2! Better forgotten. No mention either of the final song they wrote together, "Last Night I Said Goodnight to My Friend" (in memory of Sterling Morrison).
These are all arguably minor quibbles in an otherwise swell ride. A potentially ideal alternative approach — since the four (actually five) LPs are all rather different from one another — might be a shifting visual approach for each period. Or, stated differently, once Andy Warhol is out of the picture, it might be practical to stop using the "Screen Tests" (although they're so perfectly utilized to introduce Lou Reed, John Cale and others that it is difficult not to keep returning to them over and over again).
In fact, the immersive, un-scattershot-but-calculatedly-constructed effect of filmic excerpts by Pat O'Neill and other legendary filmmakers of the era makes the sum nearly as grand as its extraordinary parts. We even get a glimpse of Maya Deren and the mirrored specter, a la "I'll Be Your Mirror," and that makes the whole affair a decidedly experimental approach from beginning-to-end, interrupted occasionally by exceptional behind-the-scenes material such as The Making of an Underground Film for CBS News (with Barbara Rubin and the band). Editors Affonso Gonçalves and Adam Kurnitz have truly done double-duty although the controlled chaos never quite knows when to rest. Those moments of calm come whenever Ed Lachmann's subtle take on the talking-head interview melds terrifically with the ample archival footage and avant-garde films-a-plenty. As Lachmann has stated elsewhere, "Todd's brilliant at approaching each film in the language that he finds necessitates the story." So it goes.
Granted, you cannot have it all. It isn't particularly useful to criticize what the film isn't but fair-game to praise what it is. In addition to Cale and Tucker (and Reed and Morrison, posthumously) and an assortment of friends and family, we get Mary Woronov, who is still as lovely and charming as ever. We see scenes of Edie Sedgwick and Holly Woodlawn — the apocryphal Holly of "Walk on the Wild Side" — in snippets from Factory films (which is never tiresome). We see and hear the venerable La Monte Young and Marian Zazeela in a relatively recent interview discussing the earliest of early days. Best of all, we have Jonathan Richman. I could easily watch an entire documentary of him discussing the numerous Velvets shows he attended. That and the infrequent strum of an acoustic guitar and nothing more.
—  Jonathan Marlow (@aliasMarlow)
Apple Documentaries; Todd Haynes; The Velvet Underground documentary film review