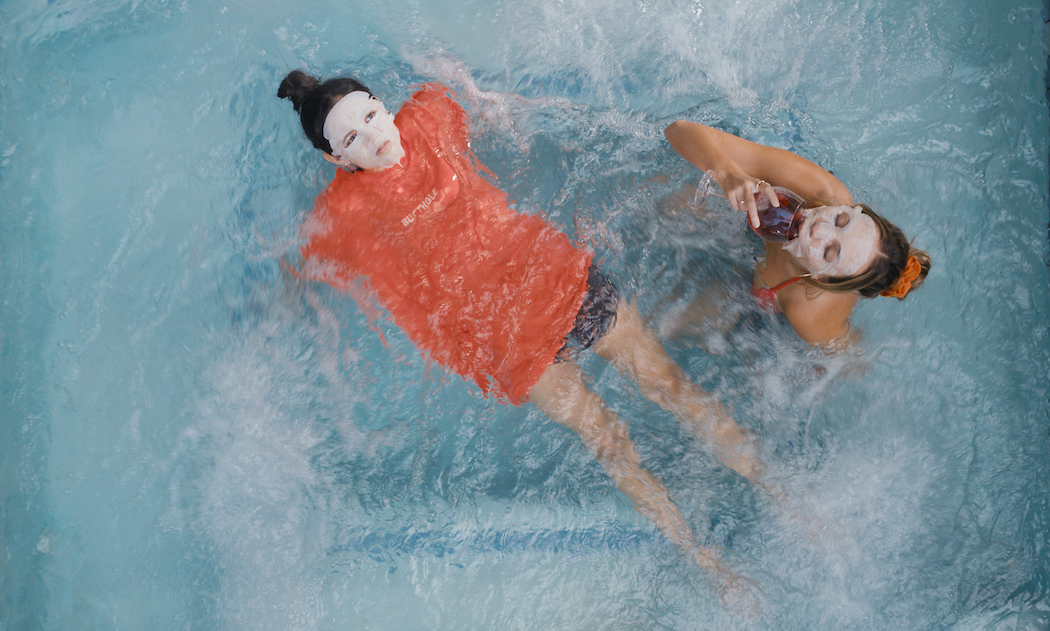 (The 2021 SXSW Film Festival kicks off March 16 and runs through the 20th, all online. Hammer to Nail has tons of coverage coming your way so stay tuned! Like what you see here on Hammer to Nail? Why not give just $1.00 per month via Patreon to help keep us going?)
By now, unfortunately, no one in America should be surprised by violent tragedies occurring in our nation's schools. In recent movies like And Then I Go and Us Kids (to name but two), shootings take center stage, documentary and fiction filmmakers exploring lead-ups to, and aftermaths of, the events. Childhood can be hard enough without the threat of death hanging over you. We have a problem in the United States that we refuse to address, at our own mortal peril. In her feature debut, The Fallout, actress-turned-director Megan Park (perhaps best known for her role as Grace Bowman on the ABC Family series The Secret Life of the American Teenager) examines how yet another high-school attack affects the lives of a small group of survivors. Stunningly photographed and filled with powerful performances from its mostly teen cast, the film is as much paean to resilience as elegy for lost innocence, and a must-see for all.
Jenna Ortega (Yes Day) plays 16-year-old Vada, happy enough at home and at school, a loving daughter and sweet older sister. Driving to class with her bestie, Nick (Will Ropp, The Way Back), she sings along with hip-hop blaring from the car stereo, happy-go-lucky like everyone should be. A good student, she nevertheless ducks out to the bathroom to field a call from younger sibling Amelia (Lumi Pollack), who needs advice. In the women's room, she runs into Mia (Maddie Ziegler, Music), a classmate who appears, on the outside, far more confident and assured. They share a smile, and then gunfire erupts in the hallway. Taking refuge in a stall, they are soon joined by Quinton (Niles Fitch, Miss Virginia), covered in blood but himself uninjured. Scared, they take comfort in each other's presence. 
From there, the movie explores the titular consequences, mixing quiet humor in with the grim urgency of the issues. For Vada and Mia, numbness best describes their slow burn of a reaction. Mere acquaintances before the shooting, they now spend more and more time together, only able to feel at ease when together. Quinton is an occasional part of their lives, but the bulk of the narrative focuses on the two young women. Vada's parents, played by Julie Bowen (ABC's Modern Family) and John Ortiz (Bumblebee), try their best to understand, but their understandable anxiousness does not help. Meanwhile, Amelia feels her sister's distance with increasing bewilderment.
Slowly, in fits and starts, central relationships evolve, Park never rushing the process of growth that is the narrative's vibrant appeal. Cinematographer Kristen Correll (also making her feature debut) delivers beautiful images, emphasizing extreme close-ups in moments of emotional reckoning. Correll's work, coupled with that of the actors, makes each scene resonate in the most visceral way possible, the director and her editor, Jennifer Lee (See You Yesterday), expertly weaving the parts together into a deeply affecting whole. The score, by FINNEAS, accompanies the alternatingly fraught and gentle drama with just the right note of perfect harmony, present without being obtrusive. 
Despite the central sorrow, life does go on, our protagonists coming of age via the usual experimentations with drugs, sex and alcohol. But that which is ordinary now harbors additional layers of meaning, each detail elevated by that which has passed. Even as Vada, Mia, Quinton and the rest heal, however, their recovery is fragile, for the next shooting may be just around the corner. It is, in fact, inevitable. One day, perhaps, the real-life stories that have inspired this and other movies may lead to change. For now, embrace the painful beauty of The Fallout, and hope the lesson sticks.
– Christopher Llewellyn Reed (@ChrisReedFilm)