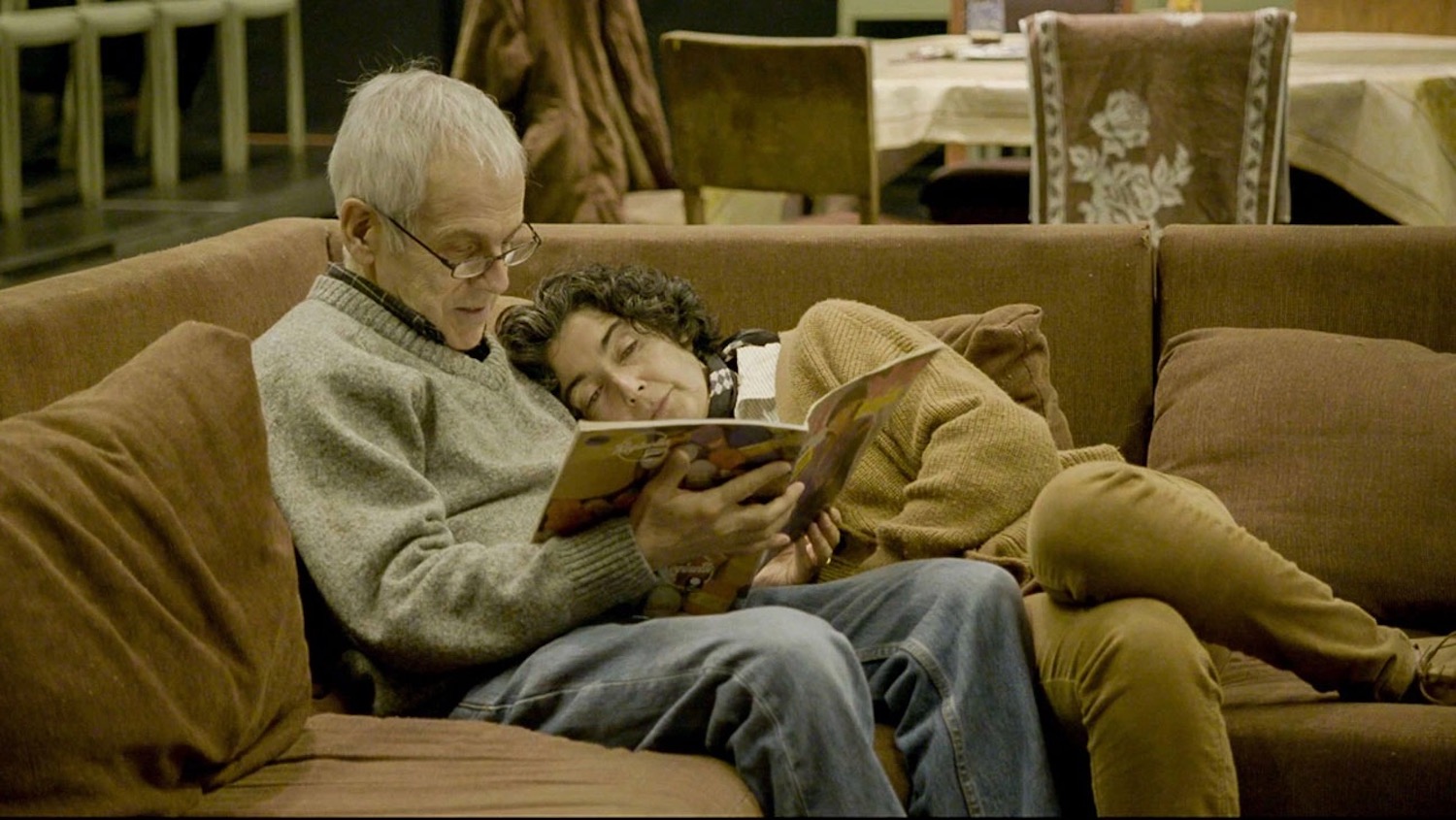 (Check out Chris Reed's The Eternal Memory movie review. It opens in NYC on Friday, August 11 before a nationwide roll-out. Seen it? Join the conversation with HtN on our Letterboxd Page.)
It is a reality of the human condition that each of us gets older at different rates, experiencing age-related physical and/or mental impairments according to circumstance and DNA. Anyone who has direct experience with Alzheimer's disease or dementia in a family member knows how hard it can be to watch the loss of memory and self over time (short or long). In her new documentary The Eternal Memory, Chilean filmmaker Maite Alberdi (The Mole Agent) explores this unsettling, but common, phenomenon in extreme proximity to the couple at its core.
The result is an intimate profile of joy and agony, snippets of a communal existence drifting away on the winds of deteriorating brain cells. Often the camera is the only witness, the director herself absent as the lucid spouse films herself and her husband in the everyday exercise of a life as beautiful as it is fraught. The film could just as well be entitled "the universal memory," for most of our species has been touched by something similar, though perhaps not all in such moving, closeup specificity.
Our protagonists are Paulina Urrutia and Augusto Góngora, she an actress and former government minister and he a retired broadcast journalist whose work during and after the Pinochet regime helped give voice to the oppressed. Paulina is the younger of the two; Augusto was married before and now has two adult children, whom Paulina helped raise. They have been together for over 20 years, though only married recently.
Over the course of four years, starting in 2018, Alberdi chronicles the ravages of Augusto's illness and the enormous efforts Paulina makes to take care of her husband while remaining an active artist. The captured images come frequently from Paulina's home recordings—and these are usually the emotionally rawest—but there is plenty from Alberdi and her crew, as well, accompanied by ample archival footage, whether of the couple's younger moments or their earlier professional work. By the end, the viewer emerges with a rich panoply of scenes to contemplate, each one building on the impact of what came before.
The thrust of the narrative returns, time and again, to the heartwarming, and now also heartbreaking, love that has always brought Paulina and Augusto together. Despite his increasing inability to recognize her, or his general surroundings, Augusto has enough recurring points of clarity to reward Paulina with his affection. Whatever he may forget, she still remembers. Ultimately, the film fulfills the promise of the title by documenting these points in time for, if not eternity, then at least many years to come. Given Augusto's death earlier this year, in May, eternity hopefully beckons.
Alberdi deserves especial praise for her editorial restraint, never overwhelming the visual with excessive score (just some recurring snippets of Beethoven's Pathétique Sonata and diegetic sounds) or wallowing in misery. She cuts between scenes of different tones, showing us the happy and sad in equal measure. Hers is the perfect approach, allowing the gentle unfolding of quotidian details to gather dramatic power. May we all be worthy of such poignant cinematic tribute.
– Christopher Llewellyn Reed (@ChrisReedFilm)
MTV Documentary Films; Maite Alberdi; The Eternal Memory documentary movie review