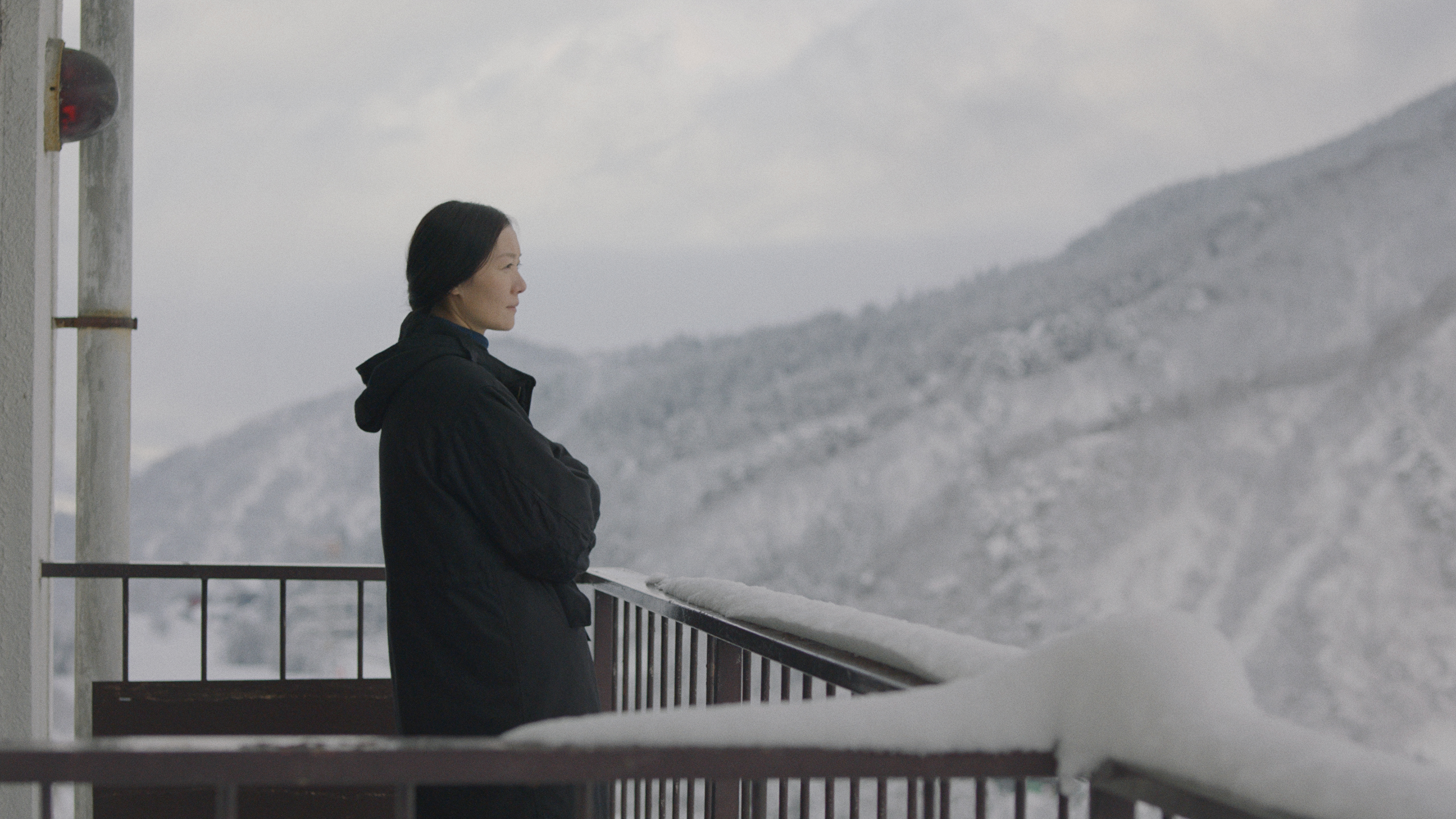 (The 2020 New York Film Festival (their 58th!) runs September 17-October 11. Like what you see here on Hammer to Nail? Why not give just $1.00 per month via Patreon to help keep us going?)
Lin Tong is a documentary director in the midst of a mild existential funk following the end of a long-term romantic relationship. When we first meet her, she is in Tokyo, Japan, having traveled there from her native Beijing, China, to present a film of hers in a gallery exhibit. While in the country, she spends time with a former mentor, travels north to Jōetsu for some wintery sightseeing, gorgeous snow and mountains surrounding her as she goes, then heads back home to move into a new place, alone. Before long, she is off again, this time to Hong Kong, after first paying visit to her aging parents, one of whom, her father, is ill. While in Hong Kong, she sees some friends, screens another (or the same) movie, this time in a lecture hall, and then returns to Beijing once more. By then, her father has improved, and even swims laps as she and her mother watch. All the while, wherever she may be, Lin spends long moments on her own, walking through the landscapes of nature and city, and where they intersect, carefully pondering what life next has to offer. Such is The Calming, the sophomore feature from director Song Fang (Memories Look at Me), a lovely, meditative ramble through mundane occurrences that, by the end, add up to something quite profound.
Two factors help with that cinematic alchemy: the performance of lead actress Qi Xi (The Whistleblower) and the images of cinematographer Lu Songye (Balloon), each of which works in perfect harmony the one with the other, Xi's face as much a canvas for Songye as the natural wonders seen from the trains in which Lin so frequently travels. In addition, director Fang has made the decision to use solely diegetic sound (i.e., sound from within the world of the movie), which further immerses us in the increasing layers of our protagonist's moods and thoughts. Though a Chinese film, the quiet stillness within its cinematic space recalls the work of the late Japanese master Yasujiro Ozu (though here the camera moves more, if not a lot), whose movies like Late Spring and Tokyo Story similarly explored the slow metaphysics of human thought and emotion. There may be (seemingly) little plot in The Calming, but that is but a superficial impression, for below the surface much is happening, just as it is with all of us in this collective experience of life on Earth.
We only ever catch glimpses of Lin's work, but we know that at least one of her movies takes place in a forest, based on the questions asked at a screening. We also gather that her films are challenging, if not downright amorphous in structure. Perhaps what we witness, then, is a fictional dramatization of one such documentary, the lens following Lin as both director and subject. Or the entire exercise is Song Fang's attempt to explore the often laborious process of creation. After all, she concludes with a shot of Lin writing at a desk, perhaps ready to move on to the next movie. Whatever the ultimate truth – Lin Tong's, Song Fang's, or ours – the net result is a poignant journey into the heart of the matter, wherever that may lie.
– Christopher Llewellyn Reed (@ChrisReedFilm)