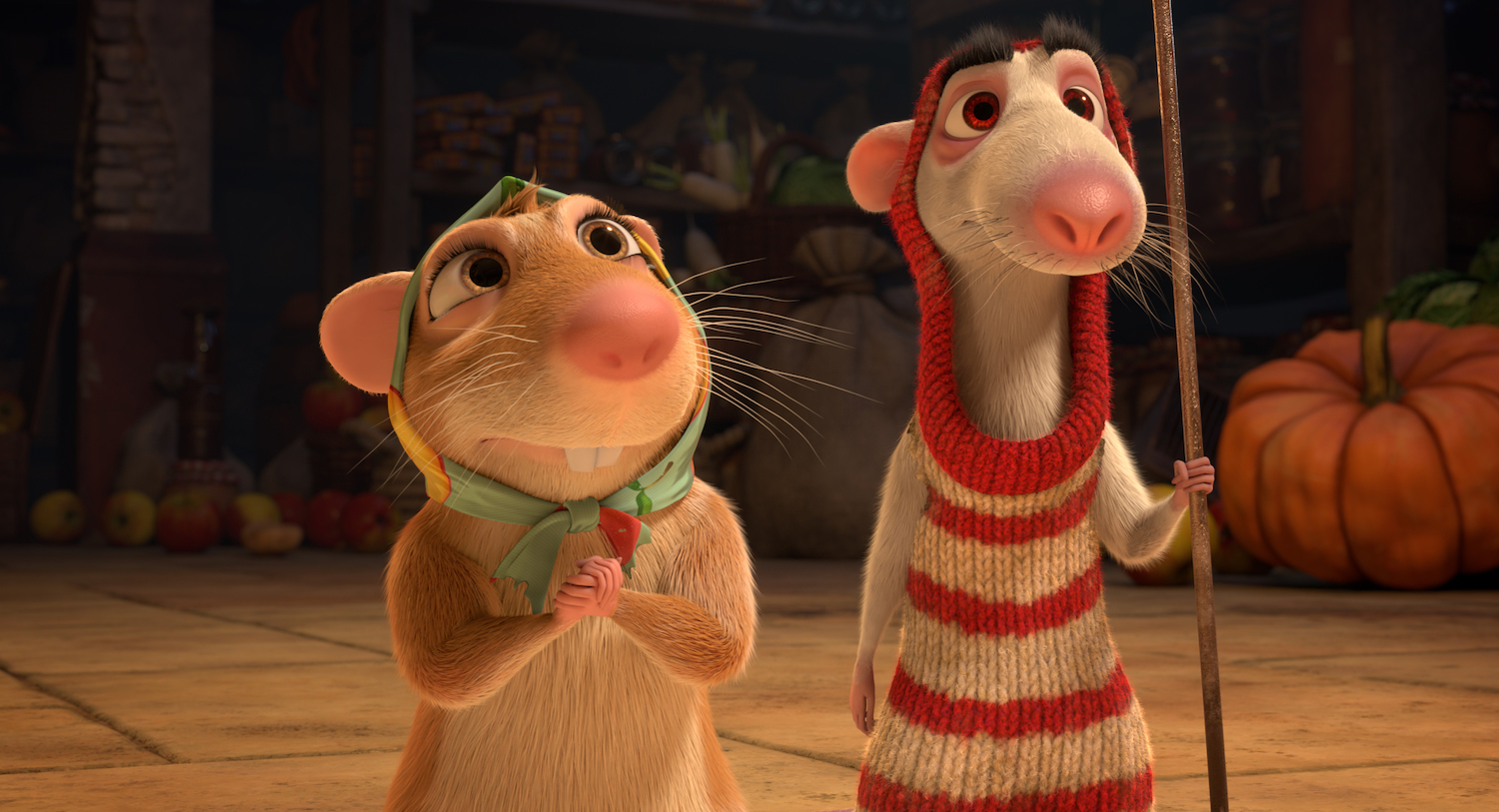 (The 2023 Sundance Film Festival takes place January 19-29 in and around Park City, UT and virtually. As always, Hammer to Nail has you covered with tons of movie reviews like Chris Reed's review of the film The Amazing Maurice. Seen it? Join the conversation with HtN on our Letterboxd Page.)
Fans of Terry Pratchett, rejoice! The Amazing Maurice is here, filled with all the wild world-building that is the late science-fiction and fantasy author's preserve. Based on his The Amazing Maurice and His Educated Rodents (part of the Discworld series), the movie is a delightful, peculiar take on fairy tales (including its direct riff on The Pied Piper of Hamelin), with a fussy feline and a merry band of rats front and center. There are some humans, too, and director Toby Genkel (Smelliville) and screenwriter Terry Rossio (Godzilla vs. Kong) make sure they're equally as bizarre. All in all, expect a twisted tale of courage and cowardice intertwined, served up with bright colors and sparkling animation (to match the wit, of course).
The cast is equally fine, headlined by Hugh Laurie (The Personal History of David Copperfield) as the titular character, with Emilia Clarke (Solo: A Star Wars Story), Himesh Patel (Yesterday), Gemma Arterton (Summerland), and the ever-engaging David Thewlis (Guest of Honour) playing often-equal parts in the drama. Clarke voices Malicia, a plucky young woman who both narrates and is part of the narrative ("Who says you can't do both?" she asks), driving the story forward with her relentless energy. She starts off with a selection from Mr Bunnsy Has an Adventure, a parody of Beatrix Potter that is not only in her library but also serves as inspiration to the rats keeping Maurice company.
About those rodents (and Maurice). It seems they all gained intelligence, consciousness, and the power of speech after eating trash from some sort of institute of magic. That's what happened to the rats, anyway. Maurice, it turns out, ate one of those rats and then was himself similarly affected. Horrors, no! Let's not dwell on the sordid past, however; for by now, Maurice and his little pals are collaborators, swindling unsuspecting villagers out of precious coin with the help of Keith (Patel), a human with a musical pipe, by pretending to infest and then clear an area of rats. All works well until they arrive in a town where there are neither rats nor food. Or so they think.
Before long, they discover that something horrifically nefarious is at work, testing their skills and brains. This is where Malicia enters the actual plot (she's the daughter of the mayor), and soon she and Keith are working together while the rats are off doing their own thing and Maurice is, well, occasionally helpful. Shenanigans are afoot, and I am more than here for them.
No matter the eventual high stakes for our protagonists, the movie remains family friendly at all times (it is in the "Kids" section of Sundance, after all). But this being a Pratchett adaptation, you know that his unique brand of idiosyncrasies will keep the sentiment at bay. A good time is had, most deviantly.
– Christopher Llewellyn Reed (@ChrisReedFilm)
2023 Sundance Film Festival; Terry Pratchett, Toby Genkel; The Amazing Maurice movie review