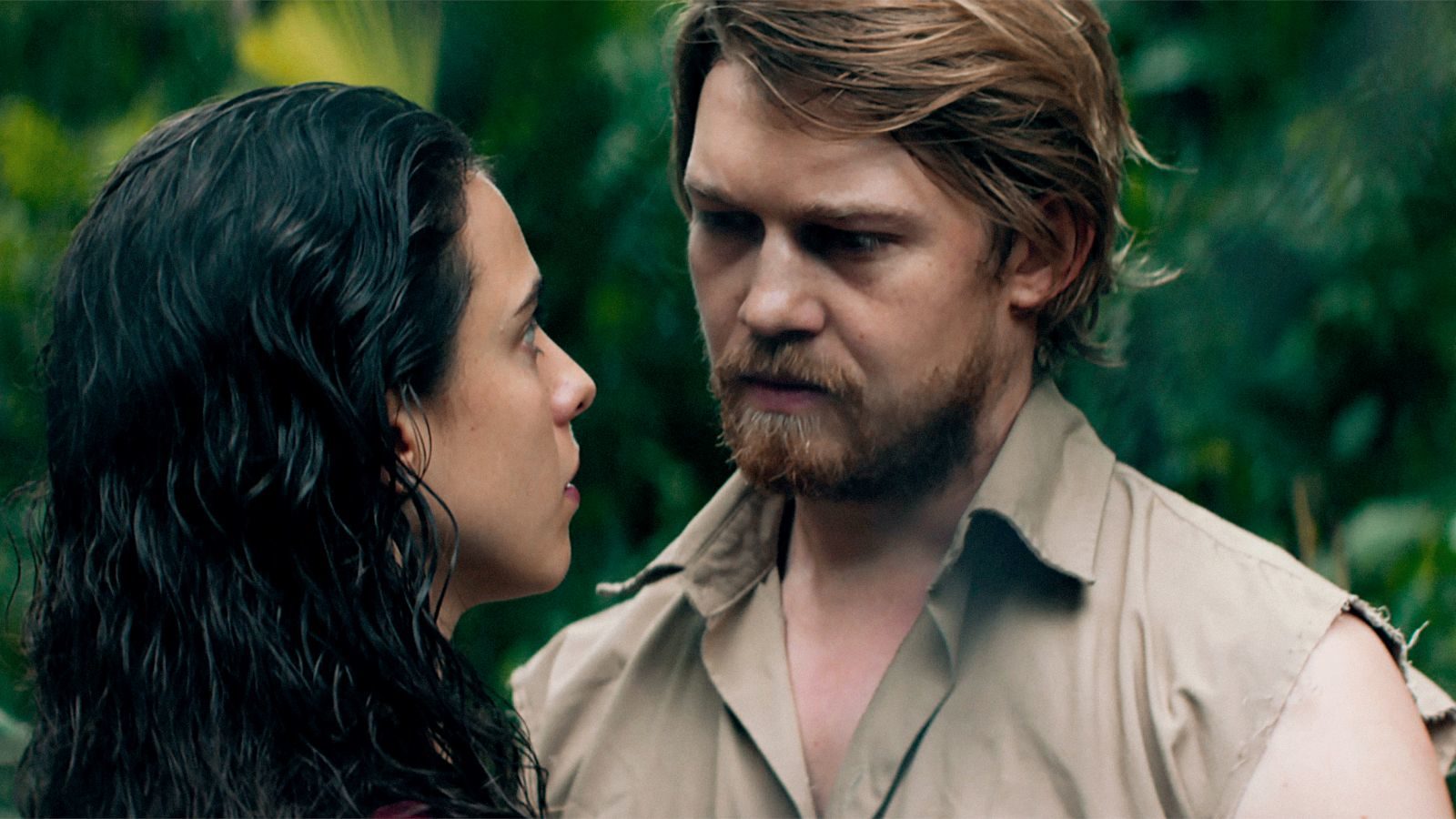 (Check out Jack Schenker's movie review of Stars at Noon the latest from Claire Denis. The film is in select theaters now as well as on VOD. Seen it? Join the conversation with HtN on our Letterboxd Page.)
Claire Denis' Stars at Noon is a unique, sexually driven and often funny film from a master auteur. Though some critics view Stars at Noon as an almost incoherent slog, I like to think Denis was playing Jazz with her characters. At one point, after sex, Margaret Qualley says to Joe Alwyn "you are so white, fucking you is like fucking a cloud…or a mist." It's dialogue and moments like this that make the film a memorable watch.
The film follows a journalist named Trish (Qualley) who is stranded in Nicaragua without a passport. She comes across Daniel (Alwyn), a mysterious businessman. After hooking up, the two begin to fall in love. At first, Trish thinks Daniel could be a way out for her, but as it turns out Daniel is in a lot of danger. The script has a lot on its mind but none of it really comes to fruition. These two white characters clashing with the local environment creates an interesting backdrop for the film. Denis seems to be making a statement on how white people often take advantage of third-world countries as a means of self-realization. Regardless, it was not Denis' commentary that sold me on this movie, it was the utterly ridiculous dialogue and events that occur. They are played out in such a serious manner, I could not help but find it funny. At one point Daniel and Trish are air drying on a hammock after a shower. Daniel looks at Trish and says "Suck me." Denis immediately cuts to the next scene. It's stuff like this that fill out the two-hour and fifteen-minute run time. Few filmmakers put moments like that in their films, and I was enchanted by it.
This film is a romance and has a lot of sex, but it is not particularly sexy. It takes a very realistic look at sex in typical Denis fashion. There is no cinematic glorification to these sequences of sweaty bodies in greasy motels. As you would expect from a Denis picture, Stars at Noon does not exactly follow a typical plot structure. At one point Benny Safdie is dropped into the movie and goes on a ten-minute rant about consulting while eating rice, beans and eggs. It is a fascinating sequence that essentially stops the film in its tracks. To continue the Jazz analogy, it's as if Benny's character is like a saxophone solo riffing against Denis's assured hand behind the camera. In a very strange moment, John C. Reilly somehow delivers a delirious performance over zoom as he yells at Margaret Qualley for not doing her job properly. It's hard to see Denis' intent here other than to make us laugh. People familiar with Denis' films such as Trouble Every Day and High Life may anticipate the film's lurid tendencies, however, a mainstream American audience will be totally out of their element.
Denis shoots most of this film with a hand-held camera. It creates a rough around the edges feel that adds to this dirty aesthetic. The score is incredibly groovy. The best sequence in the film is when Daniel and Trish go to a club and dance under purple neon lighting. It's just them and a DJ who plays a song titled 'Stars at Noon'. No words are spoken, but none need to be, for it is a hypnotic and powerful sequence that genuinely made me feel something. Joe Alwyn's character seems like it was written for Robert Pattinson, similar to his character in High Life, Alwyn's character shows zero emotion and always puts on a straight face. The performance has been getting panned by critics, but it actually really worked for me. Alwyn's delivery creates an ice-cold aesthetic that is in contrast to the heat of South America. Margaret Qualley is perfectly cast as this free spirit. Denis is seemingly obsessed with her, the camera rarely leaving her side.
Many things happen in Stars at Noon that will make the average audience member scratch their head. The film ends abruptly in a way that will surely piss a lot of people off. For me, I was basking in how weird it all was. On top of that, it has excellent camerawork. Though the film has absurd dialogue, pacing issues, is overlong, and doesn't really make sense, it still all comes together under Denis' singular lens. Despite the fact that it goes off the rails, it remains compulsively watchable, and for an adventurous cinephile, well worth seeking out.
– Jack Schenker (@YUNGOCUPOTIS)
Claire Denis; Stars at Noon movie review