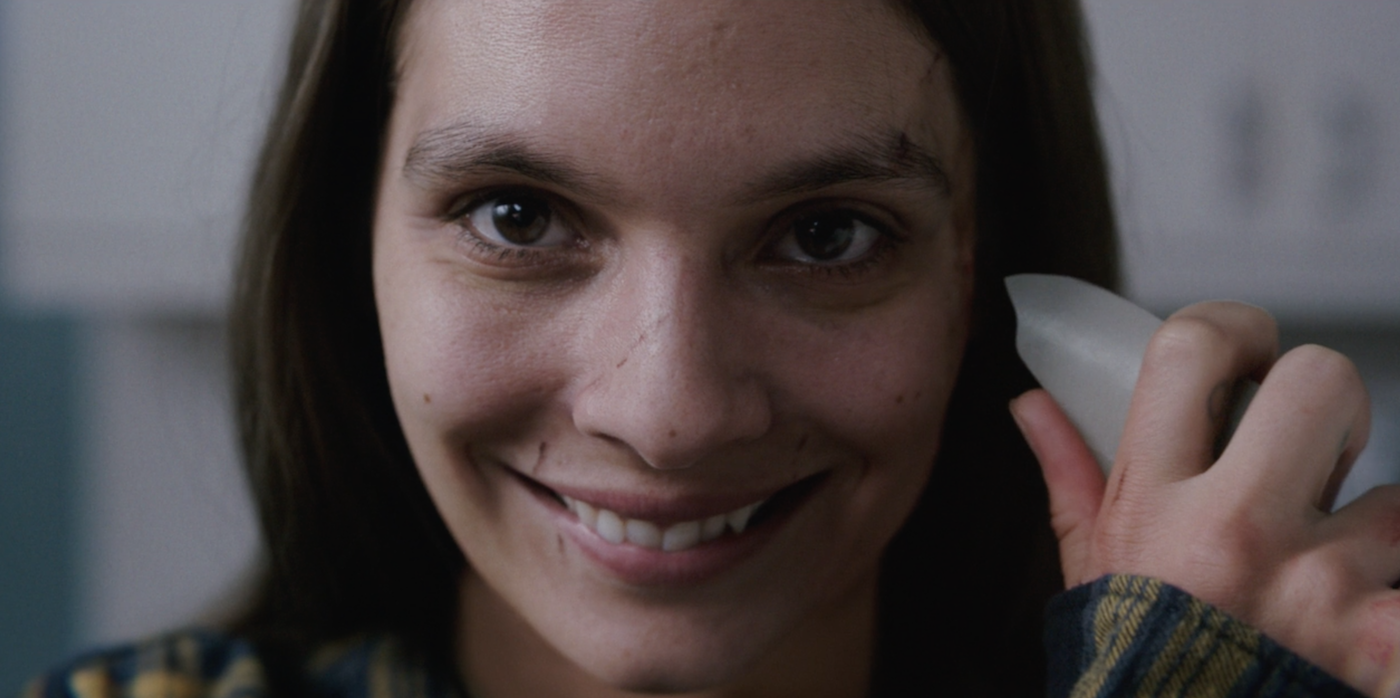 (Check out Bears Rebecca Fonté's review of the movie Smile. While Bears saw it at Fantastic Fest 2022, it's been performing solidly in theaters ever since. Seen it? Join the conversation with HtN on our Letterboxd Page. )
In the opening moments of Smile, Dr. Rose Cotter played by the unmistakable child of Kyra Sedgwick and Kevin Bacon, Sosie Bacon, assesses the mental health of a recent trauma victim. She has come to the hospital claiming visions of a smiling entity who she sees on the faces of strangers, people she knows, and even dead family members who appear out of nowhere. She then proceeds to slice a good portion of her face off with the broken shard of glass from a flower vase, all in front of Rose who is powerless to stop her. After that, the young mental health professional who certainly knows what crazy is at least from an outside perspective, begins to see the smiling presence herself — in other patients, in random guests at her nephew's birthday party, and in visions or (are they?) memories of her deceased mother whose suicide has hunted her since childhood.
Smile is that rare horror film that manages to excel at all the simple jump scares and tension builds without ever feeling forced, as well as capture the more difficult and certainly more terrifying undercurrent of Lovecraftian dread it that will remain with the viewer for hours after the film is over. The perfect duo of nuanced performance and a truly original mythology makes the film an unexpected delight at every moment. I can't even remember the last time I had so many moments of shock and fear watching a film since maybe The Babadook. And I don't think there has been as interesting of a curse to unravel and try to overturn since It Follows. But what truly makes Smile one of the best horror films in years is the way it lives under the all too real shadow of unresolved trauma. Rose has spent the majority of her life running from the memory of a single event. The moments we see played out over and over again offer ith different variances as the smiling curse chases her. The subtle differences remind you that our brains construct our memories out of our own perceptions — which are limited by our understanding at the moment as well as modified for the protection of self. Rose's final interaction with her mother can only be understood through her emotional maturity at age 10 as well as the reality that her brain has assembled just to enable her to make it through the day.
Throughout Smile we see how she has been avoiding trauma even though she touches it every day at work. Despite reconnecting with her own therapist, she refuses the offer to re-examine memories of her mother. Her ex-boyfriend Joel, the cop investigating the case of the dead patient and played with the perfection of good-hearted awkwardness by Kyle Gallner, is clearly also the source of unresolved emotional baggage. Most of the film we are spent wondering why her and Joel didn't work out and why she has ended up with Trevor, who seems more interested in checking off the wife box then actually investing in a relationship.
The first scene finds Rose already not sleeping and using her job to avoid imperfections in her own life. Actually, I keep saying that the film opens with this scene with the patient intake, but of course it opens with the memory of her dying mother as if Director Parker Finn wants us to know that what happened in the past is ever present in the now. This is a story of repressed trauma. Especially the way others witness it. The Smiling Jester requires someone to witness its kills to be effective. I can't help thinking of how way we have to put on a courageous smile to face the world. A smile can be a mask. When people let down their mask and you can see who they are. Or how about when you are sad and someone says "smile.". We put on a smile because we are uncomfortable with seeing how you really feel.
The one portion of the film that almost feels safe is when Rose and Joel begin to follow the trail of the jester's curse through the last 20 victims. What I love about the sequence is it never feels like they're going to find a solution, only more questions. In a scene stealing performance, Rob Morgan plays the only victim to have passed on the curse without he himself committing suicide. The shifts of character he goes through in about three minutes land the terror of the film completely. Even if you survive this, the fact that it exists is enough to drive you mad.
I don't wanna say too much more about the plot because like I said, I really did find myself consistently surprised even as the film exhibited what I will call perfect structure. I would have that moment where I was like 'oh clearly she's in the dark night of the soul,' but I never knew how she was going to get out of that. I would be remiss if I didn't also point out the stirring effect that the cinematography added to the film, especially the use of the upside-down angle which refused to allow us sure footing in any scene. The production design, which kept spaces simple and open left room for the unknown to fill the void, places Rose in a bureaucratic wasteland. Her one ally at work (Kal Penn) is more concerned with removing the visible object of discomfort than truly getting her help.
– Bears Rebecca Fonté (@BearsFonte)
2022 Fantastic Fest; Parker Finn; Smile movie review