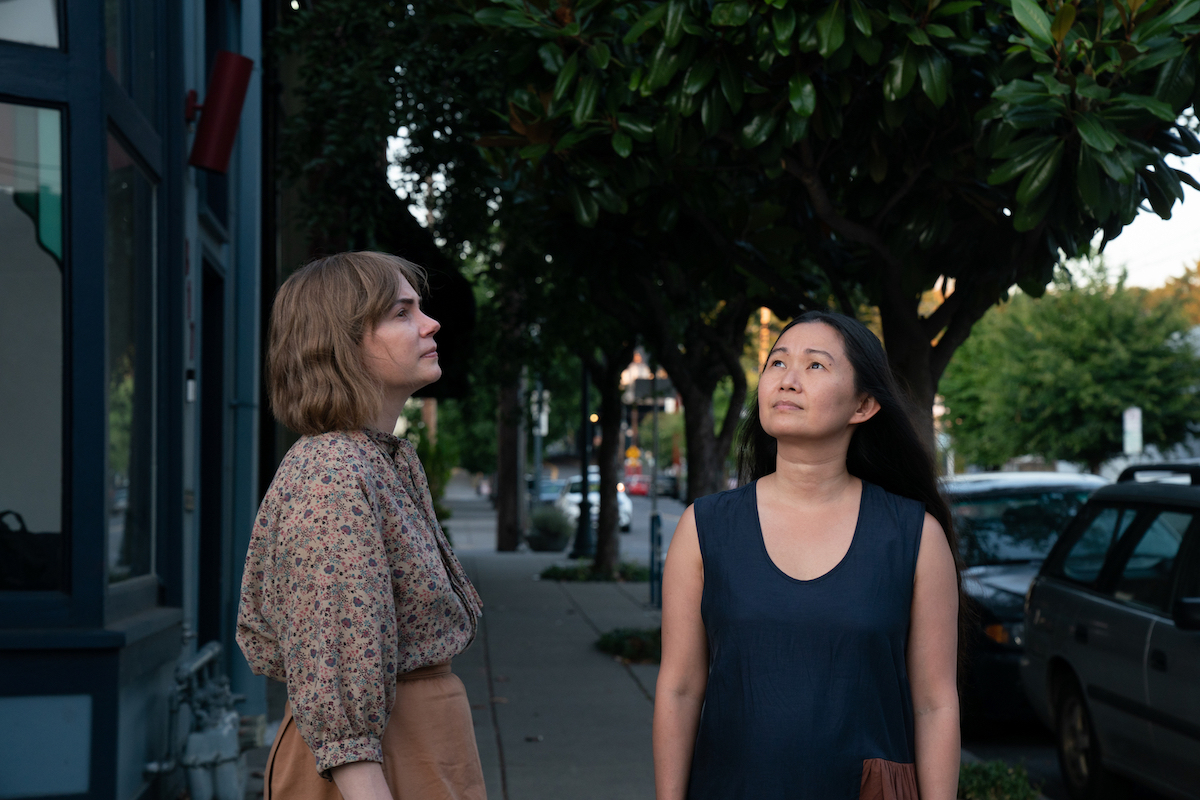 (Check out Chris Reed's movie review of Showing Up, the latest collab between filmmaker Kelly Reichardt and actress Michelle Williams. Seen it? Join the conversation with HtN on our Letterboxd Page.)
The films of Kelly Reichardt are thoughtful cinematic dramas that make mundane realities bloom into fascination and deceptively low stakes quickly rise to epic proportions. Fully in charge of her craft, Reichardt (First Cow) explores the human condition in all its simultaneous misery and glory. In her new film, Showing Up, she casts her frequent muse Michelle Williams (Certain Women) as Lizzy, a struggling artist in Portland, Oregon, who can't seem to step out of the shadow of family and friends. It's well in line with the director's series of understated portraits of seemingly ordinary eccentrics who are anything but. And though a very slow burn, it offers meaningful rewards to the patient viewer.
Lizzy is a ceramics sculptor, though her source of income comes from her job as administrative assistant at the art institute which her mother (Maryann Plunkett, A Beautiful Day in the Neighborhood) runs. Her father (Judd Hirsch, The Fabelmans) is a now-retired well-regarded artist and her bi-polar brother (John Magaro, First Cow) once showed promise, too, but is now mostly consumed by his battles with mental health. No one has much time for Lizzy's own daily doubts and depression, not even her ostensible friend (and landlord), the extroverted Jo (Hong Chau, The Whale), who is a much more successful artist.
Mixing subtle humor with heartbreaking details of disappointment, the script—by Reichardt and her longtime collaborator, Jonathan Raymond—takes us on a deliberate journey through the ups and downs of life in this world (in Lizzy's case, mostly the latter). With an upcoming solo show of her own, Lizzy is more anxious than usual. It doesn't help that Jo also has a solo show—nay, two—coming up, and everyone, including Lizzy's mom, seems more excited about that. Plus, Jo keeps ignoring Lizzy's requests to fix the water heater, exacerbating tensions between the two.
On top of all that, Lizzy's cat injures a bird, which Jo then finds and decides to nurse, except she doesn't have the time to do it and passes it back to Lizzy, whose silent guilt makes her take on the task. Little by little, the big day approaches, with nothing terrible going wrong though many little mishaps adding up. Will Lizzy's pieces be ready on time and will anyone turn up? Things go according to plan, and also not, with some surprises in store in terms of who has Lizzy's back.
Reichardt develops the tale in ways that frustrate the audience's potential desire for big beats. But that is frequently her essential aesthetic and anyone familiar with her œuvre knows to sit back and let the narrative unfold. Nevertheless, Showing Up is more diffuse than some of her other films. This is not necessarily a bad thing. It just requires adjustment.
Williams is terrific as Lizzy, turning in a moving performance born of her character's lifetime of letdown. Chau is also great as Jo, who often seems indifferent to Lizzy's dilemma yet has more to her than we initially perceive. The rest of the ensemble is similarly strong, and the resultant movie is thereby filled with engaging moments large and small. It's definitely worth showing up for.
– Christopher Llewellyn Reed (@ChrisReedFilm)
A24; Kelly Reichardt; Showing Up movie review