SCANDALOUS: THE UNTOLD STORY OF THE NATIONAL ENQUIRER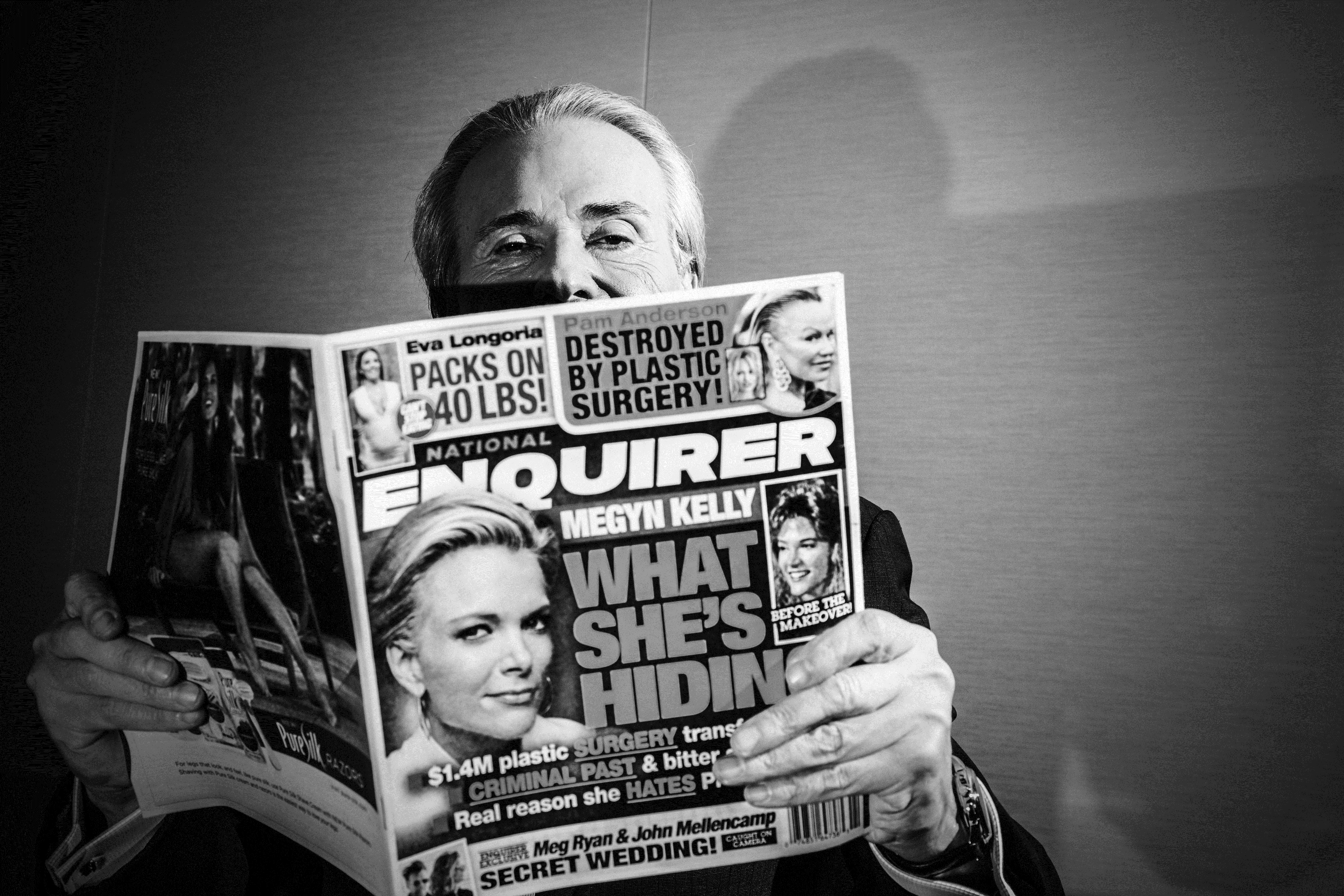 (Featuring rare archival footage and wild revelations, filmmaker Mark Landsman examines the salacious and shocking stories of the most infamous tabloid in U.S. history, National Enquirer. The film is in theaters now via Magnolia Pictures. Like what you see here on Hammer to Nail? Why not pay just $1.00 per month via Patreon to help keep us going?)
I haven't looked at a National Enquirer issue in years, but the tabloid was a ubiquitous presence in the supermarkets of my youth. Promoting celebrity gossip, conspiracy theories and just some really weird stuff, it was never more than a curiosity to me, yet had its own strange allure. The fact that Elvis was alive on the planet Mars drinking margaritas with Stalin (not an actual story…as far as I know) made for laughable checkout reading, and that was it. It turns out, however, that there was more to the newspaper (it hurts me to use that term, nonetheless) than I, at least, thought. Thanks to director Mark Landsman's wildly entertaining new documentary Scandalous: The Untold Story of the National Enquirer, everyone can now learn the history of this once popular rag.
Filled with a great variety of engaging and informative talking-head interviews – with established journalists like Ken Auletta, Carl Bernstein, Maggie Haberman and Judith Regan, among others – the movie sets a jaunty pace through the founding and early years of what became the nation's favorite scandal sheet. The brainchild of Genoroso (Gene) Pope III, the scion of a politically connected family with purported mafia connections, the tabloid took off as the New York Enquirer, purchased by Pope in the 1950s and soon thereafter renamed "National." Initially devoted to gory crime stories, it became less bloody (but no less salacious) in order to corner the grocery-store market. When Pope moved his operations down to Florida in 1971, the new Sunshine State headquarters became known not only as a manic purveyor of nutty narratives, but as a place to party. Despite that rowdy hedonism, a lot got done, and circulation went up.
All good things must come to an end, but before the Enquirer's aggressive coverage of England's Princess Diana led it to be indelibly associated with the causes of her death (even though none of its photographers were the ones actually chasing her in Paris), there was actually good journalism that happened, as well. Most notably, they got the O.J. Simpson trial right, uncovering evidence that proved the man had lied about owning the shoes that left a bloody sole print at the scene of the crime; their coverage helped the relatives of those killed win a civil trial. That's just one example, but it proves that one couldn't always just write off the Enquirer as a laughingstock. Post-Diana, readership went down, and then in 1999, current owner David Pecker bought the paper (Pope had died in 1988), slashing staff and budgets. Times they were a-changin'.
That is by no means the end of the story, as Landsman (Thunder Soul) walks us through the close (almost symbiotic) relationship between Pecker and Donald Trump, and the development of the "catch and kill" tactics whereby the rights to potentially devastating stories are purchased and then never used. Certainly, the Enquirer was never consistently capable of serious, hard news, but the swagger with which its reporters walked the earth is now more of a shamble. Given how little I cared for the paper at the start of the movie, it's amazing how sad I was at its fall from grace. You, too, can be so moved, and you don't even have to read the damn thing. Just watch this absorbing film.
– Christopher Llewellyn Reed (@ChrisReedFilm)
Like what you see here on Hammer to Nail? Why not pay just $1.00 per month via Patreon to help keep us going?