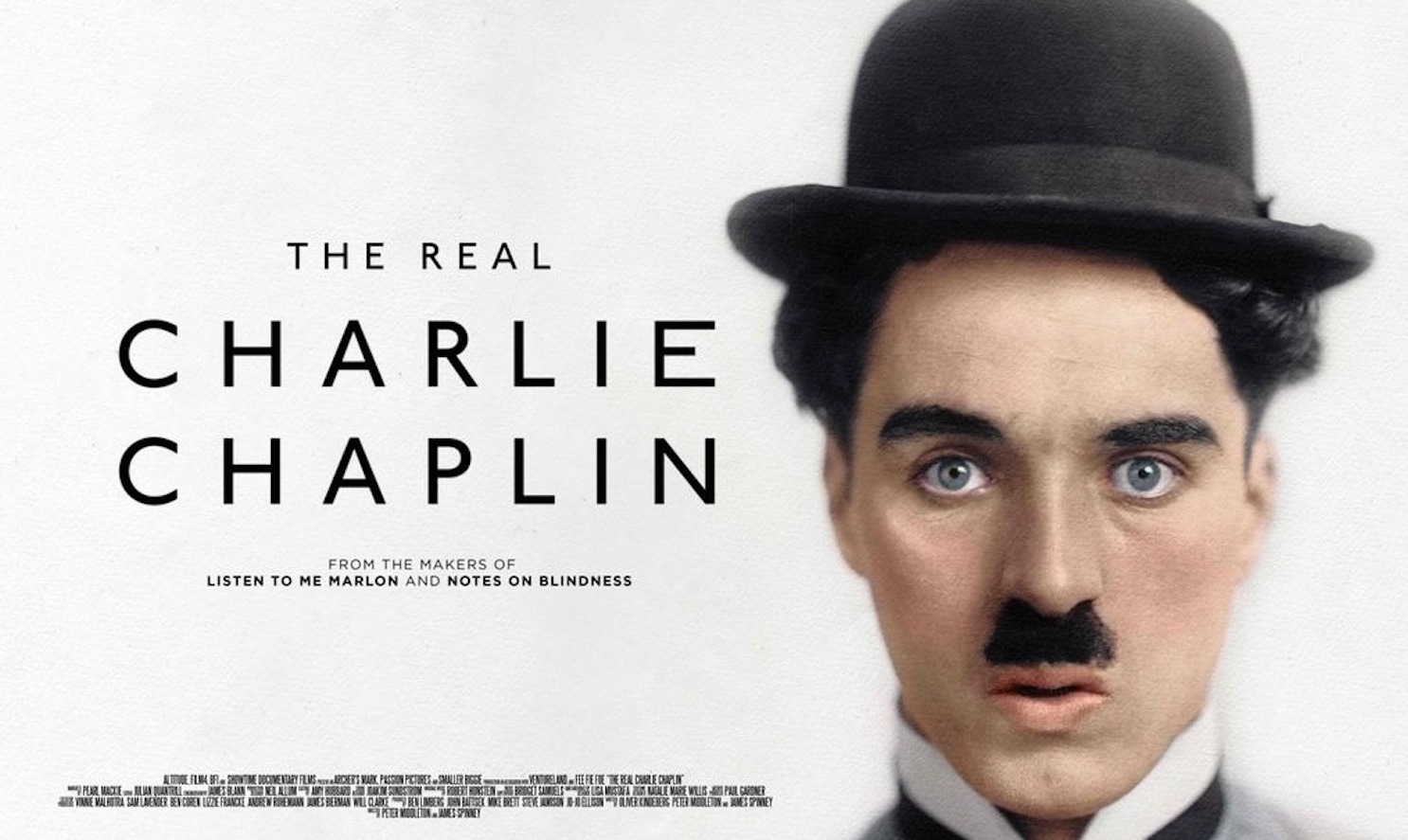 (Check out lead critic Chris Reed's movie review of the documentary The Real Charlie Chaplin, directed by Peter Middleton and James Spinney. It premieres on Showtime Saturday, December 11. Like what you see here on Hammer to Nail? Why not give just $1.00 per month via Patreon to help keep us going?)
Born in 1889, Charles Spencer Chaplin came of age with the movies that would eventually make his fortune. Or did he make theirs? As the first globally recognized superstar, he proved one of the great early ambassadors of the nascent art form called cinema. Everyone knew Charlie Chaplin, whose onscreen persona of "The Tramp" entranced audiences from his first appearance in 1914. In their new documentary The Real Charlie Chaplin, directors Peter Middleton and James Spinney (Notes on Blindness) examine that history, what followed, and the complex man behind the public-facing image. Though not without flaws (like its subject), the film nevertheless offers an engaging profile of a creative genius whose legacy lives on to this day.
If you're any kind of cinephile at all, chances are you have a favorite Chaplin film, more than one, or favorite moments within many. Though I often find Chaplin's sensibility a tad too mawkish for my liking, I love his comedic mise-en-scène. Whether it's the window-smashing bit in The Kid, the house shenanigans in The Gold Rush, the boxing match in City Lights, the factory in Modern Times, or any of a plethora of hilarious scenes from any number of features, not to mention the hundreds of shorts that preceded them, I always enjoy at least part of every movie. In addition, I appreciate his stories' focus on the triumph of the little guy over the powerful forces arrayed against him.
Middleton and Spinney walk us through Chaplin's impoverished childhood and slow, then suddenly rapid, rise to fame and prosperity. Using a combination of archival footage, clips from period films, voiceover narration, title cards, audio interviews—some of them recreated with present-day actors lip-syncing the voices — and more, the directors provide copious background to clarify the narrative. I have mixed feelings about the reenactments (though I have liked such techniques in other films); they feel superfluous, given that at other times we hear the interviews spoken beneath photographs and moving images. There's even an extended sequence with an actor impersonating a septuagenarian Chaplin where the repeated shots of a man obviously not him prove off-putting.
What works exceedingly well, however, is the history lesson and exploration of Chaplin's angels and demons. There's nothing new here to anyone who has studied his life, but the facts are presented cogently and with careful precision. Narrator Pearl Mackie explains our protagonist's predatory penchant for young women, most insidiously evident in his acrimonious divorce from second wife Lita Grey. Even his final marriage, to Oona O'Neill, though long and fruitful, required his wife and children to accept the primacy of his own needs and desires above theirs, as we hear in the melancholy recollections of surviving children Geraldine and Jane, among others.
Barred, because of his suspected communist sympathies, from re-entering the United States in 1952 (he had never become a citizen), Chaplin finished out his days (and raised his family) in Switzerland, returning to Hollywood in 1972 for an Honorary Oscar. Did he deserve his somewhat lonely fate, or is it the just reward for a life sometimes selfishly lived? The movie lets us decide, presenting the facts of his work and life as they happened (more or less). There is no question that he was important in his time, and still is, problematic behavior notwithstanding. No hagiography, but a rather a robust, intricate portrait, The Real Charlie Chaplin aims to be definitive, and comes awfully close.
– Christopher Llewellyn Reed (@ChrisReedFilm)
Peter Middleton and James Spinney; The Real Charlie Chaplin documentary film review