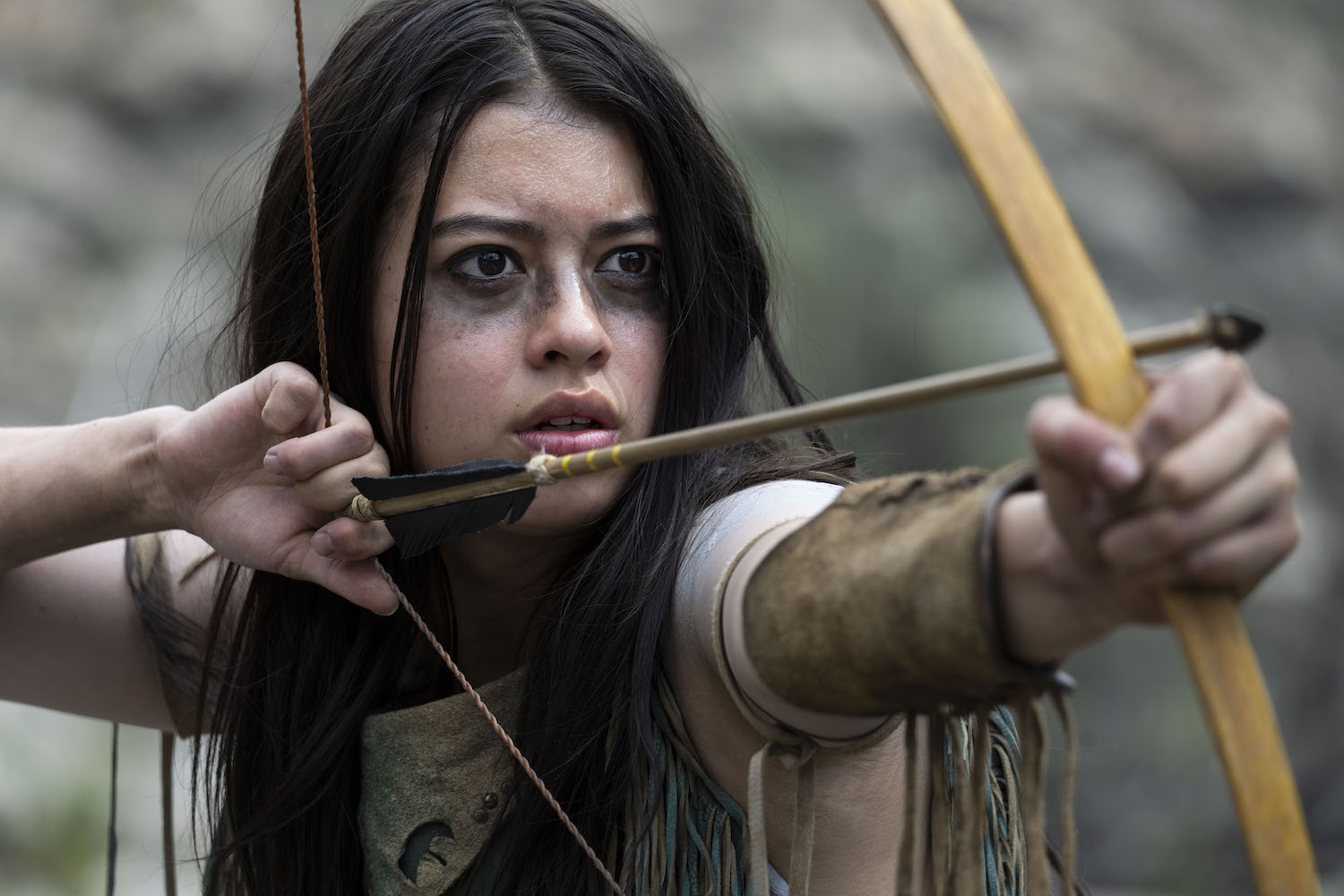 (Check out Chris Reed's movie review of Prey, exclusively on Hulu starting Friday, August 5. Seen it? Join the conversation with HtN on our Letterboxd Page.)
A franchise that saw quasi-respectable, if not phenomenal, success on its last outing returns with something both new and old to offer. The 1987 film Predator launched a heretofore six-film series (counting the two Alien crossovers), with the last entry the 2018 The Predator. Now comes #7, the first to jettison the titular creature from its own title. Prey, directed by Dan Trachtenberg (10 Cloverfield Lane) and written by Patrick Aison, throws the series back over three hundred years, to 1719, where members of the Comanche Nation face off against you-know-who in a battle of brawn and brain. It's a narrative tactic that works exceedingly well, breathing vibrant energy into what had become a somewhat-tired exercise of rinse and repeat.
According to the press notes released by Hulu, where the film starts streaming August 5, producer Jhane Myers (herself a member of the Blackfeet and Comanche Nations) and others made sure that the cast would include as many Native American and First Nations actors as possible, grounding the resultant story in the history and culture of the people it represents. Among them is Amber Midthunder (The Wheel), who stars as lead character Naru (which Myers, in those same press notes, explains is pronounced "nah-doo") and is a member of the Sahiya Nakoda Nation (on the lands of which part of Prey was filmed). She is joined by a large supporting ensemble of veteran and novice actors from the same and other Nations. Authenticity is the name of the movie game here.
But all of that would be for naught if the film were not itself a solid action adventure, giving audiences what they want in such fare. There is a monster, bipedal and vicious, who lands on Earth to hunt whatever proves a challenge. Beginning with small animals, he works his way up the food chain, taking on a bear before discovering that there could be something more dangerous. That would be homo sapiens.
Prey mixes in French trappers, too, adding strong notes about European colonialism on top of the main Comanche arc and the gory violence. And then there is the unquestionable feminist through line, as well, with Midthunder's Naru needing to overcome the patriarchy before she can take on the predatory alien. Everything comes together in an exciting mix.
And that's really what any franchise needs: fan service plus innovative new details. It worked for James Cameron's 1986 Aliens (#2 in that saga) and it works here. Develop the original premise, add new characters, and in the case of Prey, anchor the story in the history of traditionally underserved cinematic populations. It's almost too bad it's dropping on a streaming service, as we'll never know what kind of theatrical box office it might have generated. Hulu distribution or not, its dramatic elements should still make it some kind of hit.
– Christopher Llewellyn Reed (@ChrisReedFilm)
Hulu; Dan Trachtenberg; Prey movie review