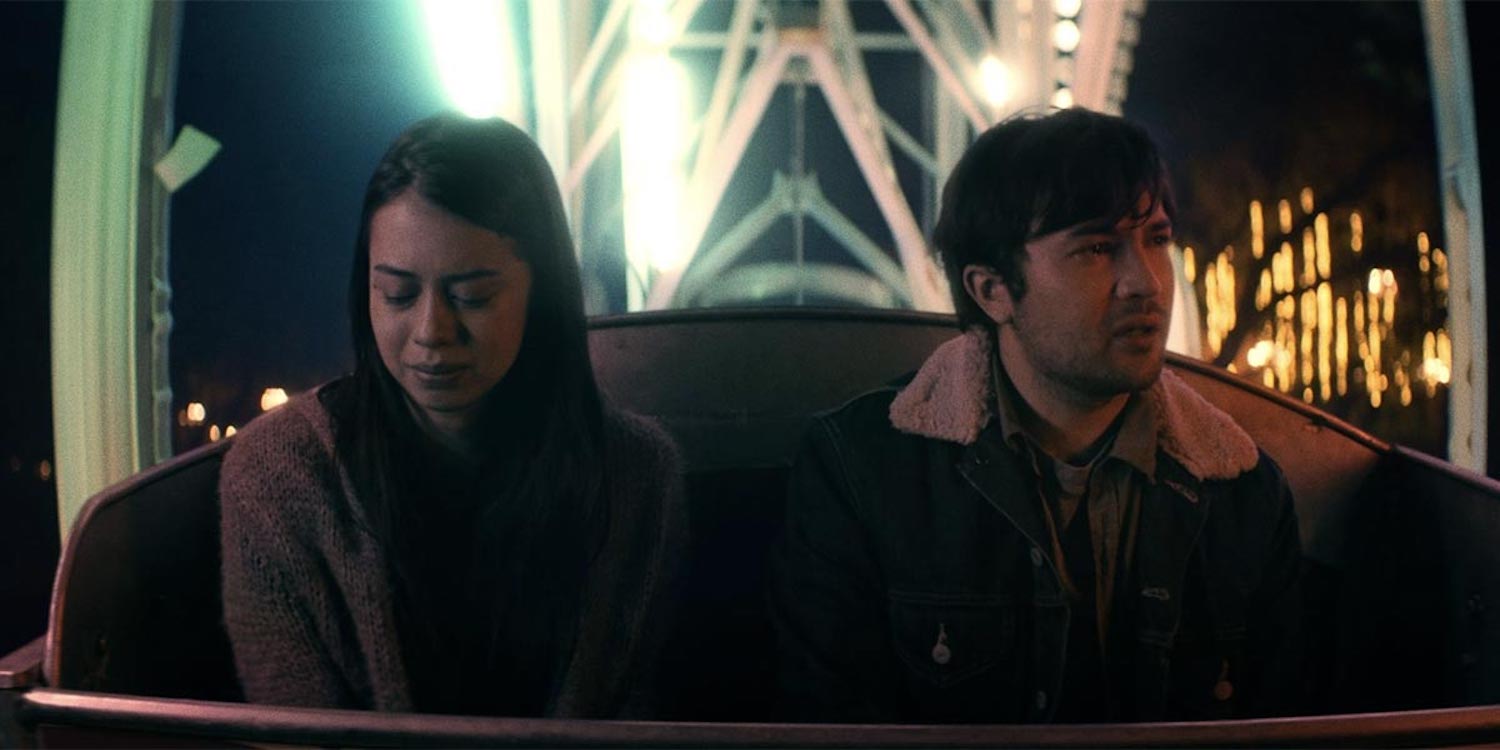 (The 2021 Toronto International Film Festival runs Sep 9-Sep 18 in Toronto, Canada. HtN has a ton of coverage from the fest so stay tuned! Like what you see here on Hammer to Nail? Why not give just $1.00 per month via Patreon to help keep us going?)
Steve Pink's The Wheel gives us a young married couple on the outs who take off from Los Angeles for a mountain getaway that is supposed to solve all their problems. Or so thinks poor Walker (Taylor Gray, Thunderstruck), the naïve husband. Albee (Amber Midthunder, The Ice Road) is pretty sure they are over and done. Just 24 years old, they tied the knot 8 years prior ("It's legal in Texas," they explain), and now the relationship appears to have run its course. Walker is not so certain, however, and nor is Carly (Bethany Anne Lind, Blood on Her Name), the owner of the B&B where the young not-so-lovebirds are staying. She has problems of her own, though: her upcoming wedding, to fiancé Ben (Nelson Lee, 5 Galaxies), may not be something they both want equally. And so all four find themselves in an uneasy harmony that waxes and wanes towards outright antagonism. Such is the setup of this anti-rom-com.
One would not necessarily think that the director of the manic (and wildly enjoyable) Hot Tub Time Machine (and its sequel) would tackle such a somber subject, yet Pink not only handles the fraught emotional terrain with sensitivity and restraint but also manages to add just the right amount of light humor to the narrative to slightly lessen the trauma. His actors, especially Gray and Lind, deliver heartfelt performances that prove engaging and profound. Trent Atkinson's script, at times, features dialogue that leans a little too heavily into exposition and polemic, but otherwise the overall structure is solid. Anyone who has ever been in a relationship that falters dramatically (and if you haven't, then count your blessings) will appreciate the pain on display. To its credit, the movie does not traffic in easy resolutions, either. Life doesn't work that way, after all.
Midthunder and Lee have the more thankless roles as the ones who want out, and sometimes they veer a little too close to villainous caricatures. But then, as the story evolves, Midthunder's Albee develops additional depths (this is the less the case for Lee's Ben). We learn how she and Walker met and why she might be so resistant to his love. She can be quite nasty to her husband, but it appears to come from her own self-loathing. With fine nuance, Midthunder shows us the great unraveling as Albee's hard exterior finally cracks. Still, the movie really belongs to Gray. His character is the most thoroughly written, and he runs with it, at first deflecting the insults but then slowly allowing them to wound him, every hurt etched into his features. 
Through painful conversations, staged like couples therapy, we therefore slowly learn what might lie at the heart of everyone's various conflicts. Healing takes understanding and, more importantly, listening; in fits and starts, our characters struggle with that last directive above all. There is no right way to get better, so all you can do is try, and speak honestly. And though all of the above may sound like an endless gabfest, it is deeply cinematic, as well, thanks to lovely images shot in a beautiful location. If one must suffer, it might as well be someplace sublime.
– Christopher Llewellyn Reed (@ChrisReedFilm)