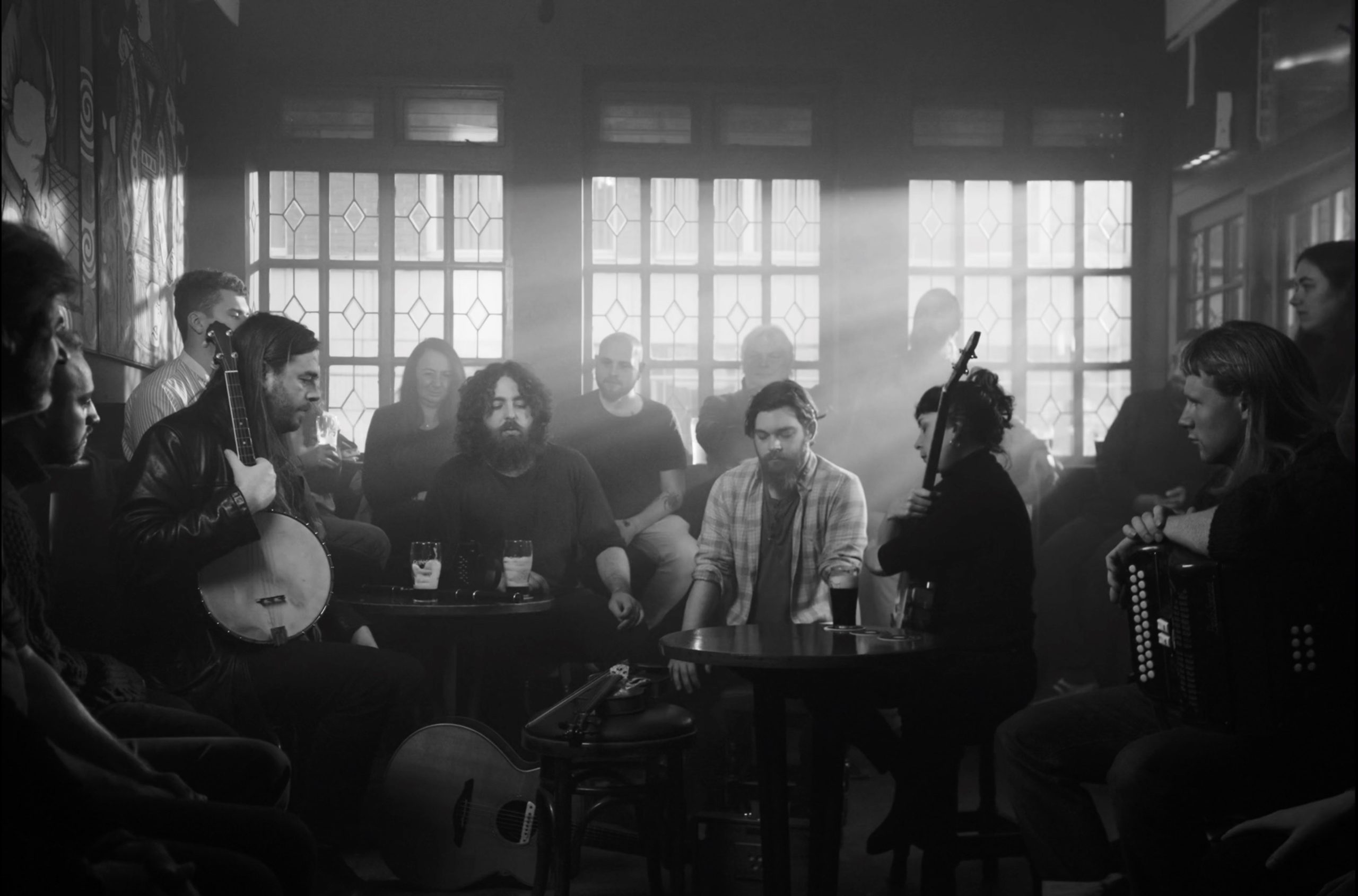 (Check out M.J. O'Toole's movie review of North Circular, in theaters now. Seen it? Join the conversation with HtN on our Letterboxd Page.)
You can always rely on the Irish for their strong sense of culture, storytelling, and history. In North Circular, director Luke McManus turns the spotlight on the people and history of the titular road in Dublin. It is a long arc that passes through the north side of the city, which has some gentrified and poverty-stricken neighborhoods but is full of deep-rooted longtime residents who are fighting against being pushed out. Shot in elegant 4:3 Academy ratio black-and-white, McManus interviews a variety of vibrant and melancholic residents who reflect on certain landmarks and institutions that impacted their lives growing up in the area. Through exquisitely candid testimonies, serene shots of everyday street life, and somber Irish folk songs, the viewer is granted a very vivid history of Dublin. Through both story and song, it is a captivating watch full of rich artistry that highlights the importance of music, history, and community.
Each subject McManus encounters deeply connects with their neighborhoods in North Circular, past and present. One theme that connects the two is gentrification. This is elaborated on when one woman reflects on growing up in the public housing complex of O'Devaney Gardens, which was set to be demolished to make way for new development. Former residents reflect with both nostalgia and disappointment in terms of their fond memories of growing up in the run-down complex and how the new developments will likely diminish the sense of community they had over the years. Even a young squatter shows how a vacant house can be cared for with the right kind of zest and dedication. But one sense of community that has surely remained the same is the locals and musicians gathering at The Cobblestone pub for folk song sessions, an overall long-standing Irish tradition. Even a panhandler lights up the screen with his charisma by connecting with both acquaintances and strangers on the street. No matter how much may have changed in the Road's recent years, the sense of tradition, togetherness, and passion will likely not. 
McManus, in his Frederick Wiseman-like approach, also digs deep into the less flattering aspects of the road's background. There is a long history of incarceration and institutionalization. Through narration, song, and a tenebrous peek at a long-standing prison, we learn about the 19th-century practice of imprisoning destitute women for what would now be minor offenses, and sending them (along with some of the male prisoners) all the way to the colony of Van Diemen's Land (now Tasmania) where they would be forced to help breed its populace. Mountjoy Prison, where these men and women were sentenced to transportation, was also where multiple members of the IRA were executed in the 1920s. One former inmate notes how going to Mountjoy was "a rite of passage" for many and that it's the last public road people use when entering the prison, and the first for those who walk out the gate. This acknowledgment of history gives a sense of shame but also serves as a strong reminder of the injustices of the past and why certain changes are necessary.
North Circular is a film that is fresh with music, storytelling, and images. It is as much of a musical as it is a documentary. If you listen closely, the songs tell the stories as much as the intimate testimonies. Those who are not familiar with Irish folk music will hopefully gain an appreciation for it here. It would be great to see it in a double bill with Pat Collins's Song of Granite, which has a much similar tone. McManus turns the spotlight on local Dublin performers such as Ian Lynch, John Francis Flynn, and Gemma Dunleavy, who provides her own deep recollections of life on the road. No matter how different each subject may be, especially in terms of class, McManus makes every person's story count and gives them space to express their own individuality. North Circular brings the everyday Dubliners and neighborhoods to life in ways you don't get to see too often. A tranquil, mesmerizing warts-and-all love letter to Dublin itself.
– M.J. O'Toole (@mj_otoole93)
Lightdox; Luke McManus; North Circular documentary movie review