(It feels as though Clément Cogitore's Neither Heaven Nor Earth has been buzzing about the cinematic either for a while. But now this impressive debut feature has made it's way stateside where it's available in limited theaters now.)
The year is 2014; the place, Afghanistan. An Alsatian-type dog runs along a mountain ridge into a fortified military shack, where he is greeted warmly by a pair of French soldiers. It's hot and he lies down in the cool shade. We leave him and turn our attention to the sentries, who see an approaching local man, goat in tow, and immediately train their rifles on him. They fire warning shots, and the man flees, but his goat, in a panic, dies running into a barbed-wire fence. The soldiers relax, and call for the dog, who has disappeared. No matter, they think; he'll be back. Soon, however, the moment will prove crucial, in hindsight.
From this seemingly inconsequential opening flows a densely textured plot, where mystery piles upon mystery and the quotidian mundanities of life on a frontier outpost are upended by unexplained (and unexplainable) occurrences. The seeming order of things in which the French troops – and their commander, in particular – believe evaporates like a drop of water on the burning desert sand. What starts out as a conventional war film, where an occupation force polices the natives – much as in Tobias Lindholm's A War, released earlier this year – becomes a tale of the fantastic, calling into question the superiority of rational Western (and imperialistic) thinking. Perhaps we do not have all the answers we thought we did.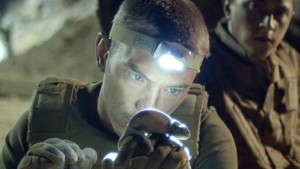 The commander in question is played by Jérémie Renier (not to be confused with Jeremy Renner), who will be familiar to fans of the Belgian filmmakers Jean-Pierre and Luc Dardenne for his work in movies like La Promesse, L'enfant and Lorna's Silence. He is virtually unrecognizable here, all muscle and crew cut where before he was defined by a wispy lack of robust physicality. What remains, however, is the piercing intensity of his gaze. Slowly, in ones and twos, his men begin to vanish. His response is to scour the countryside and terrorize the nearby village, assuming that all are pro-Taliban and anti-French. His actions threaten the fragile détente that has existed until now. It's all for naught, as the soldiers remain missing. Things become even more complicated when the leader of the local Taliban accuses the French of kidnapping members of his own militia. It seems that both sides are under attack. Invaders, begone!
Depending on one's own ideas about faith and the supernatural, that central riddle remains unsolved, even at the end. Neither heaven nor earth may be responsible, or they both may be, or one or the other. Or, perhaps, it's a story about the purity of faith and the need for an adulterated belief in a higher power, as in Andrei Tarkovsky's final film, The Sacrifice. Writer/director Clément Cogitoire, for whom this is the first feature, has crafted a tale of unraveling where the sacrifice of moral superiority – manifested as a sacrifice of self – is required to right the wrongs of this world. There are no good guys (and they're almost all guys here, with women almost an afterthought, except as long-distance phone partners), just compromised souls. Whatever the ultimate meaning of the movie – and I remain unsure – what is clear is that Cogitoire has a fine way with his actors and wonderful sense of camera and pacing. Some of the plot details are too murky for the film to work in every scene, but it is overall a haunting tale, where the cast – and Renier, especially – shine throughout.
– Christopher Llewellyn Reed (@ChrisReedFilm)