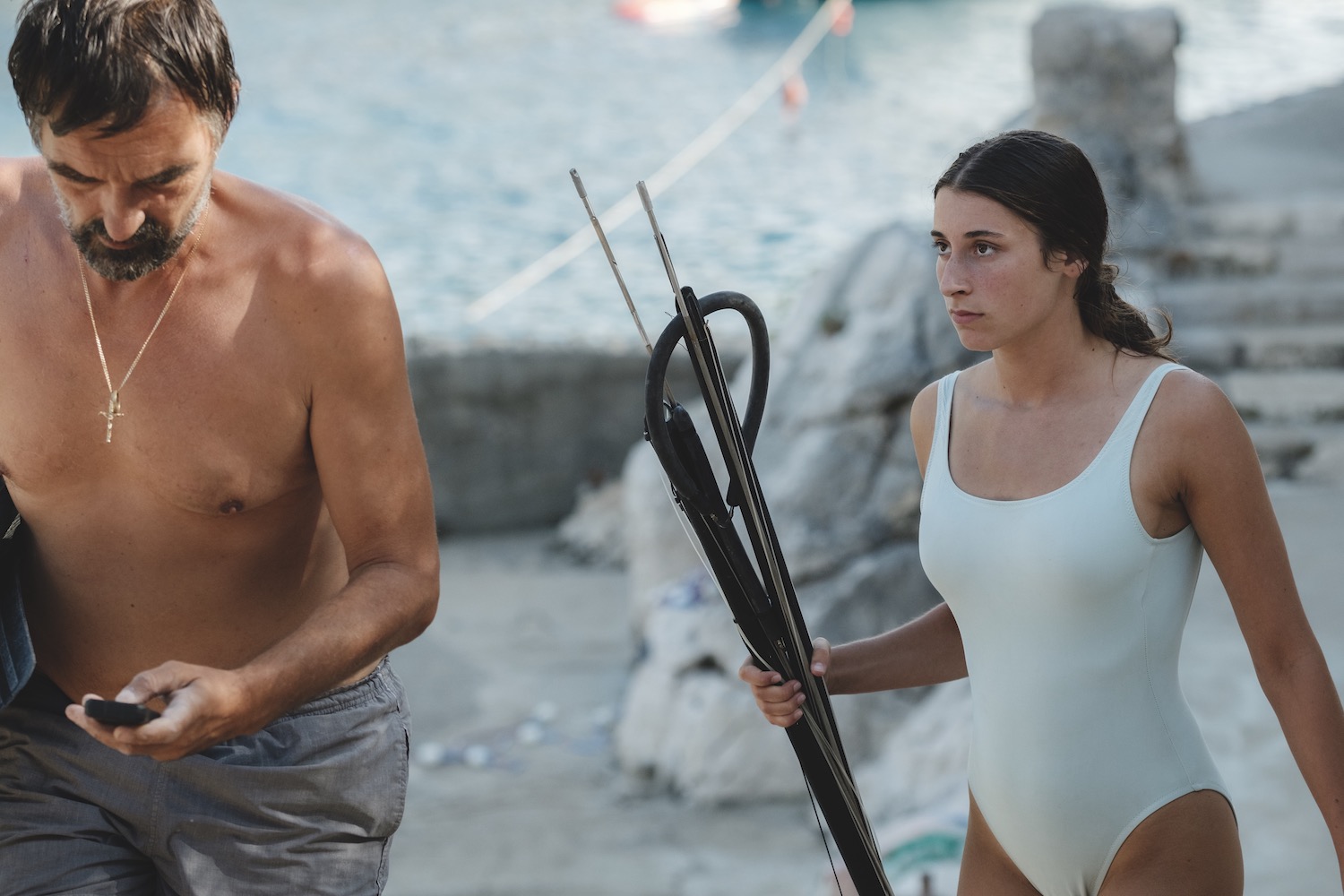 (Check out Chris Reed's movie review of Murina, in select theaters now via Kino Lorber. Seen it? Join the conversation with HtN on our Letterboxd Page.)
Tempers flare in Murina, Croatian director Antoneta Alamat Kusijanović's debut feature. In particular, it's the fraught relationship between father Ante and daughter Julija that threatens to explode. He's a controlling bully and she is a 17-year-old yearning for independence and a life beyond the limitations of the Adriatic island on which they live. Mother Nela is not much help, nor is the handsome Javier, who arrives in pursuit of a business deal that Ante desperately wants to close. The adults all have history, but it's the future that most concerns Julija. Can she escape her father's dominion? Perhaps, if she can just muster the will.
The title in Croatian means "moray eel," which we see Julija (Gracija Filipović) and Ante (Leon Lučev, The Load) spearfishing in the opening scene. They are a nimble pair, though once out of the water we hear his constant orders barked at her. We will later learn that she loves the diving aspect of these outings, rather than the hunting, and would just as soon avoid killing the eels. One will later prove helpful in a bit of seemingly mystical providence.
Waiting for Julija once she returns from the water is Nela (Danica Curcic, Across the Waters), who looks young enough to be her sister. She, like Ante, anxiously awaits the arrival of Javier (Cliff Curtis, Doctor Sleep), a former lover and her husband's former boss (these details emerge over time). They have high hopes for the visit, as the property sale they are banking on would allow them to leave the island for Zagreb. Why, both we and Javier muse, would anyone want to abandon this seeming paradise? The remote idyll is stifling for all.
Once Javier sails in, he and Ante engage in a hypermasculine competition for the women's attention, Julija chafing even more than usual under her father's brutal domination. In Javier, she sees a way out, and given how much he flirts with her (and also her mother), she believes he will rescue them. But Nela knows better—knows that this is just a fun distraction for Javier—and is resigned to nothing ever changing. Julija refuses to surrender. And therein lies the beating heart of this gripping family drama.
Filipović does wonders in the lead, her face an ever-warring battlefield of anger, resentment, youthful optimism, and sharp intelligence. She is beyond wanting her father's respect or approval and now just wants to best him. Lučev has the thankless task of playing the villain but adds layers of complexity to the part that at least help us understand his own frustrations. As does Curcic, who makes of Nela's passivity both a character flaw and virtue. Curtis is effortlessly charming as the would-be savior who may have nothing to offer. In short, the cast is excellent.
As is the cinematography, by the brilliant Hélène Louvart (Never Rarely Sometimes Always), shot both in and out of the sea. Whether photographing bodies, boats, or eels in motion, the camera captures the essential beauty and interest of landscapes, objects, and faces. Everything comes together as backdrop for Julija's desperate fight for independence. She's a young woman bursting to break down the patriarchy, and we are right by her side, cheering her on.
– Christopher Llewellyn Reed (@ChrisReedFilm)
Kino Lorber; Antoneta Alamat Kusijanović; Murina movie review