THE CURBSIDE CRITERION: MULTIPLE MANIACS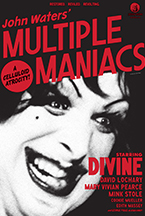 (We here at Hammer to Nail are all about true independent cinema. But we also have to tip our hat to the great films of yesteryear that continue to inspire filmmakers and cinephiles alike. This week, our "The Curbside Criterion" continues where HtN staff can trot out thoughts on the finest films ever made. Today HtN Lead Critic Chris Reed gets filthy with the John Waters 1970 classic Multiple Maniacs.)
John Waters has become such a mainstay of the pop-culture and art worlds since the success of his original (non-musical) Hairspray, in 1988, followed by the even more phenomenal success of the 2002 (musical) Broadway adaptation of that film, that it can be easy to forget that he started out as a reviled (by the mainstream) maker of cinematic trash. If one lives in Baltimore, however, as do I, then we know Mr. Waters as a Dapper Dan about town, ever popping up at this or that event, and it can be just as hard to remember his origins. I had the great fortune to meet and interview our favorite son for a local arts magazine, BmoreArt (the photo at the top of that hyperlinked page is by yours truly, though the accompanying article is sadly only in print), and I came away from the experience charmed by the man. How, then, could someone so debonair be so depraved?
Yes, fans of Waters' later work, beware. Multiple Maniacs, the filmmaker's first sync-sound feature, is the work of a sick imagination, though perhaps not quite as vomitous as his follow-up, Pink Flamingos, in which his leading "lady" (the cross-dressing marvel known as Divine) eats a dog turd (as in, s/he chews and swallows an actual piece of canine excrement). Here, we are spared such ordeals, though the film does end with that same Divine, following a murderous rampage, raped by a giant lobster. Why? Why not? Plus, it's not nearly as twisted as an earlier scene, set in a real church, in which co-star Mink Stole performs a "rosary job" on Divine, pulling beads out of the only lower orifice known to man, intercut with a Passion play – complete with crucifixion – staged in Waters' home neighborhood. Blasphemy! Of course, almost all the principal players, as well as the director, were raised Catholic, so perhaps this was their way of showing how much they had internalized their faith. Ha!
To be honest, it's kind of hard to follow the plot, and I've seen the film a few times. Narrative coherence, at this point in Waters' career, was hardly his forte. Nor was stable camerawork (Waters was his own operator); the visuals are shaky and filled with excessive zooms, rather than traditional coverage. Still, as messy as the entire affair seems to be, it's also terrific fun, its ribald humor and displays of nudity and outrageous mock violence – shocking for its time – lending the proceedings a delightful energy that never fails to entertain. Just don't go in expecting a good movie, for it is not that. But it is a wonderful example of underground filmmaking of the late 1960s, and an important milestone in the career of a man who would go on to refine tastelessness into a true art form.
 And now, amazingly, we can see this repulsive gem in a new, 4K digital restoration, with a restored (monaural) soundtrack, courtesy of the Criterion Collection. And though the package does not come with a lot of video extras, the director's commentary is well worth the purchase. What follows is a brief review of each special feature, including the booklet essay.
BOOKLET:
"Genuine Trash," Essay by Author and Film Scholar Linda Yablonsky: There is not a lot of production history here, which is what I like to read about in these essays, and what details there are also exist in the director's commentary track. This is mainly a bit of analysis of the meaning of the film, as well as a description of the author's own personal history with Waters and his collaborators. It's adequate, but not exciting, though I do like what Yablonksy has to say about how Waters' groundbreaking art normalized much of what he did, which is why it doesn't seem quite as shocking now as it did then.
DISC:
There are four special features:
Director's Commentary: Anyone who has ever listened to Waters speak –whether in one of his stand-up appearances or presenting a movie or other event here in Baltimore – or read one of his many books, should be familiar with his self-deprecating, dry wit. That is on full display here. He walks us through each important detail of the movie's production, and offers up information about the historical context, as well. If the track has one flaw, it's that we cannot adequately hear the audio beneath Waters (i.e., the sound of the actual film), and so sometimes, when the director refers to some joke just gone by, we have trouble understanding the reference, even if we have just watched the film without commentary. Otherwise, this is a wonderful addition to the Blu-ray.
Interviews with Cast & Crew (Produced by Criterion in 2016) (32:26): Here we find surviving members of Waters' Dreamlanders (his longtime collaborators), including now Emmy Award winning casting director Pat Moran, actress Mink Stole (she of the "rosary job"), actress Susan Lowe, actor George Figgs (who plays Jesus Christ in the Passion play), and art director Vincent Peranio (who created Lobstora, the giant lobster that rapes Divine). Together, they form a merry bunch of aging – but forever young – cinematic rebels, recalling the crazy times they had making this film (and working with Waters, in general). And though they share some of the same anecdotes as does Waters in his commentary, it never hurts to hear similar stories from different angles. Greta fun.
"The Stations of Filth," Video Essay by Gary Needham (Produced in 2016) (10:40): This is my least favorite of the extras. I confess that if Needham, who narrates his own piece, did not speak with a Scottish accent, much of what he says would sound banal, especially since we have heard a lot of this information, already, from the primary sources of Waters and company (see above).
Trailer (1:32): This is not the original trailer for the film, but rather one created for the 2016 restoration, and is a lot of fun.
And there you have it. Though one of the special features is disappointing, the rest are stellar, and make this well worth the purchase, especially since the film has never looked or sounded this good.