(Filmmaker Julia Hart premiered her film Miss Stevens at the 2016 SXSW film festival. The film is out now in limited release in theaters and will hit VOD September 20.)
As a former high-school educator, I often worry when I sit down to watch a movie about the joys, challenges and perils of teaching. I am especially concerned when I see the story heading into the direction of inappropriate (to me) closeness between teacher and student, as it brings up the hard lessons I had to learn about handling interpersonal relationships with those in your charge. In my own professional evolution, I eventually chose the path of mentor, rather than friend, as I found it safer for all involved, and have continued in that vein in my career as a college professor. And so I resemble one of the male teachers we meet in Miss Stevens – the new feature from Julia Hart (The Keeping Room) – as opposed to the titular Miss Stevens, herself, though her journey is one I remember well. It's a tribute to Hart's sensitive writing and direction that whatever pain I feel is mitigated by the intelligence of the story and its characters. By the time the movie ends, Miss Stevens – played by an extremely compelling Lily Rabe (American Horror Story) – has completed an odyssey through pedagogical purgatory from which she emerges battered, but not defeated, (somewhat) ready for whatever comes next.
When first we see Rachel Stevens, it is from behind, the back of her head front and center as we look over her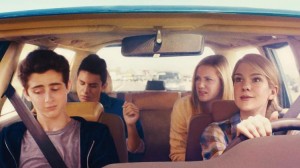 shoulder to the distant stage on which a performance has ended. Slowly, the sounds of applause rise from muted silence, and we cut to her face, eyes deeply moist, if not yet tearing. We never learn what has caused this – the show, itself, or the reverie it inspires – but when we follow her home for a solitary drink, we begin to sense that we are watching the story of a woman who spends much of her time alone, unfulfilled. That first image, though, is emblematic of her character in that what roils her heart remains mostly a mystery. The next day, she's in class, teaching One Flew over the Cuckoo's Nest to her students, discussing the relative merits of emotional freedom vs. institutional life. This will not be the setting of our movie, however, as Rachel and three of her pupils are about to leave on a weekend road trip to a drama competition, and the bulk of the film's 87 minutes will be spent in the company of Rachel and young thespians Margot, Billy and Sam, first in the car and then in the hotel where students from across California gather to rehearse and perform monologues. Rachel will be no less lonely here, despite the company of her peers, though she will make attempts to connect, and one of her students will make his own play for her.
As she struggles to provide some sort of guidance to her trio of wannabe actors, it quickly becomes clear how lost Rachel is, herself. Her damaged psyche threatens to overwhelm the story, at one point, but Hart is making a dramedy, not a pure drama, and so just when things get rough, she leavens the proceedings with just enough humor – which even Rachel can appreciate – to keep us and her characters from too much despair. Still, not every scene works equally well, despite the great work from Rabe and her co-stars Lili Reinhart (Forever's End),Timothée Chalamet (Love the Coopers) and newcomer Anthony Quintal, as there are moments when the script is not quite up to the tonal balancing act it requires. Mostly, though, it succeeds in bringing us along on a uniquely quirky voyage of self-discovery in which both teacher and student learn from each other and grow…while also cracking a smart joke or two.
– Christopher Llewellyn Reed (@ChrisReedFilm)