TRIBECA FILM FESTIVAL 2023 LINEUP: New Films From Steve Buscemi, Dustin Guy Defa, and Chelsea Peretti To Premiere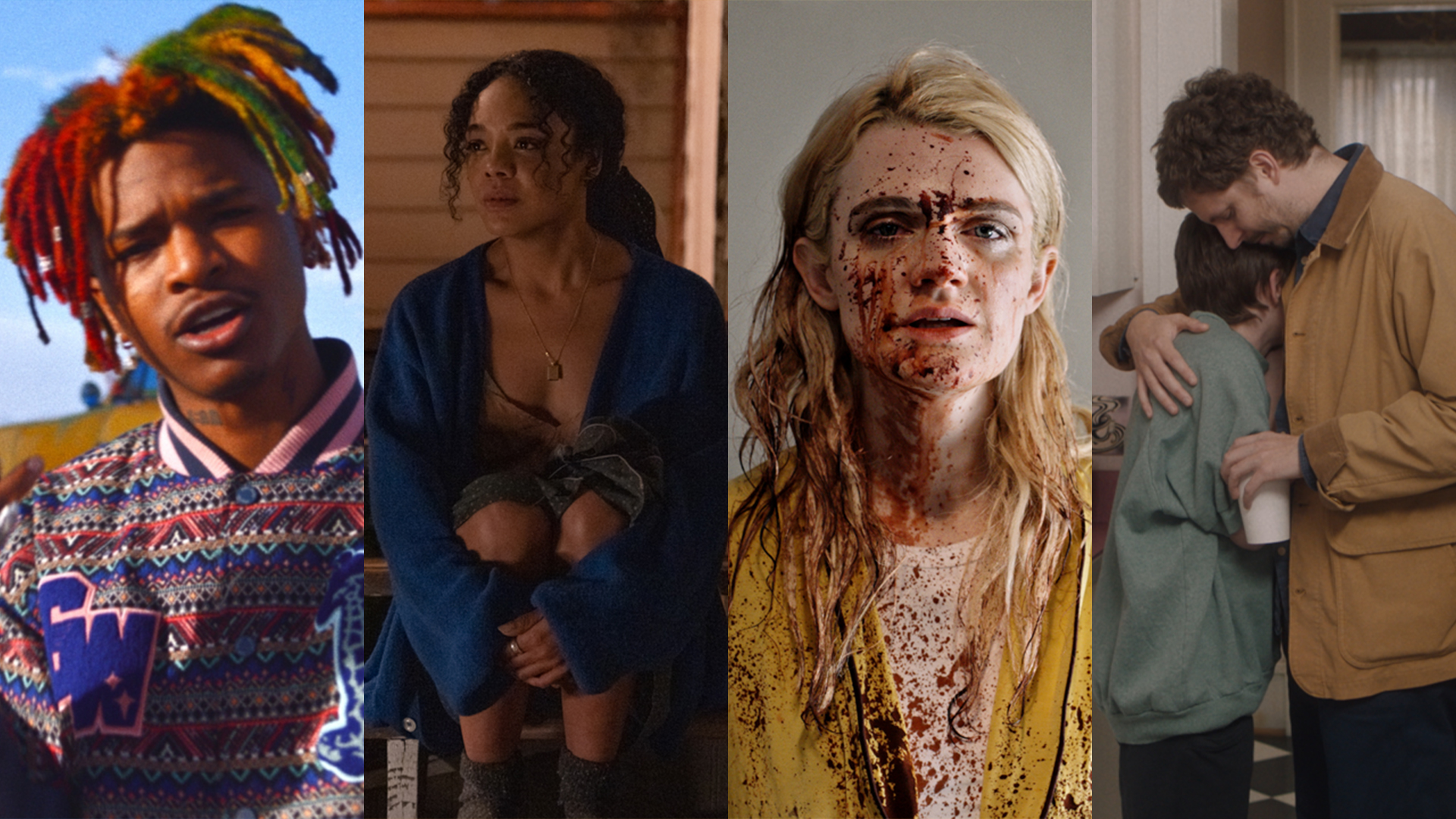 The lineup for the 2023 Tribeca Film Festival has just been unveiled.
Taking place from June 7-18 in New York City, it will screen a total of 109 feature films from 127 filmmakers across 36 countries, with 93 world premieres, one international premiere, eight North American premieres, one U.S. premiere, and six New York premieres.
For many films in this year's edition, a lot of hot actors have stepped behind the camera. Some of the highlights include the directorial debuts of Chelsea Peretti, Michael Shannon, Lily Rabe, and Hamish Linklater. Randall Park's directorial debut Shortcomings, which also premiered at Sundance, will have its NY premiere at the festival, as will John Slattery's Maggie Moore(s) and David Duchovny's Bucky F*cking Dent.
Other highlights include films that have already premiered on the festival circuit. Some of these include Christian Petzold's Berlinale winner Afire, Oscar winner Michel Hazanavicius' zombie comedy Final Cut, Dustin Guy Defa's family dramedy The Adults, Alexandria Bombach's Indigo Girls documentary It's Only Life After All, and David Redmon & Ashley Sabin's revelatory doc Kim's Video.
Among the filmmakers are 43 first-timers and 29 directors returning to Tribeca with their latest projects. A total of 41% of all feature films are directed by women and, for the first time, more than half of competition feature films are directed by women at 68%. About 36% of feature films are directed by BIPOC filmmakers, including two Indigenous filmmakers.
Tickets for the festival go on sale May 2. Tribeca Festival audiences can also stream selections at home from June 19 to July 2 via the Tribeca at Home online platform.
See the full lineup below:
U.S. NARRATIVE COMPETITION
Discover breakout independent voices from around the country as these extraordinary world premieres compete for honors in Tribeca's U.S. Narrative Competition.
Bad Things, (United States) – World Premiere. A weekend getaway for a few girlfriends at a snowy resort becomes a psychological tailspin and bloody nightmare. Long-deceased guests and the space itself come to life in this haunting thriller. Directed and written by Stewart Thorndike. Produced by Lizzie Shapiro, Lexi Tannenholtz. With Gayle Rankin, Hari Nef, Annabelle Dexter-Jones, Rad Pereira, Jared Abrahamson, Molly Ringwald. A Shudder release.
Cypher, (United States) – World Premiere. Documenting the astronomical rise of rapper Tierra Whack, director Chris Mourkabel captures the weird and sinister side of fame. This riveting and enigmatic pseudo-documentary will have viewers questioning everything they see. Directed and written by Chris Moukarbel. Produced by Tony Hernandez, Lilly Burns, John Hodges, Tierra Whack, Sanjay M. Sharma, Roya Rastegar, Anthony Seyler, Chris Moukarbel.
The Graduates, (United States) – World Premiere. After a tragedy, a group of friends faces an unsettling senior year. Feelings of loss, anger, fear, and aimlessness abound in the community at the center of director Hannah Peterson's debut feature film. Directed and written by Hannah Peterson. Produced by Josh Peters, Saba Zerehi, Taylor Shung, Jessamine Burgum. With Mina Sundwall, Alex Hibbert, Yasmeen Fletcher, Ewan Manley, John Cho, Maria Dizzia, Kelly O'Sullivan.
Lost Soulz, (United States) – World Premiere. Set to a lo-fi, genre-bending soundtrack, "Lost Soulz" follows a young rapper as he leaves behind his surrogate family and sets out on an expedition across Texas, contemplating new and old friendships. Directed and written by Katherine Propper. Produced by Andres Figueredo Thomson, Juan Carlos Figueredo Thomson, Katherine Propper. With Sauve Sidle, Syanda Stillwell, Micro TDH, Krystall Poppin, Alexander Brackney, Malachi Mabson.
Mountains, (United States) – World Premiere. Xavier works in demolition and dreams of buying a bigger house for his family, while his adult son, caught between two cultures, struggles to find a place for himself. What results is a loving portrait of the Haitian community in Miami. Directed by Monica Sorelle, written by Monica Sorelle and Robert Colom. Produced by Robert Colom. With Atibon Nazaire, Sheila Anozier, Chris Renois.
The Secret Art of Human Flight, (United States) – World Premiere. While mourning the death of his wife and fending off an ambitious detective who thinks he killed her, Ben encounters a man who claims that he can teach him to fly. Directed by H.P. Mendoza, written by Jesse Orenshein. Produced by Grant Rosenmeyer, Tina Carbone, Benjamin Wiessner. With Grant Rosenmeyer, Paul Raci, Lucy DeVito, Nican Robinson, Reina Hardesty, Maggie Grace, Sendhil Ramamurthy.
Smoking Tigers, (United States) – World Premiere. Set in early-2000s SoCal, "Smoking Tigers" follows a Korean American girl as she navigates derision and growing tensions while balancing the duality of her low-income family and wealthy, elite high school environment. Directed and written by Shelly Yo. Produced by Guo Guo. With Ji Young Yoo, Jung Joon Ho, Abin Shim, Erin Yoo.
Somewhere Quiet, (United States) – World Premiere. In the ominous and tense "Somewhere Quiet," a woman readjusts to normalcy after surviving a traumatic kidnapping — but her grounded sense of reality soon starts to deteriorate when she travels with her husband to his wealthy family's isolated compound. Directed and written by Olivia West Lloyd. Produced by Taylor Ava Shung, Emma Hannaway, Eamon Downey. With Jennifer Kim, Kentucker Audley, Marin Ireland.
INTERNATIONAL NARRATIVE COMPETITION
The New-York based Festival breaks its geographical boundaries with the International Narrative Competition, welcoming filmmakers from abroad to join a global platform for contemporary world cinema.
Boca Chica, (Dominican Republic) – World Premiere. A lively coming-of-age drama, "Boca Chica" follows twelve-year-old Desi in her pursuit of becoming a famous singer. As Desi braces to leave her hometown, she's met with deep-seated secrets that have long tormented her family and their coastal Dominican community. Directed by Gabriella A. Moses, written by Marité Ugás, Mariana Rondón. Produced by Sterlyn Ramirez. With Scarlet Camilo, Jean Cruz, Lia Chapman, Xiomara Rodriguez.
Dead Girls Dancing, (Germany, France) – World Premiere. On a road trip across Italy, four recent high school graduates stumble upon an abandoned village. Away from the expectations of parents and teachers, they experiment with the limits of their newfound freedom. Directed and written by Anna Roller. Produced by Katharina Kolleczek, Lea Neu, Laure Parleani, Bérénice Vincent. With Luna Jordan, Noemi Liv Nicolaisen, Katharina Stark, Sara Giannelli.
The Future, (Israel) – World Premiere. Nurit, a criminal profiler, is recruited by Israel's secret service to interrogate a young Palestinian woman who assassinated a government minister. Over the course of their meetings, Nurit realizes some uncomfortable truths. Directed and written by Noam Kaplan. Produced by Yoav Roeh, Aurit Zamir. With Reymonde Amsellem, Samar Qupty, Dar Zuzovsky, Aviva Ger, Salwa Nakkara.
Je'vida, (Finland) – World Premiere. When embittered Sámi elder Je'vida returns to her childhood home to ready it for sale, she is flooded with the memories of a life shaped by deep systemic racism and the unyielding love of her grandfather, leading to a life-changing epiphany. Directed by Katja Gauriloff, written by Katja Gauriloff, Niillas Holmberg. Produced by Joonas Berghäll, Satu Majava, Anna Nuru. With Agafia Niemenmaa, Heidi Juliana Gauriloff, Sanna-Kaisa Palo, Seidi Haarla, Erkki Gauriloff, Matleena Fofonoff.
Marinette, (France) – International Premiere. Marinette tells the story of pioneering French female soccer star Marinette Pichon. Filmmaker Virginie Verrier's biopic traces the athlete's battle to earn her homeland's respect after achieving success in the United States. Directed and written by Virginie Verrier. Produced by Virginie Verrier. With Garance Mariller, Emilie Dequenne, Alban Lenoir, Fred Testot, Sylvie Testud.
Richelieu, (Canada, France, Guatemala) – World Premiere. After a bad breakup, Ariane moves home and gets a job as an interpreter for seasonal migrant workers. Witnessing workplace abuses, Ariane must decide how far she is willing to go to speak out against injustice. Directed and written by Pier-Philippe Chevigny. Produced by Geneviève Gosselin-G., Miléna Poylo, Gilles Sacuto, Alice Bloch. With Ariane Castellanos, Marc-André Grondin, Nelson Coronado, Marvin Coroy, Maria Mercedes Coroy.
Silver Haze, (Netherlands, UK) – North American Premiere. 23-year-old Franky has spent most of her life seeking justice for the fire that left her with both physical and emotional scars as a child. When Franky falls in love with Florence, it seems her wounds have begun to heal, but the past finds a way of coming back to her. Directed and written by Sacha Polak. Produced by Marleen Slot, Mike Elliott. With Vicky Knight, Esmé Creed-Miles, Charlotte Knight, Archie Brigden, Angela Bruce.
A Strange Path, (Brazil) – World Premiere. A young filmmaker returns to his hometown and attempts to reconnect with his father as the pandemic rapidly accelerates across Brazil. However, their relationship proves to be more complicated with increasingly bizarre phenomena occurring as they get closer. Directed and written by Guto Parente. Produced by Ticiana Augusto Lima. With Lucas Limeira, Carlos Francisco, Tarzia Firmino, Rita Cabaço.
DOCUMENTARY COMPETITION
Experience the cinema of reality with these remarkable non-fiction premieres sure to make waves in the coming year.
Between the Rains, (Kenya) – World Premiere. "Between the Rains" is a coming-of-age documentary following a young member of a formerly nomadic northern Kenyan tribe as it deals with the environmental and psychological effects of climate change. The result is a film woven around the concepts of tradition, culture, and home. Directed by Andrew H. Brown, Moses Thuranira. Produced by Moses Thuranira, Samuel Ekomol, Andrew H. Brown.
Breaking the News, (United States) – World Premiere. Breaking the News follows the determined efforts of women and nonbinary journalists launching a news "startup" to foreground voices omitted from mainstream news. Filmmakers Hernandez, Courtney, and Hairston provide a deep look into bias and inclusion in the ever-shifting media landscape. Directed by Chelsea Hernandez, Heather Courtney, Princess A. Hairston. Produced by Diane Quon, Heather Courtney, Princess A. Hairston, Chelsea Hernandez.
The Gullspång Miracle, (Sweden, Norway, Denmark) – World Premiere. In Maria Fredriksson's stranger-than-fiction documentary, two pious sisters buy an apartment after having witnessed a divine sign — only to realize that the seller of the apartment looks identical to their other sister, who committed suicide some thirty years before. Directed by Maria Fredriksson. Produced by Ina Holmqvist.
The Lionheart, (United States) – World Premiere. The on-track death of two-time Indianapolis 500 winner Dan Wheldon shook motorsports to its core. Ten years later, Wheldon's sons Sebastian and Oliver follow in their father's footsteps, working through their grief behind the wheel at 200 MPH. Directed by Laura Brownson. Produced by Chapman Way, Maclain Way, Laura Brownson.
Maestra, (United States, France, Poland, Greece) – World Premiere. Filmmaker Maggie Contreras follows women from different backgrounds as they compete in the first all-women competition for conducting. Maestra explores gender expectations with poise and warmth. Directed by Maggie Contreras. Produced by Neil Berkeley, Maggie Contreras, Melanie Miller, Lauren Lexton, Emma West.
Q, (Lebanon, United States) – World Premiere. In her exceptional debut feature, filmmaker Jude Chehab potently explores her mother Hiba's devotion to an all-female, secretive religious order in Syria. With visually striking and haunting imagery, Chehab scrutinizes how this devotion upended their mother-daughter relationship and the dynamic of the whole family. Directed, written and produced by Jude Chehab.
Richland, (United States) – World Premiere. Richland is a sobering, meditative portrait of a nuclear company town that embraces its origins and divisive past, all while reflecting on its future. Filmmaker Irene Lusztig's patient and inquisitive storytelling expertly navigates themes of security, violence, and community. Directed by Irene Lusztig. Produced by Irene Lusztig, Sara Archambault.
Rock Hudson: All That Heaven Allowed, (United States, United Kingdom, New Zealand) – World Premiere. This timely exploration of Hollywood and LGBTQ+ identity examines the life of legendary actor Rock Hudson, from his public "ladies' man" persona to his private life as a gay man. Directed by Stephen Kijak. Produced by Will Clarke, George Chignell, Carolyne Jurriaans, Greg Berlanti, Sarah Schechter. An HBO Documentary Films release.
Rule of Two Walls, (Ukraine) – World Premiere. Rule of Two Walls explores the war in Ukraine through the lens of artists living and creating in the midst of unprecedented conflict. Visceral, poetic, and urgent, it illuminates the vital role of cultural and spiritual defiance in times of crisis. Directed by David Gutnik. Produced by Olha Beskhmelnytsina, Sam Bisbee, Stacey Reiss.
Stylebender, (New Zealand) – World Premiere. Israel Adesanya is an out-of-this-world fighter who is as complex as he is powerful. Stylebender follows the Nigerian-born, New Zealand-based MMA Champion as he grows his legend. Directed by Zoe McIntosh. Produced by Tom Blackwell.
Take Care of Maya, (United States) – World Premiere. When Jack and Beata Kowalski are wrongfully accused of child abuse after their 10-year-old daughter Maya visits the ER, a nightmare unfolds. Directed by Henry Roosevelt. Produced by Caitlin Keating. A Netflix release.
Transition, (United States) – World Premiere. Transition follows Australian filmmaker Jordan Bryon as he undergoes transition while embedded with Taliban forces. Directed by Jordan Bryon, Monica Villamizar. Produced by Monica Villamizar.
SPOTLIGHT NARRATIVE
A launching pad for the most buzz-worthy new films, Tribeca's Spotlight section brings audiences anticipated premieres from acclaimed filmmakers and star performers.
The Adults, (United States) – North American Premiere. A short trip back home reunites three siblings with a complicated past. "The Adults" explores the family dynamics that unfold when one of the siblings tries to assert his dominance as the best poker player in town. Directed and written by Dustin Guy Defa. Produced by Allison Rose Carter, Jon Read, Michael Cera, Julia Thompson, Hannah Dweck, Theodore Schaefer. With Michael Cera, Hannah Gross, Sophia Lillis. A Universal Pictures Content Group release.
Afire, (Germany) – New York Premiere. Leon and Felix travel to a summer home near the Baltic Sea hoping to dive into creative pursuits, but an unexpected guest disrupts their plans. As the sky turns orange from a nearby forest fire, it's clear that trees aren't the only thing burning. Directed and written by Christian Petzold. Produced by Florian Koerner von Gustorf, Michael Weber, Anton Kaiser. With Thomas Schubert, Paula Beer, Langston Uibel. A Sideshow and Janus Films Release.
The Blackening, (United States) – US Premiere. Based on the viral digital skit, "The Blackening" tells the story of old friends who reunite in a cabin in the woods (where have we heard that before?). The fun weekend quickly becomes a fight to survive, and the only way to make it out is to figure out which friend is the Blackest of them all. Directed by Tim Story, written by Tracy Oliver, Dewayne Perkins. Produced by Sharla Sumpter Bridgett, Marcei A. Brown, Jason Clark, E. Brian Dobbins, Tracy Oliver, Tim Story. With Grace Byers, Jermaine Fowler, Melvin Gregg, X Mayo, Dewayne Perkins, Antoinette Robertson, Sinqua Walls, Jay Pharoah, Yvonne Orji. A Lionsgate release.
Blood for Dust, (United States) – World Premiere. Jeff loses his traveling salesman job and decides to take on a risky new opportunity with Ricky, an old acquaintance. Soon, he is submerged into a dangerous underworld in this edge-of-your-seat action thriller. Directed by Rod Blackhurst, written by David Ebeltoft. Produced by Noah Lang, Mark Fasano, Nathan Klingher, Bobby Campbell, Arun Kumar, Ari Novak. With Scoot McNairy, Kit Harington, Josh Lucas, Stephen Dorff, Ethan Suplee, Nora Zehetner, Amber Rose Mason.
Bucky F*cking Dent, (United States) – World Premiere. Aspiring novelist and Yankee Stadium peanut slinger, Ted, discovers his estranged, Red Sox fanatic father is terminally ill. Wanting to mend fences and take care of the old man, Ted returns home with results as wild and unpredictable as the 1978 baseball season. Directed and written by David Duchovny. Produced by Jordan Yale Levine, Jordan Beckerman, Tiffany Kuzon, David Duchovny. With David Duchovny, Logan Marshall-Green, Stephanie Beatriz.
Cinnamon, (United States) – World Premiere. Two young lovers risk it all to chase their dreams. With great performances, including a menacing Pam Grier, "Cinnamon" deftly brings the Blaxploitation genre to the modern day. Directed and written by Bryian Keith Montgomery Jr. Produced by Oz Scott. With Damon Wayans, Hailey Kilgore, David Iacono, Jeremie Harris, Pam Grier. A Tubi release.
Cold Copy, (United States) – World Premiere. The kinetic drama "Cold Copy" follows an ambitious journalism student's tactics to impress, and get into the good graces of, an esteemed yet cutthroat news reporter — even if it involves manipulating her latest story … and truth itself. Directed and written by Roxine Helberg. Produced by Justin Lothrop, Brent Stiefel, Daniel Bekerman, Roxine Helberg. With Bel Powley, Tracee Ellis Ross, Jacob Tremblay, Nesta Cooper.
Downtown Owl, (United States) – World Premiere. Based on the novel by Chuck Klosterman, "Downtown Owl" is a stylish and energetic adaptation that thrusts viewers into small-town Owl, North Dakota, as a motley crew of characters brace for a historic blizzard. Directed by Lily Rabe, Hamish Linklater, written by Hamish Linklater. Produced by Bettina Barrow, Lily Rabe, Hamish Linklater, Rebecca Green. With Lily Rabe, Ed Harris, Vanessa Hudgens, August Blanco Rosenstein, Jack Dylan Grazer, Arianna Jaffier, Finn Wittrock, Henry Golding.
Eric LaRue, (United States) – World Premiere. In the aftermath of a shocking crime at the hands of their son, two parents seek solace in rival religious congregations in Michael Shannon's emotional directorial debut. Directed by Michael Shannon, written by Brett Neveu. Produced by Sarah Green, Karl Hartman, Jina Panebianco. With Judy Greer, Alexander Skarsgård, Alison Pill, Paul Sparks, Tracy Letts.
First Time Female Director, (United States) – World Premiere. Chelsea Peretti makes her directorial debut with this hilarious ensemble comedy set in a Glendale theater where a new female director struggles to fill the shoes of her male predecessor, putting her Southern rural drama in jeopardy. Directed and written by Chelsea Peretti. Produced by Deanna Barillari, Chelsea Peretti, Amy Poehler, Kate Arend, Jordan Grief. With Chelsea Peretti, Amy Poehler, Kate Berlant, Benito Skinner, Megan Stalter, Megan Mullally.
Fresh Kills, (United States) – World Premiere. After their patriarch goes to prison, the loyal women of the Larusso family must survive by following the unspoken code of the New York City mafia world in the late '80s and early '90s. Directed and written by Jennifer Esposito. Produced by Leslie Owen, Jennifer Esposito, Samantha Sprecher, Christine Crokos. With Emily Baden, Odessa A'zion, Jennifer Esposito, Dominick Lombardozzi, Annabella Sciorra, Nicholas Cirillo.
The Good Half, (United States) – World Premiere. An emotionally distant writer returns home for his mother's funeral in this tender family dramedy. The Good Half offers an honest and nuanced approach to grief, regret, and healing. Directed by Robert Schwartzman, written by Brett Ryland. Produced by Russell Wayne Groves. With Nick Jonas, Brittany Snow, Matt Walsh, David Arquette, Alexandra Shipp, Elisabeth Shue.
He Went That Way, (United States) – World Premiere. A fateful meeting in 1964 along Route 66 pairs a 19-year-old serial killer with a celebrity animal handler shepherding an American TV darling — his chimpanzee, Spanky. Directed by Jeffrey Darling, written by Evan M. Wiener. Produced by Marc Benardout, Hugh Broder, James Harris, Jeremy Kotin, Mark Lane. With Jacob Elordi, Zachary Quinto.
I.S.S., (United States) – World Premiere. Tensions flare in the near future aboard the International Space Station as nuclear war begins on Earth. Reeling from these events, astronauts and cosmonauts receive similar orders: take control of the station at any cost. Directed by Gabriela Cowperthwaite, written by Nick Shafir. Produced by Pete Shilaimon, Mickey Liddell. With Chris Messina, Ariana DeBose, Pilou Asbæk, John Gallagher Jr., Costa Ronin, Maria Mashkova.
John Early: Now More Than Ever, (United States) – World Premiere. A comedy special by way of The Last Waltz, New York's alt-comedy godfather John Early performs his silly, surreal, spontaneous stand-up set in front of a live audience, a full band … and his parents. Directed by Emily Allan, Leah Hennessey. Produced by John Early, Dave Kneebone, Tim Heidecker, Eric Wareheim, Janel Kranking. An HBO Original Release.
LaRoy, (United States, France) – World Premiere. After discovering his wife's affair, Ray Jepsen plans to kill himself, but fate intervenes. Through a bizarre turn of events, he is mistaken for a low-rent hired killer and decides to become one. Directed and written by Shane Atkinson. Produced by Caddy Vanasirikul, Sébastien Aubert, Jérémie Guiraud. With John Magaro, Steve Zahn, Dylan Baker, Megan Stevenson, Matthew Del Negro, Brad Leland.
The Lesson, (UK) – World Premiere. A young novelist eager to make a name for himself begins tutoring the son of one of the most influential writers in the world. Good intentions soon give way to suspicion as darker motivations surface and the lines of master and protégé are blurred. Directed by Alice Troughton, written by Alex MacKeith. Produced by Camille Gatin, Cassandra Sigsgaard, Judy Tossell, Fabien Westerhoff. With Richard E. Grant, Julie Delpy, Daryl McCormack, Stephen McMillan, Crispin Letts. A Bleecker Street release.
The Line, (United States) – World Premiere. Coming-of-age feature "The Line" explores the moral ambiguity of loyalty to tradition, as seen through a college sophomore in the throes of fraternity culture. Directed by Ethan Berger, written by Ethan Berger, Alex Russek. Produced by Alexandre Dauman, Jack Parker, Adam Paulsen, Lije Sarki. With Alex Wolff, Lewis Pullman, Halle Bailey, Austin Abrams, Angus Cloud, Scoot McNairy, John Malkovich.
The Listener, (United States) – North American Premiere. An understated drama about a night in the life of a mental health helpline volunteer, The "Listener" is a stirring testament to the power of empathy. Directed by Steve Buscemi, written by Alessandra Camon. Produced by Wren Arthur, Steve Buscemi, Oren Moverman, Lauren Hantz, Tessa Thompson. With Tessa Thompson.
Maggie Moore(s), (United States) – World Premiere. A small-town sheriff is baffled when two women with the same name get murdered days apart. Things quickly ratchet up in this comedy that reunites leading Mad Men alumni. Directed by John Slattery, written by Paul Bernbaum. Produced by John Slattery, Vincent Newman, Dan Reardon, Santosh Govindaraju, Nancy Leopardi, Ross Kohn. With Jon Hamm, Tina Fey, Micah Stock, Nick Mohammed, Happy Anderson, Mary Holland. A Screen Media release.
The Miracle Club, (Ireland, UK) – World Premiere. Three close friends who have never left the outskirts of Dublin (much less Ireland) get the journey of a lifetime – a visit to Lourdes, the picturesque French town and place of miracles. Directed by Thaddeus O'Sullivan, written by Joshua D. Maurer, Timothy Prager, Jimmy Smallhorne. Produced by Joshua D. Maurer, Alixandre Witlin, Chris Curling, Larry Bass, Aaron Farrell, John Gleeson, Osín O'Neill. With Laura Linney, Maggie Smith, Kathy Bates, Agnes O'Casey, Stephen Rea. A Sony Pictures Classics release.
Our Son, (United States) – World Premiere. Fed up with the state of his relationship, Gabriel files for divorce from his partner of thirteen years, Nicky. Thus begins their complex journey to find themselves and support their son along the way. Directed by Bill Oliver, written by Peter Nickowitz, Bill Oliver. Produced by Fernando Loureiro, Eric Binns, Guilherme Coelho, Jennifer 8. Lee, Christopher Lin. With Billy Porter, Luke Evans, Robin Weigert, Andrew Rannells, Isaac Powell, Phylicia Rashad.
The Perfect Find, (United States) – World Premiere. Looking for a fresh start, a forty-year-old returns to the workforce, where she must navigate a challenging workplace, a demanding boss, and a lusty secret romance. directed by Numa Perrier, written by Leigh Davenport. Produced by Glendon Palmer, Gabrielle Union, Jeff Morrone, Codie Elaine Oliver, Tommy Oliver. With Gabrielle Union, Keith Powers, Aisha Hinds, DB Woodside, Janet Hubert, Alani "La La" Anthony, Gina Torres. A Netflix release.
Shortcomings, (United States) – New York Premiere. A biting satire following the romantic journeys of its trio of protagonists, led by an appealingly misanthropic Justin H. Min, "Shortcomings" is a charming, witty and hilarious directorial debut from Randall Park. Directed by Randall Park, written by Adrian Tomine. Produced by Hieu Ho, Randall Park, Michael Golamco, Margot Hand, Jennifer Berman, Howard Cohen, Eric d'Arbeloff. With Justin H. Min, Sherry Cola, Ally Maki, Debby Ryan, Tavi Gevinson, Sonoya Mizuno, Jacob Batalon, Timothy Simons. A Sony Pictures Classics Release.
SPOTLIGHT DOCUMENTARY
Both onscreen and behind the camera, Spotlight Documentary films represent the most noteworthy names in nonfiction premiering high profile new work.
All Up in the Biz, (United States) – World Premiere. In All Up in the Biz, director Sacha Jenkins creates a collage of celebrity interviews, rare film, reenactments, and playful animation to share how Biz Markie left his mark on the history of hip-hop. Directed by Sacha Jenkins. Produced by Andre Wilkins, Djali Brown-Cepeda.
American Son, (United States) – World Premiere. Author Jay Caspian Kang's astute, incisive directorial debut tells the story of Asian American tennis prodigy Michael Chang, the youngest player to win a men's Grand Slam tournament. Directed by Jay Caspian Kang. Produced by Laura Dodd, Cora Atkinson. An ESPN Films release.
Anthem, (United States) – World Premiere. What would it sound like to have a national anthem that actually reflects America? "Anthem" follows composer Kris Bowers and producer DJ Dahi on a road trip across the country to find out. Directed by Peter Nicks. Produced by Peter Nicks, Kris Bowers, Sean Havey, Chris L. Jenkins, Ryan Coogler. A Hulu release.
BS High, (United States) – World Premiere. After a nationally televised high school football game between top-ranked IMG Academy and unknown Bishop Sycamore ended with an IMG blowout win, it's discovered that Bishop Sycamore isn't at all what it seems. Directed by Martin Desmond Roe, Travon Free. Produced by Jack Turner, Spencer Paysinger, Todd Schulman, Constance Schwartz-Morini, Adam McKay, Michael Strahan, Jay Peterson, Todd Lubin. An HBO Sports Documentaries release.
Comedy of War: Laughter in Ukraine, (United States) – World Premiere. Four Ukrainian stand-up comics tour their homeland, bringing laughter and joy as a form of resistance and recovery amid wartime. This heartfelt documentary beautifully portrays the enduring human spirit and comedy's healing power. Directed by Christopher Walters. Produced by Krista Liney.
Common Ground, (United States) – World Premiere. Sobering yet hopeful, "Common Ground" exposes the interconnectedness of American farming policy, politics, and illness. Follow the solution-driven plight of Regenerative Farmers as they make a case for soil health across the continent and beyond. Directed by Rebecca Tickell, Josh Tickell. Produced by Rebecca Tickell, Josh Tickell, Eric Dillon.
Recipient of the 2023 Human/Nature Award.
Every Body, (United States) – World Premiere. Three intersex people challenge a heteronormative system of secrecy and non-consensual surgery. Every Body is Oscar-nominated documentarian Julie Cohen's impassioned battle cry for the rights and dignity of intersex children and adults in the United States. Directed by Julie Cohen. Produced by Tommy Nguyen, Molly O'Brien. A Focus Features release.
Happy Clothes: A Film About Patricia Field, (United States) – World Premiere. With idiosyncratic style and an eye toward the future of fashion, Patricia Field has always been shaping culture. "Happy Clothes: A Film About Patricia Field" brings us into the mind of the one-of-a-kind visionary and queer icon. Directed by Michael Selditch. Produced by Donald Zuckerman, Samuel J. Paul, Michael Selditch, Lydia Tenaglia, Christopher Collins, Luisa Law, Tricia Weber Youssi, Ryan Price, Lori Zuckerman.
Invisible Beauty, (United States) – New York Premiere. This documentary about the life of model and activist Bethann Hardison is both a fascinating life story and an irrefutable argument for the importance of diversity and inclusion. Directed by Bethann Hardison, Frédéric Tcheng. Produced by Lisa Cortés.
It's Basic, (United States) – World Premiere. A compelling look at Universal Basic Income pilot programs in U.S. cities, "It's Basic" follows those spearheading the movement to combat inequality and poverty. Directed by Marc Levin. Produced by Michael Tubbs, Daphne Pinkerson, Auri Akerele, Elizabeth Sehring.
The League, (United States) – World Premiere. Baseball isn't the game we know and love without the contribution of Black Americans. Director Sam Pollard explores the incredible history of the Negro Leagues, its impact on the sport of baseball, and the players that still resonate through history to this day. Directed by Sam Pollard. Produced by Dave Sirulnick, Jen Isaacson, Robin Espinola, Byron Motley, Ahmir "Questlove" Thompson, Tariq Trotter. A Magnolia Pictures release.
Milli Vanilli, (United States) – World Premiere. Filmmaker Luke Korem looks back on the origins and eventual fallout of a one-hit-wonder. "Milli Vanilli" scrutinizes the dreams of singers Rob & Fab, who fell prey to greedy tactics, causing their downfall. Directed by Luke Korem. Produced by Luke Korem, Bradley Jackson.
Minted, (United States, Canada, Cuba, Netherlands, India, Nigeria) – World Premiere. Director Nicholas Bruckman brings a fascinating look at the intersection of art, commerce, and digital ownership through the rise and crash of the NFT market. Directed by Nicholas Bruckman. Produced by Shawn Hazelett, Rahilla Zafar.
Open Heart, (United States) – World Premiere. "Open Heart" is an intimate profile of New York Rangers goalie Henrik Lundqvist's struggles to return to hockey after heart surgery. Directed by Jonathan Hock. Produced by Philip Aromando, Erin Leyden, Larry Robbins.
Poisoned: The Danger in Our Food, (United States) – World Premiere. Foodborne pathogens kill thousands of people in the U.S. every year. The urgent documentary Poisoned: The Danger in Our Food is a call to action for the officials who have the power to mitigate this danger. Directed by Stephanie Soechtig. Produced by Ross Girard, Ross Dinerstein, Rebecca Evans. A Netflix release.
Rise – the Siya Kolisi Story, (South Africa) – World Premiere. Chronicling the legendary story of the first Black captain of the South Africa National Rugby Union Team, Rise – the Siya Kolisi Story shows a rebellious young star as he becomes a leader, and ultimately a cultural icon. Directed by Tebogo Malope. Produced by Jon Day.
Ron Delsener Presents, (United States) – World Premiere. Ron Delsener was the most influential concert promoter in New York. In addition to looking back at his career, this documentary shows that the now 86-year-old Delsener still has a spring in his step. Directed by Jake Sumner. Produced by Jake Sumner, James A. Smith, Margaret Loeb.
The Saint of Second Chances, (United States) – World Premiere. "The Saint of Second Chances" explores the legendary Major League Baseball promoter and owner, Bill Veeck. From "Disco Demolition" to fireworks in the outfield, Veeck's stunts are credited with forever making watching baseball more fun. Directed by Morgan Neville, Jeff Malmberg. Produced by Danny Breen, Morgan Neville, Jon Berg. A Netflix release.
The Space Race, (United States) – World Premiere. Highlighting the experiences of the first Black astronauts through decades of archival footage and interviews, The Space Race is a reflective illumination on the burden of breaking barriers. Directed by Diego Hurtado de Mendoza, Lisa Cortés. Produced by Keero Birla.
Stan Lee, (United States) – World Premiere. Tracing his life from his upbringing in New York as Stanley Lieber to the rise of Marvel Comics, "Stan Lee" tells the story of Stan Lee's life, career, and legacy using his own words and personal archival material. Directed by David Gelb. Produced by David Gelb, Jason Sterman and Brian McGinn. A Disney+ release.
Sunday Best, (United States) – World Premiere. An affectionate documentary about the career of pioneering television host Ed Sullivan, Sunday Best pays particular attention to Sullivan's platforming of Black musicians during the civil rights era. Directed by Sacha Jenkins. Produced by Rafael Marmor, Margo Precht Speciale, Christopher Leggett, Peter Bittenbender, Mark Monroe.
Taylor Mac's 24-Decade History of Popular Music, (United States) – World Premiere. This riotous concert film documents New York theater legend Taylor Mac's joyous, challenging, and ostentatiously queer 24-hour musical performance. Featuring virtuoso musicians, innovative costumes, and the American myth as told by sailor's ditties, disco, and sugary pop alike, Mac's cathartic celebration is not to be missed. Directed by Rob Epstein, Jeffrey Friedman. Produced by Joel Stillerman, Linda Brumbach, Alisa Regas, Taylor Mac, Mari Rivera. An HBO Documentary Films Release.
This Is Not Financial Advice, (United States) – World Premiere. Retail investors, including "Dogecoin Millionaire" Glauber Contessoto, navigate the burgeoning, lucrative, and volatile world of cryptocurrency. Directed by Chris Temple, Zach Ingrasci. Produced by Jenna Kelly, Carrie Weprin, Martine Phelan-Roberts.
Untitled Nicky Nodjoumi, (United States) – World Premiere. In this hybrid political thriller and verité portrait documentary, Sara Nodjoumi, working with co-director and husband, Till Schauder, makes her directorial debut with this personal film, diving into the mystery surrounding the disappearance of more than 100 "treasonous" paintings by her father, seminal Iranian modern artist Nickzad Nodjoumi. Directed by Sara Nodjoumi, Till Schauder. Produced by Sara Nodjoumi, Till Schauder. An HBO Documentary release.
We Dare to Dream, (UK) – World Premiere. An inspirational, intimate story of resilience and freedom, We Dare To Dream follows athletes on their journey to become part of the refugee Olympic team in Tokyo 2020. Directed by Waad al-Kateab. Produced by Joanna Natasegara.
Your Fat Friend, (United States, UK) – World Premiere. Popular anonymous blogger Aubrey Gordon spent five years writing about the realities of living as a self-described "very fat person." Now, she is about to face the public for the very first time. Directed and produced by Jeanie Finlay.
SPOTLIGHT+
Tribeca's unique Spotlight+ events bring the film experience off the screen with live events, performances, and conversations after each screening.
Bad Like Brooklyn Dancehall, (United States, Jamaica) – World Premiere. New York City is the Fifteenth Parish in this documentary about the city's role in the evolution of Dancehall, with legends like Shaggy and Sean Paul on hand to help tell the story. Directed by Ben DiGiacomo, Dutty Vanier. Produced by Amy DiGiacomo, Jay Will, Ben DiGiacomo, Ramfis Myrthil, AJ Leon.
After the Movie: Performance by Dancehall legends.
Gloria Gaynor: I Will Survive, (United States) – World Premiere. After 40 years, the singer of "I Will Survive" makes her comeback with a new gospel album. This poignant documentary chronicles Gloria Gaynor's struggles with ageism and financial ruin on the journey to have her voice heard once more. directed by Betsy Schechter. Produced by Betsy Schechter.
After the Movie: A performance by the one and only Gloria Gaynor.
It's Only Life After All, (United States) – New York Premiere. A revealing exploration of the beloved duo The Indigo Girls — from their serendipitous meeting at Emory University to their worldwide acclaim — "It's Only Life After All" beautifully demonstrates how the musical pair has always remained authentic to their roots as artists, activists, and friends. Directed by Alexandria Bombach. Produced by Kathlyn Horan, Jess Devaney, Anya Rous, Alexandria Bombach.
After the Movie: Songwriting Masterclass by Indigo Girls.
Rather, (United States) – World Premiere. Rather is a long overdue tribute to an icon of journalism, a late-in-life Twitter superstar, father, husband, and voice of reason, compassion and brilliance—Dan Rather. Directed by Frank Marshall. Produced by Frank Marshall, Jenifer Westphal, Joe Plummer, Jeff Hasler, Ethan Goldman, Aly Parker.
After the Movie: A conversation with Peabody Award-winning news anchor Dan Rather and director Frank Marshall.
Scream of My Blood: A Gogol Bordello Story, (United States) – World Premiere. Following the Russian invasion of his native Ukraine, Eugene Hütz recalls the influence Ukrainian and Roma culture had on him in this globe-spanning history of his punk band Gogol Bordello. Directed by Nate Pommer. Produced by Shawn Killebre.
After the Movie: A performance by Gogol Bordello.
Songs About Fucking, (United States) – World Premiere. "Songs About Fucking" introduces the artist, showman, and robe-clad raconteur Marc Rebillet as he embarks on one of the first live music tours after COVID-19 lockdown. Directed by James Gallagher. Produced by Lizzie Shapiro, Andrew Swett, Gus Deardoff.
After the Movie: A musical Q&A with Marc Rebillet.
Uncharted, (United States) – World Premiere. Filmmaker Beth Aala goes behind the scenes of Alicia Keys' "She Is The Music" songwriting camp in this revealing look at the music business. Through the experiences of young Black and Brown women, we are shown how hard it is to succeed in a world granting very little access and opportunity for them. Directed and produced by Beth Aala. Executive Produced by Abby Greensfelder.
After the Movie: A performance from She Is The Music artists, curated by Alicia Keys.
Waitress, the Musical – Live on Broadway!, (United States) – World Premiere. The hit Broadway musical about a small-town pie baker with big dreams gets the silver screen treatment. Directed by Brett Sullivan, music and lyrics by Sara Bareilles, book by Jessie Nelson. Produced by Michael Roiff, Barry Weissler, Fran Weissler, Sara Bareilles, Jessie Nelson, Paul Morphos. With Sara Bareilles, Charity Angél Dawson, Caitlin Houlahan, Drew Gehling, Dakin Matthews.
After the Movie: A special performance from Sara Bareilles.
VIEWPOINTS
Tribeca's home for distinct points of view and bold directorial visions, Viewpoints discovers the most boundary-pushing, rule-breaking new voices in independent film.
Apolonia, Apolonia, (Denmark, Poland) – North American Premiere. The striking character-driven documentary "Apolonia, Apolonia" dives into the exhilarating lifestyle of a young French painter. Filmmaker Lea Glob's intimate exploration of Apolonia Sokol's creative pursuits and setbacks results in poignant and deeply-felt storytelling. Directed by Lea Glob. Produced by Sidsel Siersted.
Asog, (Philippines, Canada) – World Premiere. This unique narrative incorporating documentary elements follows Rey, a 40-year-old non-binary teacher and typhoon survivor, on a roadtrip to fame. With surreal comedy and social portrait realism, filmmaker Seán‌ Devlin explores climate change, LGBTQ+ issues, and the impact of colonialism on contemporary Philippines. Directed by Seán Devlin, written by Seán Devlin, Jaya, Arnel Pablo. Produced by Amanda Ernst. With Jaya, Arnel Pablo, Ricky Gacho Jr.
Break the Game, (United States) – World Premiere. Record-breaking gamer Narcissa Wright grapples with her toxic obsession for attention and her space in the streaming community after coming out as transgender, all while attempting to set a new world record for "The Legend of Zelda: Breath of the Wild." Directed and produced by Jane M. Wagner.
Catching Dust, (UK, Spain) – World Premiere. A young couple living through turmoil at a commune in the heart of Big Bend gets a visit from New York transplants seeking a new lease on life. Tensions boil over and egos come to a head, leaving everyone frayed and on the edge of disaster. Directed and written by Stuart Gatt. Produced by Mark David, Jon Katz, Edward R. Pressman, Stuart Gatt. With Erin Moriarty, Jai Courtney, Dina Shihabi, Ryan Corr.
Chasing Chasing Amy, (United States) – World Premiere. A filmmaker goes on a journey of self-discovery while making a documentary on the development and creation of Kevin Smith's controversial LGBTQ+ film, Chasing Amy. Directed by Sav Rodgers. Produced by Alex Schmider, Carrie Radigan, Lela Meadow-Conner, Matthew Mills, Sav Rodgers.
Deep Sea, (China, Netherlands) – North American Premiere. The visually-remarkable coming-of-age animated film "Deep Sea" thrusts a young girl down to a dreamlike aquatic world where she encounters bizarre creatures and fights to reconnect with her mother. Employing sumptuous watercolor and 3D animation, Tian's film is a feast for the eyes and heart. Directed and written by Xiaopeng Tian. Produced by Qiao Yi. With Wang Tingwen, Su Xin, Teng Kuixing, Yang Ting, Ji Jing, Fang Taochen.
Hey Viktor!, (Canada) – World Premiere. Twenty-five long years after his time in the limelight, former child actor Cody Lightning tries to revive his fortunes with a self-produced sequel to Smoke Signals in this smart, irreverent new comedy. Directed by Cody Lightning, written by Cody Lightning, Samuel Miller. Produced by Samuel Miller, Blackhorse Lowe, Joshua Jackson, Kyle Thomas, Sara Corry, Blake McWilliam. With Cody Lightning, Hannah Cheesman, Simon Baker, Adam Beach, Gary Farmer, Irene Bedard, Colin Mochrie.
Kim's Video, (United States) – New York Premiere. For decades, Kim's Video was a gold mine of extraordinary films until its collection vanished into Italy amid a mysterious sale. Now, take a deep dive into the unbelievable true story of the New York video store and cultural landmark beloved by cinephiles. Directed by David Redmon, Ashley Sabin. Produced by Francesco Galavotti, David Redmon, Ashley Sabin, Dale Smith, Deborah Smith, Rebecca Tabasky.
The Last Night of Amore, (Italy) – North American Premiere. Lieutenant Franco Amore is about to retire after 35 years dedicated to the Italian State Police, until a tempting offer arrives on his last day on the job. Writer-director Andrea Di Stefano delivers a contemporary mafia tale involving greed, corruption, and, of course, family affairs. Directed and written by Andrea Di Stefano. Produced by Francesco Melzi d'Eril, Gabriele Moratti, Marco Colombo, Marco Cohen, Benedetto Habib, Fabrizio Donvito, Daniel Campos Pavoncelli. With Pierfrancesco Favino, Linda Caridi.
Melody of Love, (Ethiopia, Belgium, Argentina, Germany) – World Premiere. Ethiopian jazz guitarist Michael is called upon by his mother to leave Addis Ababa and join her in Brussels, stoking his deep resentment toward European entitlement in this rich, evocative meditation on the internalized weight of colonialism. Directed and written by Edmundo Bejarano. Produced by Carlos Vargas. With Elijah Akalu.
Öte, (Turkey) – World Premiere. "Öte" follows Lela, a Black woman from New York City traveling alone through Turkey. In no rush to reach her destination, Lela is happily sidetracked by the chance encounters her journey provides. Directed and written by Edmundo Bejarano. Produced by Carlos Vargas. With Iman Artwell-Freeman, Eren Acili, Gülsüm Ölgen, Ziya Sundançikmaz.
Playland, (United States) – North American Premiere. Haunting, whimsical, and exquisitely realized, "Playland" pays tribute to a long-lost Boston gay bar and the beautiful queer souls who gave it life. Directed and written by Georden West. Produced by Russell Sheaffer, Hannah McSwiggen, Danielle Cooper.
MIDNIGHT
Surprising, shocking, frightening, and thrilling, Tribeca Midnight is the destination for the best in horror and more for late night audiences.
One Night with Adela, (Spain) – World Premiere. After her night shift ends, Adela goes on a drug-fueled, violent rampage of furious revenge on those who ruined her in this remarkably paced, audacious debut. Directed and written by Hugo Ruiz. Produced by Roberto Valentín Carrera, Pedro Azón Ramón y Cajal, Israel Luengo Arana, Hugo Ruiz, Fausto Arias Figuerola-Ferretti, Tote Trenas. With Laura Galán, Gemma Nierga, Jimmy Barnatán, Rosalía Omil, Raudel Raul, Fernando Moraleda.
Perpetrator, (United States, France) – North American Premiere. Teenager Jonny gains supernatural abilities through a mystical transformation, just as girls from her new school go missing. Jonny takes the investigation into her own hands in this coming-of-age, feminist horror-noir. Directed and written by Jennifer Reeder. Produced by Derek Bishé, Gregory Chambet. With Kiah McKirnan, Alicia Silverstone, Christopher Lowell, Melanie Liburd, Ireon Roach. A Shudder release.
The Seeding, (United States) – World Premiere. When a hiker gets lost in the desert, a gang of feral children propelled by haunting legacies traps him in a sadistic battle for survival with a frightening endgame. Directed and written by Barnaby Clay. Produced by Brian R. Etting. With Scott Haze, Kate Lyn Sheil.
You'll Never Find Me, (Australia) – World Premiere. During a rampaging storm, a shaken young woman arrives at a stranger's door in an RV park seeking shelter. They both question motives and desires as things escalate to a deadly, bizarre showdown. Directed by Josiah Allen, Indianna Bell, written by Indianna Bell. Produced by Josiah Allen, Indianna Bell, Jordan Cowan, Christine Williams. With Jordan Cowan, Brendan Rock.
ESCAPE FROM TRIBECA
Our Psychotronic Sidebar presenting genre movies from around the globe, giveaways, and special events sure to please even the rowdiest movie lovers.
Adipurush, (India) – World Premiere. Reimagining the epic Indian poem "Ramayana," the big-budgeted visual feast "Adipurush" tells the tale of a prince on a mission to rescue his wife from a ten-headed demon overlord. Directed by Om Raut, written by Om Raut, Manoj Muntashir Shukla. Produced by Bhushan Kumar, Krishna Kumar, Om Raut, Prasad Sutar, Rajesh Nair. With Prabhas, Saif Ali Khan, Kriti Sanon, Sunny Singh.
Enter the Clones of Bruce, (United States) – World Premiere. Get ready to play a game of death … and another … and another. The wild documentary "Enter the Clones of Bruce" dives into the Bruce Lee exploitation craze, otherwise known as Bruceploitation. Directed by David Gregory. Produced by David Gregory, Carl Daft, Frank Djeng, Vivian Wong, Michael Worth. A Severin Films release.
Enter the Dragon, (Hong Kong, United States). One of the most influential crowd pleasers of all time, Enter the Dragon became a global phenomenon along with its beloved star, the legendary Bruce Lee. Join us for this 50th Anniversary screening and celebrate the legacy of this superstar performer and choreographer. Exciting, hilarious, and jaw-dropping. Directed by Robert Clouse, written by Michael Allin. Produced by Paul Heller, Andre Morgan, Fred Weintraub.
After the Movie: Co-star Angela Mao and Producer Andre Morgan will speak about Bruce Lee and the production of the film, and the Andersons Martial Arts Academy will lead a performance and an audience participation ceremony in honor of his passing 50 years ago.
Final Cut, (France) – New York Premiere. In this clever and raucous "requel" of the Japanese cult hit "One Cut of the Dead," a French film crew hilariously struggles to pull off an ambitious, livestreamed, single-take filming of the alien zombie apocalypse. Directed and written by Michel Hazanavicius. Produced by Michel Hazanavicius, Alain de la Mata, Noémie Devide, Brahim Chioua, Vincent Maraval, John Penotti. With Bérénice Bejo, Romain Duris. A Kino Lorber release.
Suitable Flesh, (United States) – World Premiere. After murdering her young patient, a once-esteemed psychiatrist helplessly watches her life spiral into a nightmarish maelstrom of supernatural hysteria and gruesome deaths, all linked to a seemingly unstoppable ancient curse. Directed by Joe Lynch, written by Dennis Paoli. Produced by Barbara Crampton, Bob Portal, Joe Wicker, Inderpal Singh. With Heather Graham, Judah Lewis, Bruce Davison, Johnathon Schaech, Barbara Crampton, Jonah Ray.