MAX ROACH: THE DRUM ALSO WALTZES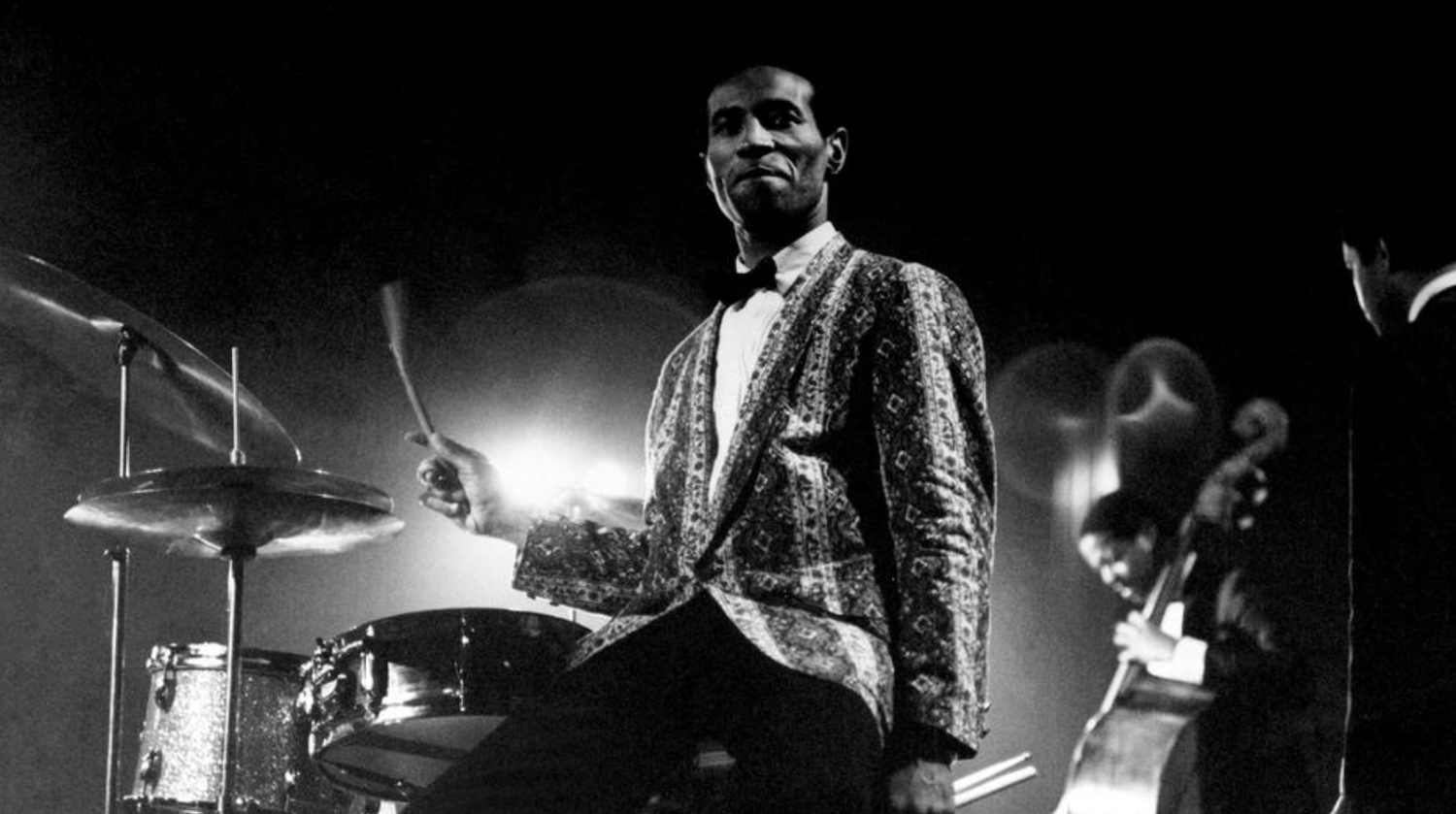 (Austin Texas' South by Southwest (SXSW) Film Festival ran March 10-19. Stay tuned to Hammer to Nail for our usual great coverage like this movie review of Max Roach: The Drum Also Waltzes. Seen it? Join the conversation with HtN on our Letterboxd Page.)
Jazz drummer Max Roach (1924-2007) lived quite the life of musical innovation, experimenting with form and aesthetics in a manner truly unique. As seen in Max Roach: The Drum Also Waltzes, the new documentary from Sam Pollard (Sammy Davis, Jr.: I've Gotta Be Me) and Ben Shapiro (not the shitty one, Gregory Crewdson: Brief Encounters), he is an occasionally prickly, at other times professorial, presence, always quick with a sharp retort of sticks or tongue. Roach is in virtually every frame of the movie, courtesy of a marvelous collection of archival material gathered by two men who have been working on the project, in one form or another, since the 1980s. This delightful cinematic composition serves up a rousing melody set to a lively tempo. The beat very much goes on.
Beyond the period footage (from many different eras), Pollard and Shapiro give us brand new interviews with a great cast of musicians who worked with Roach, including Harry Belafonte, Abdullah Ibrahim, Quincy Jones, Sonny Rollins, Greg Tate, and Randy Weston, some of whom have passed since their recorded participation. His children are also a big part of the movie. The result is a robust examination of the man and the legend, warts and all, revealing how even the seemingly calm and collected Roach we see from Pollard's 1980s (and beyond) material could, when younger, erupt in violent temper. He may have left the demons of drug abuse behind in the 1940s, but there was still a devil inside him.
For the most part, however, the movie justly celebrates the musical genius of its subject. An iconoclast who simultaneously refused to bow to record-company pressure to make music he didn't want to while also never refusing collaborations with the next generation of stars, Roach remained a constant trailblazer. He also stood proud as a Black American, insisting on a provocative lunch-counter-protest photo for his 1960 album We Insist! and speaking up for Civil Rights no matter the professional consequences. Nobody told Roach what to do but Roach, for better or for worse. He could lift up collaborators like his second wife Abbey Lincoln or subsequent lead singer Dee Dee Bridgewater, or rage at them, instead.
The good always won out, though, and his work promoting drums as a solo instrument through a series of concerts around the world helped elevate percussion to first-tier status, the titular 1965 track but one example of this. My favorite moments in the documentary are of his percussion orchestra, M'Boom, performing together in the 1970s after Roach was given a professorship at the University of Massachusetts at Amherst. The work is stunning to hear, the sequence beautifully edited.
By the end, we have come to know Roach in all his complicated glory. He was brilliant and mercurial, and left behind an inspirational legacy that remains as vibrant today as it ever was. It may have taken Pollard and Shapiro almost 40 years to make this film, but the wait was more than worth it.
– Christopher Llewellyn Reed (@ChrisReedFilm)
2023 SXSW Film Festival; Sam Pollard, Ben Shapiro; Max Roach: The Drum Also Waltzes documentary movie review