MARK, MARY & SOME OTHER PEOPLE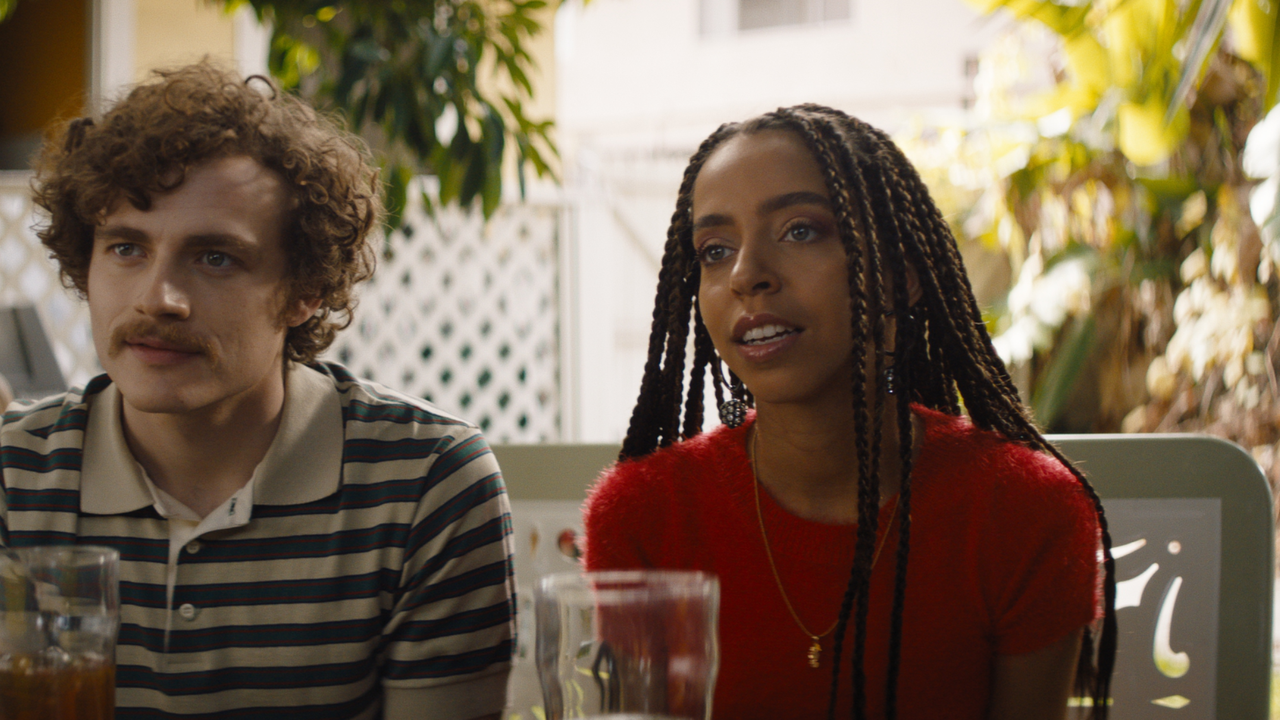 (The 2021 Tribeca Film Festival opens Wednesday, Jun 9, 2021 and runs all the way through Sunday, Jun 20. hammer to Nail has you covered with tons of reviews and coverage, coming your way! Like what you see here on Hammer to Nail? Why not pay just $1.00 per month via Patreon to help keep us going?)
The love-triangle is a staple of rom coms for obvious dramatic reasons, but the new film Mark, Mary & Some Other People tests the premise of a love-dodecahedron. Writer/director Hannah Marks spunky sophomore feature puts her leads through a gauntlet of romantic partners to see the effects of an open relationship on a young couple. Sex positivity is ultimately a good thing, and the post-pandemic timing of this release seems perfect as millennials and gen Z-ers  who've spent over a year inside struggling with pent up horniness are set to be released back into the world in what some are calling 'the summer of hoe-ness'. Funnier and more relatable than her first foray into directing, After Everything (previously titled Shotgun), Mark, Mary & Some Other People feels like a fresh jolt of libidinous energy. Though not every joke lands, the humor throughout creates a comfortable mood in which the viewer is 'just chilling' with the on-screen group of friends. The film's biggest strength is the direction by Marks, who has some bigger movies in the pipeline, and whose punchy and modern style makes her poised to become a go-to director. Marks is also a highly sought-after actor (with 47 credits on IMDb), though she does not act in this one. Lead Hayley Law steals the show as Mary, a character that could've come off negatively, is instead made immensely likeable by Law's endless charm.
The shenanigans kick off with a sweet meet-cute in a public restroom between Mark (Ben Rosenfield) and Mary (Law) that sets the tone for a rousing romp of a movie. There is much made of pregnancy tests and STDs, though those plot points are uninteresting compared to the much more visceral feelings of freedom, jealousy, and confusion provoked throughout. The story is broken up into chapters, with colorful title cards such as 'The Rules,' which humorously comes back around a second time later in the film. Naturally, the couple finds a need to update 'The Rules' when something awkward or unwanted happens. It may not be a laugh-out-loud moment, but it's a knowing moment that we're in the hands of a clever and capable director. Later, Mark wants to try a threesome, but only with another girl. Mary is quick to point out that's not fair. The push and pull of the open relationship is fascinating, especially for those viewers in committed relationships who may watch this film looking for wish-fulfillment. The reality is that an open relationship is not all sunshine and orgasms.
This is certainly a breakout role for Hayley Law, along the lines of Maya Erskine in Plus One (another millennial rom com that wasn't artsy enough for Sundance but is commercial enough for Tribeca). Law was underused in The New Romantic, where she played Jessica Barden's sassy best friend, but here she shines. Speaking of The New Romantic, Ben Rosenfield (6 Years) does a decent job as Mark, but you can't shake the feeling he's doing a bad Brett Dier impression. Maybe it's the hair. The girls like him, at least they seem to in this movie. Others may find it hard rooting for a romantic protagonist with a porno 'stache. As far as the 'Other People', Marks employs a few memorable cameos from Joe Lo Truglio and Gillian Jacobs, to Esther Povitzky. Though somewhat disappointingly, the hilarious Povitsky is relegated to Lyft driver – she would be much better utilized in the friend group. Mark's friends played by Matt Shively and Nick Dodani are a nice surprise and earn a lot of laughs.
Though Joe Swanberg's Netflix series Easy covered familiar territory with older characters, Marks new film still feels fresh, unique, and exciting. Marks is only 28, and her film is definitely of its generation. Comparisons to Lena Dunham (a former HtN contributor) are apt, but instead of drawing those comparisons, its instead worth noting how many more talented young, up-and-coming women directors there are now than even a few years ago. (Emma Seligman and Quinn Shephard come to mind). Mark, Mary & Some Other People is bound to be embraced by men, women, teens and forty year-olds. There's plenty of love to go around.
– Matthew Delman (@ItsTheRealDel)