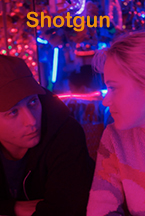 (The 2018 SXSW Film Festival kicked off March 9 and runs all the way through to March 17. Hammer to Nail has a slew of reviews and interviews coming in hot and heavy so keep your dial tuned to HtN!)
Written and directed by the duo of Hannah Marks and Joey Power, Shotgun is a story that seems all too real to have not come from personal experience. And considering the adroitness of the narrative structure, specifically the way it handles the ebbs and flows of the central relationship, you would never know that neither Marks nor Power have ever directed a feature film. Shotgun has the fingerprints of a director – or, in this case, directors – who truly understands both the medium and the content.
Shotgun centers around Mia (Maika Monroe) and Elliot (Jeremy Allen White) who meet cute on a subway platform. Their initial interaction is beautifully awkward, and immediately sells both protagonists as likable. Mia and Elliot may have different ideas of what constitutes success, but they both came to New York City in the hopes of finding "it" here. They are just two average twenty-something New Yorkers trying to get by, working jobs they don't enjoy, and living with roommates in order to make rent more affordable.
Elliot is struggling to keep his life on track as he goes from suspecting he contracted HIV (bad), to thinking he might have cancer (worse), to learning that he has a rare cancerous tumor on his pelvic bone (devastating). Struggling to talk with friends and family about his situation, Elliot opts to confide in Mia on their first date. Due to the intensity of the information Elliot shares with her, Mia could either run away or stick around for the long-haul. But sticking around means that she is in for a strange power dynamic in their relationship. Mia will not only be Elliot's girlfriend, but she'll also be his caregiver and ardent supporter. She'll need to make massive sacrifices for someone she just recently met. Most importantly, Mia (as well as the audience) must be ready for an emotional rollercoaster.
Shotgun stands out from the rest of the "cancer movie" genre, because it focuses so much more on Mia and Elliot's relationship than it does the disease. Cancer serves as the catalyst for the various stages of Mia and Elliot's relationship, sometimes bringing them closer together, other times tearing them apart. Shotgun is essentially about how external factors can quickly shift the power and dependency balances of relationships, you can replace "cancer" with a variety of other things and the story would still work perfectly. Most importantly, once a relationship experiences certain troughs it can be difficult to recover; just as there are some words that are impossible to overcome once they are uttered. Because of all that transpires between Mia and Elliot, the general assumption will probably be that this relationship will not last; but Marks and Power cleverly hold their cards close to their chests, leaving us wondering for the entirety of the film just how things will end.
– Don Simpson (@thatdonsimpson)