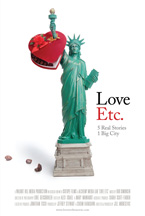 (Love Etc.'s theatrical release begins July 1, 2011, in New York City at the Landmark Sunshine and the City Cinemas, followed by a limited national release—get the full schedule here.  Also, visit the film's official website to watch the trailer and learn more.)
Considering the major shift in social justice that just transpired this month in the state of New York when the Senate (finally!) legalized marriage between same-sex couples, this season of 2011 will go down as a true summer of love. And since you have to allow your inner romantic loose to really get into the spirit of Jill Andresevic's new documentary, Love Etc., this delightful film's national theatrical release could not have come at a more opportune time. It also happens to be an unmitigated, beautifully shot love letter to New York City and some of its indomitably romantic inhabitants.
Andresevic comes from the world of high-end advertising, and in her feature directorial début, she uses this expertise to obvious advantage as she follows her subjects through the various stages of love and commitment, depicted through five stories over the course of a year. With a distinct Sex in the City feel to its pace, wit, humor and pathos, we encounter the protagonists in five distinct "chapters" as we travel through the boroughs of NYC: Getting Married, Starting Over, Starting a Family, First Love, Lasting Love.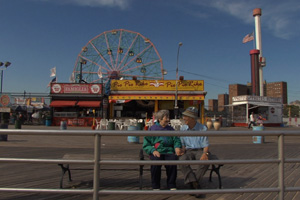 After being engaged for two years, Chitra and Mahendra, 28 and 29 years of age, respectively, are getting married with an extravagant, Punjabi wedding complete with elephants. He's unemployed and she's got a plan for their future together, and there's already trouble in paradise.  Handsome and charming 40-year-old construction worker Ethan is a divorced father of two teenaged kids of whom he has full-time custody; he enlists his son and daughter in an ongoing (and frustrating) campaign to find a new wife and clumsily traverses the strange waters of trying to meet a mate using the tools of social media—of which he's, admittedly, clueless. Scott, a successful theater director, also in his 40s, is a gay single man who is about to be the father of twins; a close friend is the surrogate who carries and delivers his babies. In fashionable Soho, high-school couple Danielle and Gabriel are in the depths of first love, but they also grapple with imminent separation as 17-year-old Danielle launches into life at college, away from home, away from her high-school boyfriend. And then there is Marion and Albert, a songwriting team living in Canarsie who have been together for 48 years, their undying love and passion for one another still going strong, even though Marion, aged 89, is suffering from advancing dementia.
Through these stories and the generous subjects who live them (all of them open, accessible and camera-ready in only the way New Yorkers can be), we experience romantic love, parenthood, heartbreak, marital dysfunction, and a love story for the ages, which makes Love Etc., yes, a film with something for everyone. So grab your beloved—or a close facsimile thereof—and revel in these poignant and humorous love stories, New York City-style.
— Pamela Cohn