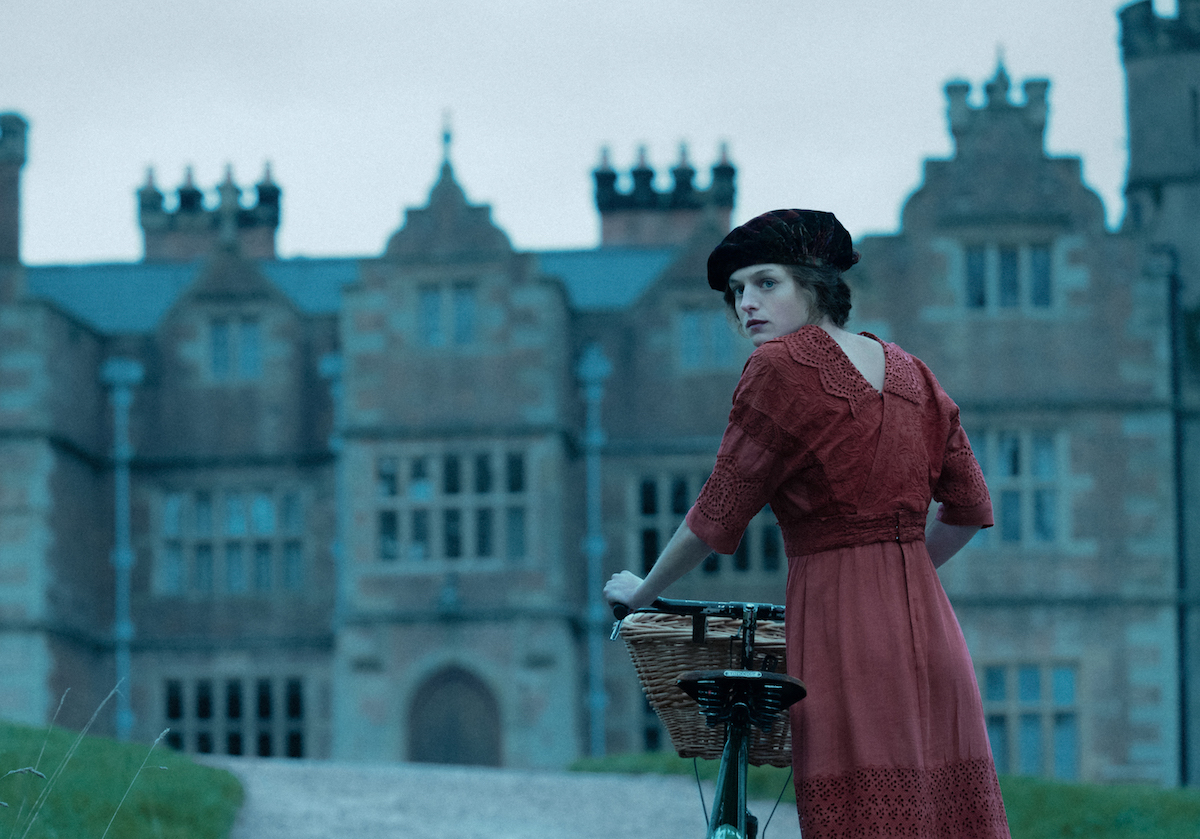 (The 2022 Middleburg Film Festival ran October 13-16 in lovely Middleburg, VA. Lead critic Chris Reed is in attendance and submits this movie review of Lady Chatterley's Lover. Seen it? Join the conversation with HtN on our Letterboxd Page.)
Published in 1928, English author D.H. Lawrence's last novel, Lady Chatterley's Lover, quickly became the subject of controversy over its frank exploration of sexual longing and graphic descriptions of the physical act of love. It would soon be banned in the United Kingdom, the United States, and elsewhere, only to finally come out at home in 1960, and even then it found itself at the center of an obscenity trial (which publisher Penguin Books won). Perhaps its most daring conceit, beyond extolling the pleasures of intercourse, was that money doesn't buy happiness and that two people from different social classes could build a meaningful life together.
Flash-forward to 2022, and such ideas are hardly novel. Nevertheless, who doesn't want to experience sublime joy, sexual or otherwise? Director Laure de Clermont-Tonnerre (The Mustang), working off an adaptation by David Magee (Mary Poppins Returns), certainly thinks that there is still much to be mined in Lawrence's work. Her Lady Chatterley's Lover is filled with moments of raw beauty and genuine rapture that make the novel's central thesis as universal as ever.
That's not to say there aren't many scenes that approach the level of soft-core pornography. My own preference when it comes to sex on screen is for less, rather than more. Watching actors grunt, grimace, grasp, and gasp is only exciting for so long, and it captivates the imagination far more to see what happens outside these moments of simulated copulation. Fortunately, there are many sequences that focus on the emotional connections, too.
The basic outlines of the narrative go as follows. Connie and Clifford (aka Lord Chatterley, a Baronet) wed at the outset of World War I. She is more of a free spirit than he but believes in his inner progressive soul. When he returns from battle paralyzed from the waist down, they move from London to his country estate, Wragby, located in the English Midlands. Though Connie is determined to make things work and help her husband, he can no longer sexually perform and suggests that she take a lover to provide him with an heir. Just be discreet, he says, and let the deed be but a formality.
This suggestion, along with Clifford's growing snobbishness and retreat into upper-class behavioral patterns, drives a wedge between the two. Despite her anger at the casual way Clifford discusses her bearing a child, Connie nevertheless soon takes an interest in Oliver Mellors, Wragby's new gamekeeper, himself a veteran officer, though from the working class. Before long, the two embark on a torrid affair that satisfies them not only physically, but emotionally and mentally, too. And then, scandal and its aftermath force them apart (though perhaps not forever). Clifford never meant for Connie to sleep with someone not a gentleman, after all.
Emma Corrin (Princess Diana in Season 4 of Netflix's The Crown) stars as Connie and Jack O'Connell (Trial by Fire) as Oliver. Despite my disinterest in extended on-camera sex, they have genuine chemistry, and we have no trouble believing their attraction of the mind, heart, and body. The rest of the cast, including Matthew Duckett as Clifford, Faye Marsay (Vel on Disney +'s Andor) as Connie's sister Hilda, and Joely Richardson (Color Out of Space)—who herself once played Lady Chatterley in a 1993 BBC miniseries—as Clifford's caretaker, Mrs. Bolton, are also good. As is the cinematography, by Benoît Delhomme (At Eternity's Gate), which delivers lovely images to support the blossoming passion. It's a torrid affair, and never grows old.
– Christopher Llewellyn Reed (@ChrisReedFilm)
2022 Middleburg Film Festival; Laure de Clermont-Tonnerre; Lady Chatterley's Lover movie review