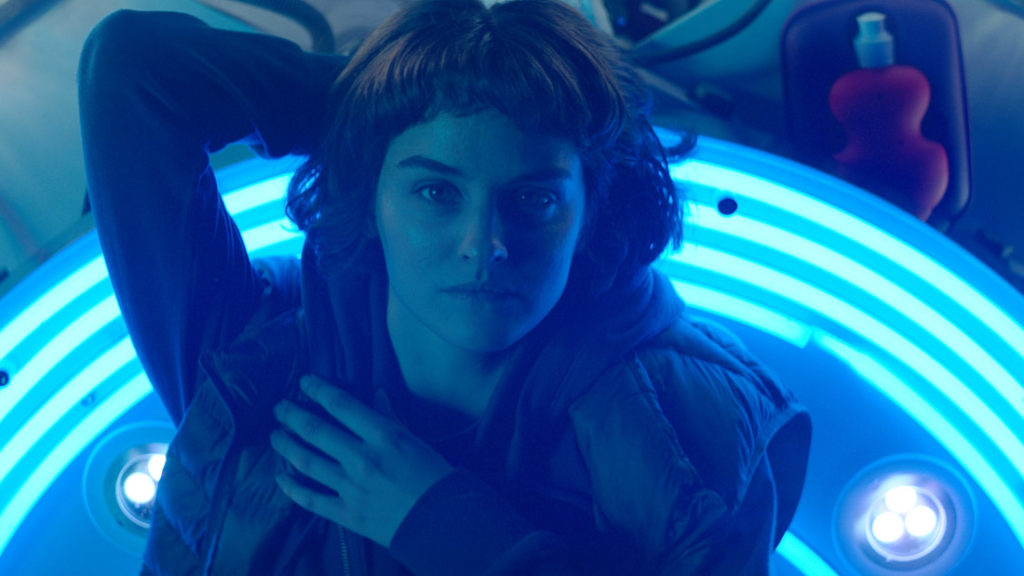 (The 2020 Sundance Film Festival ran January 23-February 2 in and around Park City Utah. Hammer to Nail had boots on the ground at the fest and guarantee more coverage thank any other site out there. Like what you see here on Hammer to Nail? Why not give just $1.00 per month via Patreon to help keep us going?)
Jeanne is a lonely, shy young woman, of adult age but still living with her single mother, Margarette. In contrast to this latter, a bon vivant with a voracious appetite for booze and men, Jeanne sticks to herself, finding solace in the mechanical models she makes of the amusement-park rides she cleans and maintains every night at her job. She's a quiet recluse, for sure, but sweet and unobtrusive, causing no harm to anyone. The local bullying teens like to make fun of her, but otherwise she draws little attention from most, until her new supervisor begins to find her intriguing. Unfortunately for him, she has other ideas, and another attraction. Her love and sexual interest are directed, instead, towards the park's newest ride, an otherwise ordinary Move It machine whom she names "Jumbo." Suddenly, things get weird.
Very loosely inspired by a true story – that of a woman who married the Eiffel Tower – director Zoé Wittock's debut feature, Jumbo, is truly a unique objet d'art, its protagonist artfully obsessed with an object. Starring Noémie Merlant (Portrait of a Lady on Fire) as Jeanne and Emmanuelle Bercot (My King) as Margarette, the film offers not only strange, evocative sexual frenzy but fine, heartfelt performances to boot. Though sometimes almost embarrassingly raw in its portrayal of unbridled desire, Jumbo has the great virtue of staying the course, throughout, never abandoning Jeanne in her quest to be whole. As Margarette's latest beau, Hubert (an excellent Sam Louwyck, The Bouncer), observes, it's nobody's business whom – or what – Jeanne chooses as a partner. Let her live her life.
If only it were that easy. Wittock painfully conveys the challenges that difference engenders, no matter the manifestation. Beautifully photographed, with just enough colorful visual effects to lend Jumbo a distinct personality, the film also features a stunning dreamlike sequence with oil spewing forth like ejaculate. Shot in parts of Belgium and Luxembourg rarely seen on camera, the movie has the additional feel of a Mitteleuropa both recognizable and heretofore unseen, creating a vibrant ostranenie – something simultaneously familiar and alien – which is the perfect tone for its often unsettling, yet empowering, narrative. Jumbo, as its name might imply, has a big heart, open to all. May we accept its passion and make it our own.
– Christopher Llewellyn Reed (@ChrisReedFilm)
Like what you see here on Hammer to Nail? Why not pay just $1.00 per month via Patreon to help keep us going?