PORTRAIT OF A LADY ON FIRE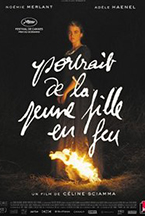 (The 57th New York Film Festival runs September 27-October 13. Stay tuned to HtN for reviews, features and highlights. Like what you see here on Hammer to Nail? Why not pay just $1.00 per month via Patreon to help keep us going?
When you put something together and then pull it apart, the result is often heartbreak. French Director Celine Sciamma's new historical lesbian romance, Portrait of a Lady on Fire, is about the creation of love, art and the eventual destruction of it. Where her last film, Girlhood, was full of unbound energy and rage, Portrait is more restrained and unhurried. But the slow burn of the narrative is exactly what gives the film its bite. The build of anticipation and sexual tension through achingly deliberate scenes pays off big time in the emotionally thundering finale.
Marianne (Noemie Merlant) is commissioned to paint a portrait of Heloise (Adele Haenel, who also starred in Sciamma's Water Lillies). Heloise's mother (Valeria Golino) explains to Marianne that Heloise, who is to be wed against her will to an Italian husband she's never met, dismissed the last painter and that Marianne will have to paint her in secret. She will study her figure under the guise of a walking companion, and will paint from memory. Their meet-cute takes a surprising turn when Heloise runs outside and towards the precipice of a tall cliff—she pulls up right before jumping off. Heloise turns and says, "I've dreamt of that for years." "Dying?" Marianne asks, "Running," she replies. Her basic desires repressed, Heloise is a simmering pot of water about to boil over. When she discovers her mother's ruse, instead of getting angry she decides to sit for Marianne. There's little more intimate than staring at someone for hours on end. Spending all that time secluded together, it's inevitable that eventually the two do a lot more than stare.
Sciamma's artful direction is somehow simultaneously measured and dazzling. Most of the film is ostensibly naturalistic, however a handful of scenes depict dreams and ghostly visions that punctuate the realism with a spiritual virtuosity. At one point Heloise's robe actually catches on fire, and it's shocking to see Haenel so composed while aflame, without the help of a stunt double or special effects (seemingly). Working with cinematographer Claire Mathon (My King), Sciamma carefully constructs most shots with a locked-off camera, mirroring the portraiture style. This allows for the cleverly innuendo-laden dialogue and powerful performances to be the main focus. The epic final shot is a particular highlight of Haenel's performance, in which the emotional mileage of everything up until that point finally takes hold.
Up until recently, same-sex love has traditionally been forbidden love, and LGBT stories tend to end in tears. Portrait follows in that tradition, but what's refreshing about Sciamma's portrayal is her female gaze. It would be wrong to say men shouldn't make lesbian films,  (Kerem Sanga's First Girl I Loved is a great example that comes to mind) but something about the way Sciamma sees her characters rings true. She delivers a period romance that feels timeless, and is destined to become a touchstone for queer cinema for years to come.
– Matthew Delman (@ItsTheRealDel)
Like what you see here on Hammer to Nail? Why not pay just $1.00 per month via Patreon to help keep us going?