JERRY BROWN: THE DISRUPTER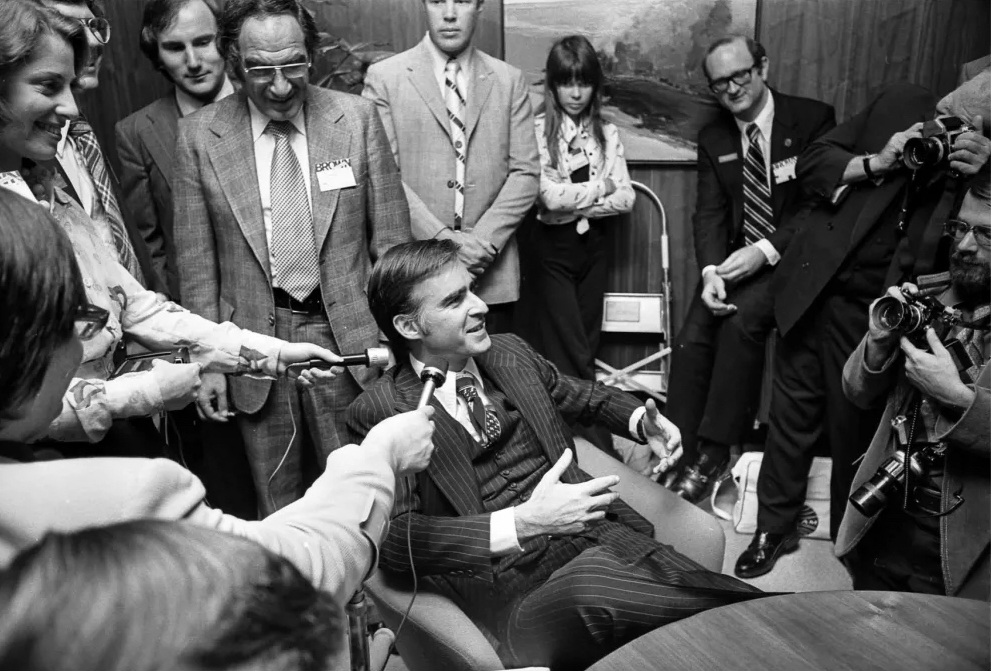 (SFFIlm's 2022 Doc Storuies program runs November 3-8. Check out Jonathan Marlow's movie review of Jerry Brown: The Disrupter, which premiere's there Thursday, November 3. Seen it? Join the conversation with HtN on our Letterboxd Page.)
In an era when politicians fib without significant repercussions—or even, on occasion, are rewarded for their persistent dishonesty—the reminder of a not-so-distant time when an individual in public life could be genuine and truthful is refreshing to witness. Marina Zenovich, whose earlier biographical portraits of Robin Williams, Richard Pryor, Gwen Shamblin, Roman Polanski and Lance Armstrong have earned justifiable praise, devotes overdue attention in her latest documentary to the great Edmund G. Brown Jr., better known as Jerry Brown.
[parallel chronology of a largely chronological film]
After a brief spell in the seminary, Brown studied at UC Berkeley and then continued on to Yale Law School. Although his father Pat—the Sr. to his Jr.—had a long career in state-wide politics, Jerry Brown did not have much of an inclination for such things until the defeat of the former in an attempted third-term as Governor. The latter then ran for Secretary of State in 1970 and was victorious. Brown was elected Governor for the first time in 1974 (and re-elected 1978). His first Presidential campaign occurred in-between in 1976 followed by a second in 1980 against incumbent Jimmy Carter (with another prospective challenger in Ted Kennedy), a quixotic run perhaps symptomatically characterized by an unusual televised rally in Wisconsin orchestrated by Francis Ford Coppola.
It was during his second term when the "Governor Moonbeam" nickname was coined by a journalist (when the press seemed more interested in his relationship with Linda Rondstadt than his political efforts). He did not view the phrase as pejorative but others interpreted it as intended. An issue of concern at the end of his first Governorship go-'round? The price of petrol. To a certain extent, it soured Brown's popularity in the eyes of more than a few in the California electorate at the time and, amongst other issues, hobbled Carter's re-election campaign as well.
The more things stay the same, the more that they hardly change at all.
A failed Senate campaign followed in 1982, losing to then-San Diego Mayor Pete Wilson, later Governor of the Golden State himself. Brown then disappeared to Japan for a year-long Zen Buddhist retreat followed by another year aiding terminal patients with Mother Teresa. It was his "pursuit of spiritual values" which would re-emerge consistently throughout his unique political career.
He returned to California and eventually ran for the highest office in the land a third-and-final time in 1992 (wherein, in full disclosure with inherent biases revealed, I was the youngest Brown delegate to the state convention in Washington). Brown's final Presidential campaign was also the first successful grassroots, small-donation effort, inspiring directly or indirectly all that followed. His incendiary speech at the Democratic National Convention in New York essentially marked the end of party conventions as a viable method of determining a candidate; the coronation now pre-ordained long before the convention begins.
As a long-term resident of the other city-by-the-Bay, running a national talk-radio show from his live-work space, Brown campaigned for Mayor of Oakland at the close of the last century and won with nearly 60% of the vote in a crowded field of ten candidates. He called the role the "greatest challenge I had ever faced." In 2006, he was elected Attorney General—like his father before him—while Arnold Schwarzenegger was still Governor (in the aftermath of the Gray Davis recall) and then sought the office of the Governor again himself in 2010 against Meg Whitman (post-eBay, pre-Quibi). Two additional terms in a quartet followed, from 2011 to 2019. Ultimately, Brown became the longest-serving Governor in California history—and, arguably, its best—a record likely to last forevermore. His ample achievements are too numerous to catalogue but the creation of the Farm Labor Board (with the passage of the California Agricultural Labor Relations Act) in collaboration with the UFW and its leader at the time, Cesar Chavez, is an undoubted highlight amongst many.
As all-of-the-above adequately illustrates, the political landscape of California is endlessly fascinating for those inclined to interest. If the summit of achievement in a chosen career could be manifested in a single person, that individual is undoubtedly Jerry Brown. It takes a rather compelling film to encapsulate the full range of an exemplary life. This is all of that and much, much more.
Jerry Brown: The Disruptor includes interviews with Brown himself, of course, bookended and throughout, along with former California Governors Gray Davis (who had been Brown's Chief of Staff) and Arnold Schwarzenegger, fellow politicians Willie Brown Jr. and (younger sister) Kathleen Brown, colleagues Jodie Evans, Mickey Kantor and Wally McGuire as well as friends like Peter Coyote (in a relatively rare appearance as a talking head in a documentary rather than its narrator). The film additionally includes an incredible selection of archival footage, not least of which is an apt image early-on of the removal of a Pat Brown billboard after his re-election loss to Ronald Reagan. Naturally, "California Über Alles" makes a necessary appearance, the Dead Kennedys' single from 1979 which references Brown's Presidential ambitions and expends them in an entirely preposterous direction.
This "un-politician's politician" set the proverbial stage for California to become the fourth largest economy in the world (after the entirety of the U.S., China and Japan but, as of a handful of days ago, ahead of Germany) and his leadership allowed the state to become an international leader in combating the causes of climate change. Retired, for the moment, and living in Colusa County, northwest of Sacramento, Brown will be in-attendance—along with the director—at the Bay Area premiere screening.
— Jonathan Marlow [@aliasMarlow]
JERRY BROWN: THE DISRUPTER (2022)  dir. Marina Zenovich  [95min.]