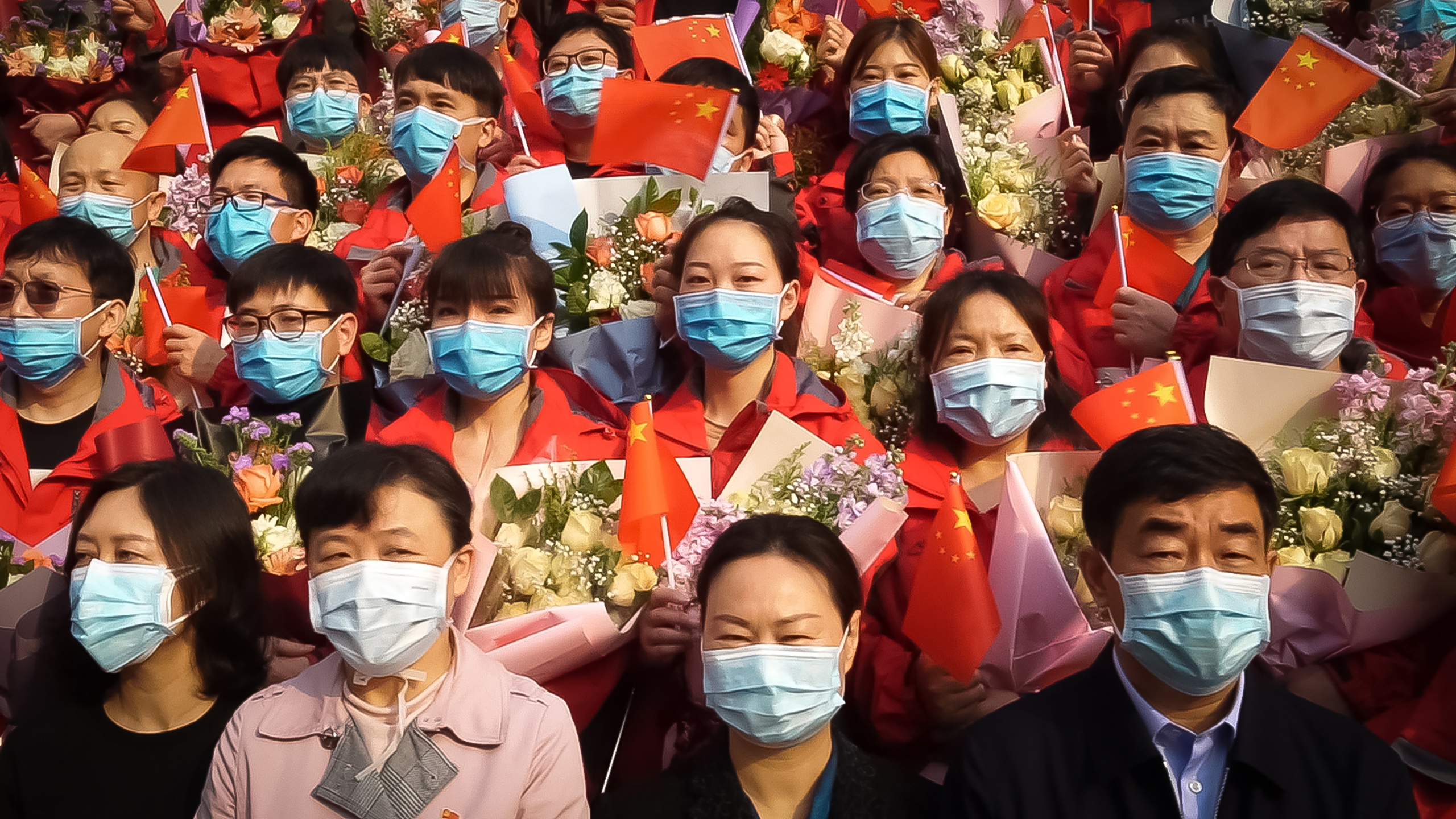 (The 2021 Sundance Film Festival runs January 28- February 3, all virtually as well as with drive-ins sprinkled around the U.S.. Hammer to Nail is bringing you a ton of coverage so, keep coming back! Like what you see here on Hammer to Nail? Why not give just $1.00 per month via Patreon to help keep us going?)
An ambitious work made in less than a year, Nanfu Wang's latest documentary, In the Same Breath, turns its critical lens on the Covid-19 pandemic, both in China and the United States. Neither country fares well, each unable to overcome the limitations of its socio-political system to offer a robust, life-saving response. In her native land, propaganda ultimately triumphs, convincing even those who have suffered that the state has their best interests; in her new home, social-media misinformation – that plague of the democratic landscape – leads to equally poor results. What's a body to do, if not to just give up and die? That is the rub, and there are no easy answers.
Wang (One Child Nation, I Am Another You) has previously proven extraordinarily adept at telling effective, multi-layered stories with many different moving parts. Here, though her narrative aspirations are not quite met, the final takeaway is nevertheless still powerful. Combining the thrusts of the 2020 documentaries 76 Days and Totally Under Control, Wang aims to deconstruct the how of what the plague hath wrought, unearthing incredibly moving footage to support what she, as narrator, tells us happened. From relatives of the deceased, to healthcare workers and more, she offers copious evidence of the disaster that was, and still is. Unfortunately, though it is clear what she is trying to do by spreading the story over two continents to draw parallels between the two, the American part feels less developed, and therefore less cinematically eloquent.
Still, there is much to ponder here, specifically in the way Wang raises important questions about how Western-style freedom of speech has metastasized into something toxic, no better at addressing crises than its authoritarian opposite (which it may become because of the very lies it embraces). One could make an entire movie, in fact, about this (as some have: witness The Great Hack and The Social Dilemma); it's a vital topic, perhaps the essential one of our day. But as just one of many aspects of this particular movie, it never gets its full due.
What does, however, is the large scale of the human catastrophe in Wuhan, where Wang spends most of her time, thanks to the camera operators who agreed to film on her behalf. She also brings in (as she always does) her personal details, starting with how she, herself, was in China, only 200 miles from Wuhan, as the outbreak, unbeknownst to most, was starting. She left for the United States on January 20, only to discover, 3 days later, that Wuhan was closed off. She and her husband had left their infant son with her mother; one can imagine the nightmare. Off he went to get their boy back, while she remained in Utah, serving on a Sundance jury. Meanwhile, the virus spread, inexorably, no amount of denials from Chinese government officials able to stop it.
It's when we are in the heart of the tragedy that the movie works best, the pain of interview after interview accumulating in intensity. There is absolute absurdity, as well as anger, too, though a surprising amount of indoctrination comes through by the end, much to our shock. In the Same Breath shows, at its most forceful, that we, as a species, are riven by contradictions, torn between impulses noble and profane. Forget breathing (some have no choice, sadly): we sure can talk out of both sides of our mouth, and are proud to do so.
– Christopher Llewellyn Reed (@ChrisReedFilm)