(Fourplay: San Francisco world premiered at Outfest 2010 on July 9, 2010. Visit the film's official website to learn more.)
It's my general prerogative to avoid director statements when discussing the merits of a film, but in the case of Kyle Henry's Fourplay, Henry opens his own statement with an excellent explanation of his project's mission: "My goal with each of the films that comprise Fourplay is to provide understanding for characters participating in sexual acts that might otherwise be considered deviant." Fourplay: San Francisco is the first chapter in Henry's four-part omnibus feature, which he's releasing in isolated installments over the course of the next year (Austin, fall 2010; Tampa, winter 2010; New Haven, spring 2011). If Henry's goal is to bring sincerity and tenderness to material that is often relegated to the "After Dark" sections of cable channels and festival programs everywhere, he has certainly succeeded with this first contribution.
Aliya (Paul Soileau) is an assured transvestite prostitute living in San Francisco who gets a seemingly typical call one night. Anne (Cyndi Williams, star of Henry's well received Room) has arranged for her ailing husband Tom (Gary Chason) to be visited by Aliya, who will hopefully bring a moment of sparked passion to his staid existence. For most of us, this set-up might sound ethically murky and borderline perverse, but Henry and screenwriter Carlos Trevino are careful to remove any superficial titillation from their premise. From the first shot, a dramatic zoom into an apartment building as Mahler's "Symphony No. 5, Movement IV: Adagietto" plays, Henry, Trevino, and cinematographer PJ Raval cast an elegiac tone, which they carry through to the film's closing credits.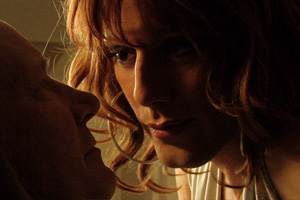 Once Aliya walks into Tom's room and discovers that she's encountered a quadriplegic that can only communicate by blinking his eyes (1 blink = no; 2 blinks = yes), her usually sturdy confidence is shaken. But as she digs deeper to find a way to provide more than just a temporary physical service for her client, the connection between these two becomes something revelatory; it becomes almost spiritual. Whatever your personal taste as a viewer may happen to be, I am confident that Fourplay: San Francisco will at least make you appreciate Henry's attempts to infuse his lascivious premise with some genuine heart and soul. It might even make you think differently about some things after you watch it.
At only 27 minutes, Fourplay: San Francisco is a surprisingly emotional experience (think fully realized short story as opposed to full-fledged novel). But as with anyone well versed in the art and craft of the short story, the minor epiphanies contained within this format's best work can pack as powerful a punch as a more extended take on the same subject matter. As a filmmaker making an omnibus feature, Henry shows with this first part that he is in complete control of his material, which only adds anticipation for the three parts yet to come.
— Michael Tully