Pick of the Week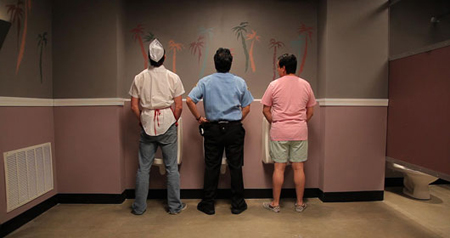 Fourplay (TLA Video) — No one is making films like Kyle Henry's Fourplay these days. Its sunny, hyperreal tone and very American characters thrust into unabashedly sexual situations are reminiscent of the youth-oriented comedies of the post-hippie, pre-AIDS late-'70s and early '80s—think Eating Raoul and Kentucky Fried Movie, or the TV show Soap. An anthology of four shorts set in four cities, Fourplay starts out with Skokie, where a Christian closeted lesbian—played with inspired nerdy realness by Sara Sevigny—dogsits and then some for her secret crush. Up next is Austin, in which a smoking-hot couple, Danielle Rene and Atticus Rowe, enter a world of fantasy to revive their physical relationship. The film kicks into high-gear with the infamous Fourplay: Tampa, which generated some well-deserved H2N digital ink when it screened separately at Sundance this year [read the full HTN review here]. It tackles the dark and filthy secret of T-room sex by turning the lights on and finding good, old fashioned, over-the-top, urinal-scented comedy, anchored in the warm humanity of its under-endowed protagonist (adorable, rubber-faced teddy bear José Villareal). It's a film that goes way too far, again and again, but does it with a disarming sweetness that could bring peace to the Middle East. A lingering image from the Tampa segment is a white-trash trannie sodomizing Hitler; the she-male in question is Christeene, the current reigning queen of underground drag—a character created by Paul Soileau, who returns to star in the San Francisco segment (HTN review), playing Aliya, a strong, sensitive high-end prostitute. She's hired by the wife of an elderly, paralyzed man, who can only communicate by blinking his eyes. Aliya takes on the challenge of giving the man a hot and loving sexual experience, throwing her entire being into the task, and finding a surprising solution to the matter at hand. Read A Conversation With Kyle Henry and Paul Soileau. (Paul Sbrizzi) Available on DVD.
Recommended
Face 2 Face (W0lfe Video) — A successful filmmaker with tons of Facebook friends but very little human contact goes on a cross-country driving trip to meet 50 of those Facebook friends in person. The premise of Katherine Brooks' Face2Face doesn't adequately prepare you for the film's impact: the stakes are huge for Brooks, both in terms of her mental health and in terms of her Hollywood career, which she is jeopardizing by going public about the extent of her emotional instability. Each time the film seems like it might stray into reality-TV contrivance, it turns around and hits you with a scene of brutally human intensity. The absolute show-stopper is Katherine's visit to Madison, WI, and her friend Asia's astonishing, cathartic story of surviving a disfiguring, fiery car crash. (PS) Available on DVD
and at Amazon Instant
.
Beware of Mr. Baker (Vivendi Entertainment) — Available on DVD
and at Amazon Instant
.
New/Old to DVD/Blu-ray
The Unbelievable Truth (Olive Films) — Available on DVD
and Blu-ray
.
3:10 To Yuma (Criterion) — Available on DVD
and Blu-ray
.
Jubal (Criterion) — Available on DVD
and Blu-ray
.
Have Not Seen Yet But Really/Kinda/Sorta/Maybe Wanna
Cloud Atlas (Warner) — Available on DVD + UltraViolet Digital Copy
, Blu-ray/DVD Combo + UltraViolet Digital Copy
, and at Amazon Instant
.
A Glimpse Inside The Mind of Charles Swan III (Lionsgate) — Available on DVD
, Blu-ray
, and at Amazon Instant
.
If I Were You (Kino Lorber) — Available on DVD
and at Amazon Instant
.
Leonie (Monterey Video) — Available on DVD
.