(Before BAM's two-week retrospective The Cruel Stories of Nagisa Oshima has run its course, we've decided to repost Nelson Kim's essay in conjunction with the 2008 NYFF sidebar tribute to Oshima last fall.)
What we think of as the canon of great films and filmmakers is subject to ceaseless revision. Over the last several decades, as film scholarship has flourished, and as technology, trade, and travel have made possible something like a global film culture (encompassing everything from retrospectives and festivals to DVDs and websites), our knowledge of cinema's past and present has expanded at an amazing rate. Every year, some forgotten classic is revived, some overlooked director is belatedly recognized as a master, some entire country that hadn't even been charted on the atlas of world cinema is revealed as a hot spot of creative activity.
The downside to all this is that some reputations get lost in the shuffle, and for reasons having nothing to do with artistic merit. The great Japanese New Wave director Nagisa Oshima, subject of a major retrospective running as a sidebar to this year's New York Film Festival, was once revered by U.S. festival-goers and art-house devotees. These days, however, with his most vital films unavailable here on DVD and rarely revived by rep theaters, he's been all but forgotten. If his name means anything to younger cinephiles, it's as the director of the 1976 succès de scandale In The Realm of the Senses—an excellent film, but something of a footnote to his major period: it's as if Godard were known only as the maker of Hail Mary. The NYFF retrospective offers a long-overdue chance to catch up with the work of this essential modern filmmaker.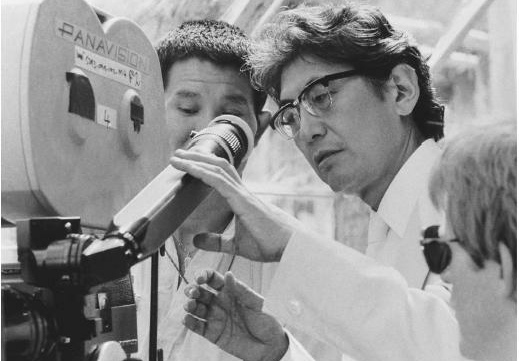 Oshima was born in 1932, and attended Kyoto University, where he studied law and took part in student theater and left-wing student activism. The Japanese left began to re-emerge in the late 1940s after a long period of political repression and war, decrying official corruption, demanding greater personal freedom and workers' rights, and protesting Japanese ties to the U.S. military. There was a new radical energy in the air, and Oshima breathed it to the full. In the late '50s, he was training as an assistant director at Shochiku Ofuna Studios when a confluence of events (a new postwar generation of filmmakers coming of age, a studio system fearful of losing touch with the youth audience, and the creation of new independent production and distribution companies) birthed the Japanese New Wave, or Nuberu Bagu. The list of directors whose careers began around this time included Imamura, Masumura, Suzuki, Teshigahara, and many others—extraordinary talents all, but none more so than Oshima.
He saw Japanese society as a repressive, feudalistic, xenophobic culture mired in dead traditions, and the Japanese film industry as the faithful messenger-boy of the culture's values. Both of these he loathed; both he was determined to help reform, subvert, or destroy. Of the popular melodramas turned out by Shochiku Ofuna during his apprenticeship, he wrote: "I firmly believed that unless the dark sensibility that those things engendered was completely destroyed, nothing new could come into being in Japan." When a foreign interviewer expressed admiration for Mizoguchi and Kurosawa, his response was blunt: "My hatred for Japanese cinema includes absolutely all of it." He believed that the form of his films had to match their content: if he was calling for radical change in the way Japanese society saw itself, this would necessitate a radical re-thinking of what Japanese films should feel like.
And so, over the course of eighteen feature films made between 1959 and 1972 (not including several television documentaries), he developed his own personal approach to film modernism and deployed it in increasingly complex, imaginative ways. Conventional realist storytelling and character psychology were splintered and fractured. Identity was treated as less of a fixed fact and more of a fluid process of becoming, as characters discarded one identity and took up another as easily as changing their clothes. Documentary sequences were inserted into fictional narratives. A story might stop, double back, start again, split off into different tangents. New forms for new content, new films for the dream of a new Japan.
I've chosen seven of the twenty-three fiction features screening at NYFF to discuss below. These are the ones I'd consider essential viewing—but don't limit yourself to my picks: the retrospective is also showing several films that are nearly impossible to find in the U.S. (including his first feature, A Town of Love and Hope). Nor should you stop at one or two and call it a day, convincing yourself that you've now "done" Oshima. Furiously self-reinventing, determined to avoid repeating himself or falling into cliché, he changed his style and mode of attack with each new film. As with the '60s films of Godard, to whom he's so often compared, the more you see, the more amazing the total achievement becomes. What's truly remarkable about his most fertile period isn't a single standout movie, or even two or three or four, but the body of work as a whole, considered as a continuous, restlessly innovative inquiry into the revolutionary potential of cinema.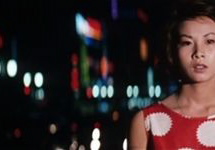 Cruel Story of Youth (1960). Oshima's second feature, and his first big success. It bears the same relation to his ouevre that Breathless does to Godard's: a stylish, sexy, and hugely entertaining movie that breaks new ground and yet gives only a hint of the far more radical originality to come in the subsequent films. A young woman accepts rides home late at night from older, married men; when they inevitably try to make a pass, her hoodlum boyfriend shows up to shake them down. It's a lovers-on-the-run tale, but without the innocents-in-a-dirty-world romanticism American filmmakers usually bring to the genre: the lovers gain our sympathy, but they're as greedy and rotten as the world that made them.
Night and Fog in Japan (1960). In 1959, the mutual security pact between Japan and the U.S. was up for renewal, and a new left-wing coalition mobilized against it. Strikes, boycotts, rallies, and mass protests erupted nationwide. Revolution seemed a real possibility. But the coalition didn't hold together: the older, more established Japan Communist Party shifted their loyalty to the authorities and denounced the student activists, their former allies. Oshima, like many on the left, blamed the older generation—his own—for selling out their successors. In Night and Fog in Japan, with the blood still drying on the streets, he settles accounts. The two generations of leftists gather for a wedding. Before long, the formalized serenity of the wedding is disrupted, as recriminations and resentments begin to surface. We move fluidly back and forth in time from the present tense of the wedding to the recent past of the demonstrations to the formative years of the older generation's activism. With its fractured time frame and its daring use of complex long takes, the film marks Oshima's breakthrough into something far beyond conventional storytelling. It's a demanding viewing experience but ultimately a rewarding one.
Violence at Noon (1966). Nothing better illustrates the protean nature of Oshima's approach to filmmaking than contrasting Night and Fog in Japan, made up of forty-three long tracking shots, to Violence at Noon, a remarkable experiment in fast cutting: estimates of the number of shots range from 1,400 to over 2,000. The fragmented, disorienting style mirrors the scrambled consciousness of the protagonist, a rapist and killer. As in Night and Fog, Oshima marks the dashing of leftist hopes: the killer is a fugitive from a collective farm that went under the year before. Two of Oshima's guiding concerns are at work here—his obsession with outsiders and rebels, whether criminals, activists, or artists, and his fear that the revolutionary project is doomed to failure.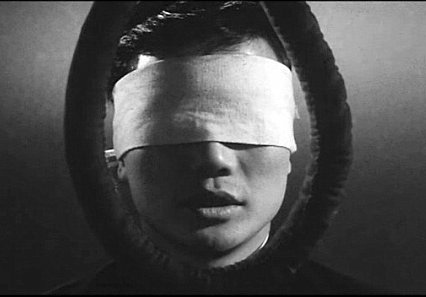 Death by Hanging (1968). One of his weirdest, coldest, most baffling, and most brilliant films. An attack on capital punishment, a critique of anti-Korean prejudice in Japan, and a Kafkaesque satire of bureaucratic mindlessness. A Korean man accused of raping and killing a Japanese girl is sentenced to death by hanging. At the moment of execution, the rope breaks, and the accused is badly injured in the fall, resulting in amnesia. But Japanese law stipulates that the guilty party must admit to his guilt before he can be executed, and since this guilty man has forgotten his crime, the prosecutors set about re-enacting it, so that he'll remember what he did, so that they can kill him. If Brecht and Buñuel had ever made a movie together, the result might have turned out something like this.
Boy (1969). The story is based on news accounts of a real-life family that traveled around the Japanese countryside running a scam in which the older son would stumble in front of a moving car and pretend to be hit, so his corrupt parents could demand the drivers pay them off, rather than be reported to the police. A relatively (for Oshima, for this period) straightforward film in terms of form and style. Here, the radicalism is in the depiction of extreme states of mind and feeling: the monstrous cruelty of the father and stepmother, and the terrible alienation of the son. Another movie about criminals on the run, but in this case the main criminal is a helpless victim as well, too young to understand what's being done to him, and this gives Boy an at times nearly unbearable pathos that's unique in his work. A masterpiece.
The Man Who Left His Will on Film (1970). Oshima made this film at a time of intense turbulence for the left-wing student movement. Confrontations between students and police were escalating. Ideological positions were hardening. Oshima focuses on a Marxist collective of young filmmakers caught up in the spirit of the era, but riven by internal schisms and beset by doubts that they're on the winning side of history. One of the filmmakers sets out to investigate the suicide of a friend. As his quest deepens, he begins to take on aspects of his dead friend's identity, including the despair that led him to suicide. The Man Who Left His Will on Film is one of Oshima's boldest narrative experiments, and it holds a special fascination for cinephiles and cineastes not yet born when the events of the story take place: the movie is an extraordinary document of a time when young filmmakers believed the film camera was a deadly weapon in the struggle for social change.
The Ceremony (1971). Possibly the most potent summation of his themes and obsessions. A decades-spanning family saga that serves as a damning metaphor for post-imperial Japan, centering on an old, corrupt, warlike patriarch, his feeble and ineffectual grandson, and the women who serve the men as ornaments, seed-carriers, objects of brutality and lust. The "ceremony" of the title refers to several ceremonies depicted in the film (weddings, anniversaries, funerals). But these ceremonies are shown to be empty rituals masking what really drives the family, and by extension the nation: the love of power for its own sake. Oshima goes even further than he did in Boy in flaying the skin off the sanctified image of the family in Japanese culture.
Starting with In the Realm of the Senses in 1976 and continuing through his most recent film, Taboo (1999), Oshima's career underwent a major shift. He could no longer get funding for his kind of moviemaking, and became dependent on international co-financing deals. His once-awesome productivity slowed. Worse, he seemed to have lost touch with contemporary Japan: of the five late features beginning with Realm, four are period pieces, and one is set in France—although these may have been choices forced on him by the exigencies of fundraising. (It's almost certain there will be no new films forthcoming: two strokes have left him, by all accounts, seriously debilitated.) The later films have their strengths, but to a great degree Oshima appears to have fed off the energy of his times, and when the revolutionary spirit of the '60s faded, his revolutionary genius faded with it. But his best work remains as startlingly mind-bending and eye-opening as ever.
— Nelson Kim
(Tickets to the New York Film Festival sidebar In The Realm of Oshima, running from September 27 to October 14, can be purchased here. The retrospective, curated by James Quandt of Cinematheque Ontario, will travel throughout the U.S. and Canada between now and December; details can be found here. Those interested in a more detailed account of Oshima's career can consult this essay of mine from 2004, or Tony Rayns' excellent overview recently published in Film Comment.)