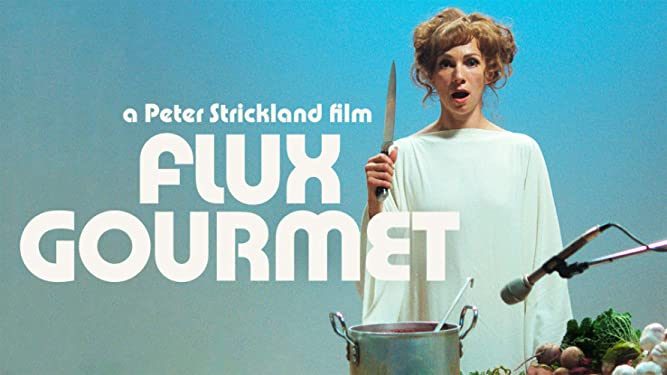 (Check out Sammy Levine's movie review for Flux Gourmet, streaming now exclusively on Shudder.  Seen it? Join the conversation with HtN on our Letterboxd Page.)
In Flux Gourmet, Peter Strickland has presented us with yet another surreal, fetishistic and fully realized bizarro vision. Strickland, notorious for his gonzo style and grotesque gallows wit [most recently seen in his delirious In Fabric], has concocted a campy delight bursting with experimental craft, razor sharp satire and a hypnotic, droning score. This film, paradoxically; a high/low art WTF film, is a paranoid piece reveling in its own shit (at times literally) while sounding the alarm on hypocrisies of the art world's suffocating elitism.
Flux Gourmet relates the tale of a doomed culinary sonic collective (an underground movement combining music production with extravagant performance and culinary arts) during their stay at an artist's residency. All paid for, totally exclusive, completely batshit. The collective, portrayed by Sex Education's Asa Butterfield, the ever so brilliant Fatma Mohamed (a staple of Strickland's filmography), and Ariane Labed (Souvenir I and II), battle inner turmoil during their disturbed stay. Their problems manifest in a variety of ways such as: personality clashes, disputes concerning creative direction, and the long contentious debate between artistic intention and audience perception. During the sonic collective's residency, they put on various shows followed by psychedelic orgies among the high art elite all in pursuit of putting on a perfect final show. All the while, outside forces such as a gassy hack journalist, esoteric in-house physician (portrayed by Leo Bill), and the sex crazed director of the prestigious residency (played with skin crawling creepiness by Gwendoline Christie) hover about anxiously, only, amplifying the tension within the group. All at each other's throats along the devilishly twisted ride.
Strickland propels this tongue in cheek critique of the art world with audacious technique. The sound and colors, the edit, and cinematography combine to serve a feast for the senses. Flux Gourmet's photography, divinely captured by Tim Sidell (whose past work includes Alt-J short films), enhances Strickland's unique and insular world. The choice of extreme shot sizes pushes the outlandish scenes into otherworldliness. The saturation and grain resemble Argento's and Bava's Giallo films (throwbacks to influential ultraviolent and psycho horror). This is most clearly exemplified during the orgies where the psychedelic colors resemble Suspiria's hallucinogenic color palette. On top of that, the superimposed images of the scene morph the writhing sexual bodies into shape-shifting globular forms resembling a lava lamp. In contrast, the inclusion of the standard talking head testimonial shots injects this film with a hilarious and crafty keep-you-on-your-toes edge. Strickland and Co are truly pulling out all the stops on this one. Lastly, the lugubrious pacing in the edit of this film along with the ominous distorted sound design combine to powerful trancing effect.
Flux Gourmet, like the filmmaker's previous work, plays by its own rules both stylistically and narratively. Strickland, a self-identified outsider and film school reject, tackles his subject matter with a burning bittersweet vengeance. Bitter in its distrust of institutions and finance figures distorting and interfering with art. Bitter in its portrayal of elitist types begging to be sensually (and at times sexually) pleased despite their hoity-toity artifice. Yet, sweet in its recognition in the importance of the financier's role in artistic creation. Like the sonic collective's inner turmoil, Peter Strickland has spilled his guts, in all its grossness and heightened glory, on the current state of art. There is a lot to unpack in this one. But thankfully, the film rewards and builds upon each viewing. Ultimately, Flux Gourmet is an extravagant four course meal to be savored and, even, devoured; although, it's surely an acquired taste, it's also delightfully rich.
– Samuel Levine (@thesammylevine)
Shudder; Peter Strickland ; Flux Gourmet movie review