(Antichrist is now available on DVD
or Blu-ray through Criterion. It was distributed theatrically in America by IFC Films. It opened theatrically on October 23, 2009 and became available On Demand on October 28, 2009. Visit the film's page at the IFC Films website to learn more.)
To those of you who think Antichrist is a masterpiece, you're wrong. To those of you who think it's a complete and utter misfire, you're wrong too. The truth of the matter is that Antichrist has too many flaws to be upheld as a work of outright excellence, yet it is far too audacious to be dismissed with a huff or shrug. It exists is in its own universe, a place where art and trash collide, where logic and illogic fornicate in a vestibule, where intelligence and idiocy fist each other like maggots. Which is to say that it exists firmly inside the mind of its creator, the one-and-(thankfully)-only Lars von Trier, a director who, with his latest spectacle, has managed to top himself once again in the shock-and-disturb department, yet who has, at the very same time, delivered his most unabashedly sincere work to date. Whatever your opinion of this man and this film, the fact remains that Antichrist provides us with what we so desperately need in cinema, a full-throttle act of pure creative expression from a freakishly gifted mind.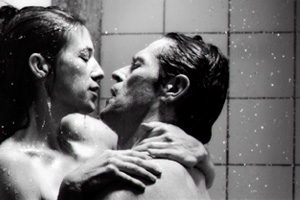 Yes, all of this stuff is subjective. It certainly doesn't get more subjective than this. People have been arguing about Antichrist since its bow at Cannes, and it is going to continue in the coming weeks and months. For detractors, it's a no-brainer. Antichrist is a terrible joke, a bludgeoning assault of horror and art film clichés that would make even a diehard torture porn fan blush. For supporters, it is a nakedly sincere exploration into the horrific grief that assaults a mother and father when they lose a child. Detractors see the insert of a real penis entering an actual vagina just moments into the operatic prologue that unfurls like a stately jewelry commercial (shot in slow-motion black-and-white), and their bullshit detector starts ringing so loudly that it taints everything that is to come. Supporters are awed by the majestic filmmaking on display, realize that they are in very assured hands, and let von Trier guide them further into the darkness. And where do I stand, you ask? Good question. Call me a supptractor. Or a detrorter.
For those of you who don't know what it's about, here is the story of Antichrist in a spoiler-free nutshell: A couple—who are credited as He (a sturdy Willem Dafoe) and She (a bravely committed Charlotte Gainsbourg)—lose a son while boning, sending She into the hospital, at which point He, a macho therapist, decides to become She's personal doctor, spurring them to visit their cabin in the woods—yes, this cabin is called Eden—where He will help She to conquer her innermost fears and return her to complete health. I don't think I'm spoiling anything when I say that things don't go according to He's plan. At which point, Chaos begins to Reign.
I usually don't try to carry anything but the film itself into my reviews, but it is impossible for me to ignore von Trier's virtual Q&A after last month's New York Film Festival press/industry screening. For he himself perfectly expressed my problems with Antichrist. When someone asked him about the religious allegories with regards to "Eden" and "He" and "She," von Trier got very self-deprecating and apologized for those glaring inclusions. He confessed that had he been in a less depressed state of mind, "Normally I would have taken out all that shit." He admitted to rushing through the script process and not giving it as much thought as he normally would have. Though this slapdash, make-it-now-or-die approach gives the film its primal power, it also excuses it from being analyzed too deeply. For anyone trying to burrow into the "symbolism" and "metaphors" of Antichrist, the joke is, indeed, on you. The problem is that von Trier has inserted these broad tags, which normally beg for scholastic interpreting, inside a film that is better, and more rightly, experienced from a purely emotional place (i.e., The Gut, not The Brain). It's what makes Antichrist both accomplished and inept.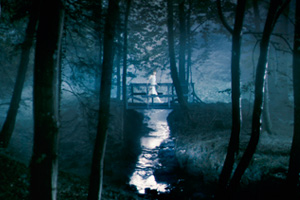 And that's fine. Can't we just call this a nightmarish vision of grief, stretched out, distorted, and mutilated into a million insane pieces, and leave it at that? Isn't that good enough? Doesn't that make Antichrist a phenomenal achievement? Perhaps. But when your film's first half is a theatrically scripted and loudly blunt critique of therapy, in the form of an egotistical male who would rather play doctor than husband, it's hard to keep one's appreciation down there in the stomach, where it belongs. Those are the moments when Antichrist rings almost painfully stunted to me, when von Trier reveals himself to be a severely bruised child. But then he unleashes a haunting vision of hypnosis, as She visits Eden in her mind, with a stunning combination of dreamlike imagery and insidious sound design, and one grasps the enormity of this man's talent, as well as this character's internal landscape. And then, one reel later, He is in an attic discovering that She went loopier than Jack Torrance the previous summer and became a vengeful hater of women and it's back to the silly farm.
For my money—or should I say money shot?—it really comes down to that insert of full-on penetration at very beginning. At the very least, it helps to explain my own purgatorial state-of-mind when it comes to the entire film. My initial reaction was one of borderline glee. I thought that, in a perfect world, Antichrist would have opened in multiplexes across the country, earning at least as hearty an opening weekend box office tally as the Saw films. I thought it was gravely flawed but equally exciting. I even watched it a second time to see how it would go down. Though my overall reaction was the exact same, the only difference was that the first half felt much more plodding. Still, that overall reaction is why I find it impossible how anyone could give this film a definitive yay or nay. It really transcends a thumb up or a thumb down.
The only definitive verdict I can offer is this: Lars von Trier needs to get out more. Out of his brain, out of his backyard, out-out-out. I think he actually needs to conquer his demons and visit America once and for all. Who knows what an actual three-dimensional trip to the land that so obsessively fascinates him would do to his fragile psyche. Would it soften him? Would it drive him into a deeper mental tailspin? Would he eat cotton candy at Six Flags and realize that the world isn't so bad? Would he get food poisoning eating a funnel cake at a state fair and know what true American grief is? Who knows. For now, all we've got is this crazy beast of a motion picture, which is great, good, bad, awful, vital, frivolous, serious, and silly at the exact same time.
— Michael Tully