(Must Read After My Death opens in New York City at the Quad Cinema on Friday, February 20th, and in Los Angeles at Laemmle's Sunset 5 on Friday, February 27th. For those everywhere else, and more interestingly, it opens online tomorrow (the 20th) at GiganticDigital. For just $2.99, viewers can watch the film for three unlimited days in high quality. Visit the film's official website for more information.)
Everything is different in hindsight. Time heals certain wounds, while others fester and deepen with the passing days. Memories go in and out of focus. Problems either work themselves out, or else new dilemmas arise and take precedent, the old ones fading into the past. When the end is in sight, things just don't look as bad as they once did. Perspective allows us to see things more clearly. And this is precisely what is missing in Morgan Dews' piercing documentary Must Read After My Death, and also what makes the film so singular, so touching and traumatic to watch.
Must Read After My Death is based on the audio diaries and home movies of Dews' grandmother, Allis, which the director discovered after her passing in 2001. More than just family mementos, the audiotapes documented the emotional and psychological near-collapse of Allis' family in the 1960s. And Allis tells the story not from some safe distance into the future, but right in the midst of the crisis. The happy façade of the 8mm home movies of family gatherings, holiday dinners, smiling faces and warm embraces, is the perfect counterpoint for the skeletons-in-the-closet, whispered secrets of Allis' diaries. Whereas the images represent everything the family wanted to show to the rest of the world, the audio represents everything they wanted to keep behind closed doors. A husband's affair, his drinking that leads to physical violence, a son fallen behind in school, a daughter who runs off to get married, and another son that is institutionalized—these are just some of the worries of Allis. On the one hand, they are very much "everyday" problems, but that is where so much of their power comes from. Brimming with pathos, it's hard not to relate to Allis' overwhelming anxiety, and the sense that life is spinning out of control and offers her no possible recourse.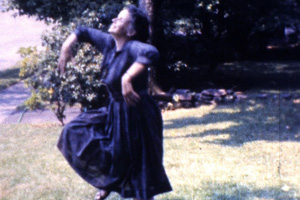 Begun as a way to communicate with her husband who was living in Australia for several months out of the year for work, the Dictaphone soon became Allis' way of recording her family history for future generations (which she openly acknowledges at several points throughout). On another level, however, the Dictaphone was also a surrogate listener for Allis. In Roberto Rossellini's The Human Voice, Anna Magnani clings to a telephone, desperate for human contact. But here, Allis clings to a machine that offers no such consolation. The voice she hears is her own. More than just a cathartic exercise, it provides proof of her existence, and a physical record of her thoughts and emotions.
Her husband ineffectual, and her children rebellious, Allis turned towards family therapy for help. Indicative of the times, they all told her that the family's dissolution was her fault—she failed as a wife and as a mother. Their only advice was to conform to the stereotype of a "good wife" and "good mother" who is bound to the home and subservient to her family. But whereas the therapists were all judgmental, the Dictaphone remained a safe, objective vessel for Allis' outpourings. The machine was her ever-present, always loyal, listener. There's something extremely modern about her personal investment into technology, not only the extent to which it serves a cognitive role in her life, but to the point where the microphone exceeds the human potential around her. Where family and therapy failed, the Dictaphone succeeded.
With the exception of a few intertitles, there is no contemporaneous commentary inserted into the film. Allis' diaries and home movies tell the entire story. There is no "looking back" and "reflecting" on things. Watching the film, we too are able to experience the story first hand, almost in first-person. We take the place of the machine, becoming the receivers for Allis' anxiety, her frustration, her discontent, and—most of all—her hope for a better future for her whole family. Must Read After My Death is at once extraordinary, and completely ordinary. It's the sort of story that happens in each of our lives, but that doesn't in any way diminish its significance to either Allis and her family or to the audience.
What is extraordinary, however, is Allis herself. Not only her resilience and forthright nonconformity, but also her foresight in documenting her life with such openness and honesty. Allis is a real life Woman Under the Influence. She holds nothing back. Neither does her grandson, Morgan Dews, who with great editorial skill crafts Allis' materials into a probing and unflinching portrait of the inner life of the real American Family—bruises, smiles, and all.
— Cullen Gallagher