THE CURBSIDE CRITERION: AFTER HOURS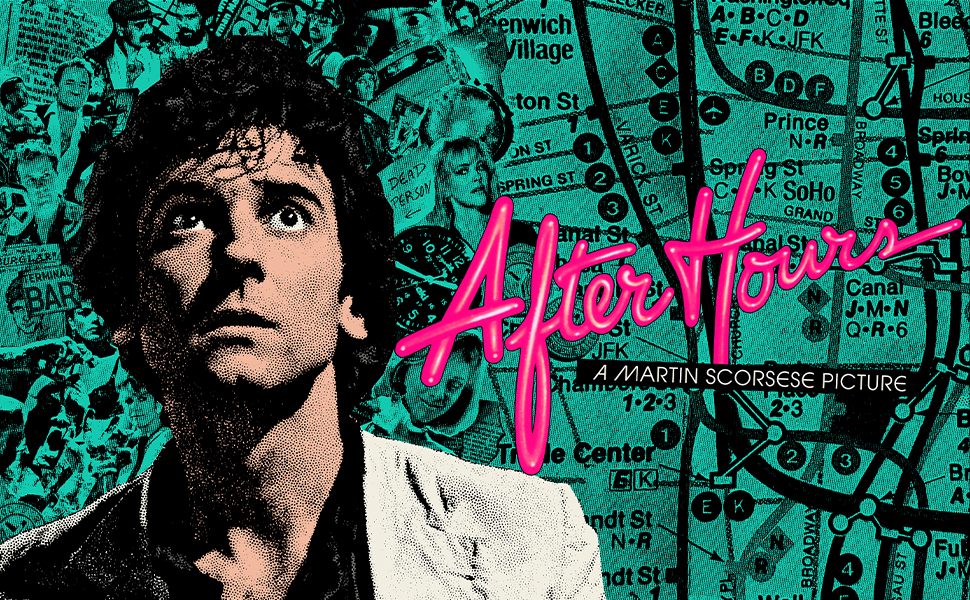 (Here at Hammer to Nail, we're all about true independent cinema. But we also have to tip our hat to the great films of yesteryear that continue to inspire filmmakers and cinephiles alike. This week, our "The Curbside Criterion" continues where HtN staff can trot out thoughts on the finest films ever made. This week Brad Cook drives around with the new 4K UltraHD edition release of After Hours, an earlier Martin Scorsese film that's only gained in popularity over the years.)
This is another one of those films that has existed along the periphery of my movie knowledge over the past few decades but which I haven't gotten around to seeing. Until now, thanks to Criterion's new 4K UltraHD edition of After Hours. Released in 1985, this was Martin Scorsese's rebound film after the disappointment of having The Last Temptation of Christ fall apart the first time he tried to make it. It was probably a good, safe choice for him at that time in his career.
Griffin Dunne stars as Paul Hackett, a regular guy with a mundane job where he sits in a cubicle and enters data all day. He's looking for something fun to do, and when he has a chance encounter with Marcy (Rosanna Arquette), who gives him her phone number, he ends up on a trip through life in the middle of the night in Manhattan. One thing leads to another as he meets a motley assortment of characters, including Marcy's artist roommate Kiki (Linda Fiorentino), a high-strung waitress who desperately wants to quit her job (Teri Garr), and others. One thing leads to another and eventually he ends up being mistaken for a burglar and chased by an angry mob led by an ice cream truck driver named Gail (Catherine O'Hara).
Maybe it's my current perspective as the father of an adult daughter, as opposed to how I might have viewed Paul when I was a teenager in the 80s, but I found After Hours' protagonist to be a bit of a pervy creep. His interactions with Marcy and Kiki early on show his interest in only one thing, which makes me feel like he kind of deserves the grief he goes through the rest of the night. That said, this is a movie that's still a fun watch as a trip down memory lane to a time when whacky people could still afford to live in Manhattan (I can't even imagine what Marcy and Kiki's apartment is worth today) and a movie like this could be a modest success in theaters despite a lack of CGI and superheroes.
I'm not sure that After Hours is a movie screaming for a 4K UltraHD release, since the copy of the film on the included Blu-ray looks quite nice too, but if you were hoping for such an edition, here you go. The previously available bonus features are found on the Blu-ray, as well as a couple new ones.
Criterion also tossed in the previously available fold-out that reproduces the "Wanted" poster and includes an essay by critic Sheila O'Malley.
The only extra found on both discs is a 2004 commentary track that has additional thoughts recorded this year. I'm not sure what was cut to make way for the new material, but Scorsese, Dunne, producer Amy Robinson, director of photography Michael Ballhaus, and editor Thelma Schoonmaker all appear from the older track, while Dunne and Robinson get some extra comments recorded this year.
You'll also find:
Martin Scorsese and Fran Lebowitz (20 minutes): This is a new interview with the director by writer Fran Lebowitz. It's a nice look-back at what Scorsese was dealing with at that time in his career and how his general frustration found its way into the movie's dark humor.
Filming For Your Life: Making After Hours (19 minutes): Hailing from 2004, this is a look at how the movie came about, from its early beginnings as a spec script written by a Columbia University film student to Scorsese's involvement after Temptation fell through.
The Look of After Hours (19 minutes): Designer Rita Ryack and production designer Jeffrey Townsend appear in audio interviews running under film clips, production stills, and other images. I'll admit this is a movie whose look and feel I didn't think about a lot while watching it, but I found some interesting observations here. This is another new bonus item.
Seven deleted scenes totaling nine minutes and the trailer round out the disc.
– Brad Cook (@BradCWriter)
Criterion 4k Blu ray; Martin Scorsese; After Hours movie review