THE CURBSIDE CRITERION: A FACE IN THE CROWD
(We here at Hammer to Nail are all about true independent cinema. But we also have to tip our hat to the great films of yesteryear that continue to inspire filmmakers and cinephiles alike. This week, our new addition to the site, "The Curbside Criterion" continues where HtN staff can trot out thoughts on the finest films ever made. This week Brad Cook tunes in the new Blu of  controversial filmmaker Elia Kazan's shockingly prescient A Face in the Crowd. Like what you see here on Hammer to Nail? Why not pay just $1.00 per month to help keep us going?)
Like In the Heat of the Night, which Criterion issued on Blu-ray a few months ago, A Face in the Crowd should seem quaint to our modern sensibilities. "Remember when someone could manipulate people through the media and make a fortune off creating a false front?" we might ask. "Good thing the Internet gives us all the information we need to cut through the bullshit today!"
I know, that's a pretty funny idea, right? I hope middle and high schools start showing A Face in the Crowd to kids so they can understand that what we've experienced the last couple years has all happened before, but it doesn't have to happen again. Yes, at the end of the day, I'm a hopeless idealist.
While I was watching this underrated movie, which was written by Budd Schulberg and directed by Elia Kazan, my wife pointed out that Keith Olbermann used to refer to former Fox News host and amateur chalkboard conspiracy theorist Glen Beck as "Lonesome Rhodes." Since I hadn't seen A Face in the Crowd before (but had heard of it many times over the years), the light bulb went off and I realized, ah, yes, this really does keep happening again and again, doesn't it?
Starring Andy Griffith in his first film role, one that's just about 180 degrees removed from his most iconic character, A Face in the Crowd tells the tale of Lonesome Rhodes, who's plucked from delinquent, alcoholic obscurity by radio host Marcia Jeffries (Patricia Neal). His folksy, "Aw, shucks, I'm just a simple country boy" attitude, combined with his musical talent, catapults him to ever-higher levels of fame and fortune.
As he climbs the ladder of influence and power, Rhodes either becomes corrupted by his position or his true nature emerges – there are enough hints early on that perhaps his persona is a false one that he's developed as part of his grifter lifestyle. Like Dr. Frankenstein, Jeffries realizes with horror that she's created a monster and seeks to undo her damage, aided by Mel Miller, one of Rhodes' TV writers played by Walter Matthau in one of his earliest film roles.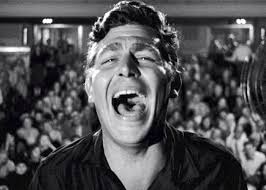 Miller is the one who delivers the final searing monologue that cements Rhodes' fate while leaving us wondering if he truly will rise again, given people's short memories. In the United States, at least, we love to build people up and tear them down, but we also enjoy comebacks. It's not hard to imagine that Rhodes went into seclusion for a while but emerged and was given a second chance.
I'll leave you with this quote from the accompanying essay by film critic April Wolfe, who relates an anecdote that might make you laugh, cry, or some combination of the two.
"In 2010, [Patricia] Neal sat down at the Egyptian Theatre in Hollywood for a post-screening discussion of A Face in the Crowd. The audience was asked: 'How many of you seeing Lonesome Rhodes on TV would trust him or be drawn to him?' The response was only a smattering of applause. Later that year, season 10 of The Apprentice premiered on NBC."
You-know-who is also referenced in the first of the bonus features, a new 20-minute interview with Ron Briley, author of The Ambivalent Legacy of Elia Kazan: The Politics of the Post-HUAC Films. He discusses the Rhodes character in the context of other similar demagogue-ish figures, including Will Rogers and Arthur Godfrey. The cult of personality can be a dangerous one, especially when it influences people in elections.
Briley also touches on Kazan's own controversy, when he named names while testifying before the infamous House Un-American Activities Committee. Schulberg joined Kazan in selling out many Hollywood people who were blacklisted for a long time afterward. It was a dark period in United States history that always seems to threaten to re-emerge, especially since we have a President who declares the media the enemy of the people and attacks shows like Saturday Night Live for having the temerity to mock him.
The other new bonus feature is a 19-minute one with Evan Dalton-Smith, who talks about Andy Griffith's career and how A Face in the Crowd fits into it. He said Griffith quipped that it took him "three months to film the movie and four months to recover from it," and he went from that to a few other roles before hitting pay dirt with The Andy Griffith Show. Dalton-Smith also discusses that show and the way it mocked fascism in the form of Barney Fife.
The final piece is Facing the Past, a 29-minute 2005 documentary that features Griffith, Neal, actor Anthony Franciosa, screenwriter Budd Schulberg, and film scholars Leo Braudy and Jeff Young. They look back on the HUAC hearings, with Schulberg defending his reasons for naming names, and how that led into some of the themes found in A Face in the Crowd. Schulberg and Kazan's post-HUAC careers, as well as their collaborations, are discussed too.
The obligatory booklet includes the aforementioned essay by Wolfe as well as "About Screenwriters" by Kazan, which was excerpted from the preface to the published version of the film's script, and "The Strange Chronicle of Andy Griffith," which was written by Gilbert Millstein in 1957 and published in The New York Times.
Like what you see here on Hammer to Nail? Why not pay just $1.00 per month to help keep us going?
– Brad Cook (@BradCWriter)