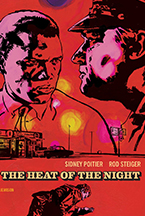 (We here at Hammer to Nail are all about true independent cinema. But we also have to tip our hat to the great films of yesteryear that continue to inspire filmmakers and cinephiles alike. This week, our new addition to the site, "The Curbside Criterion" continues where HtN staff can trot out thoughts on the finest films ever made. This week Brad Cook investigates the new Blu of Norman Jewison's sadly contemporary In the Heat of the Night  Like what you see here on Hammer to Nail? Why not pay just $1.00 per month to help keep us going?)
A movie like In the Heat of the Night should be an artifact of a bygone era, its subject matter as odd and foreign to us as a story about using leeches to cure disease. And yet here we are in the year 2019, with a President who has extolled the "fine people on both sides" of a protest fueled by bigotry. Thus Criterion's new Blu-ray edition of this classic film can be seen as a cautionary tale.
Based on the 1965 novel by John Ball, Norman Jewison's Oscar-winning film stars Sidney Poitier as Virgil Tibbs, a police officer simply trying to pass through Sparta, Mississippi on his way to his mother's house when he gets pulled into a murder investigation. Unfortunately, he becomes embroiled in the situation when he's arrested by an over-anxious cop who figures he's up to no good hanging around a train station late in the evening. (Because we know a murderer would go wait for a train after committing such a heinous act.)
Rod Steiger, playing local police chief Bill Gillespie, verifies Tibbs' identity with his commanding officer, who offers his impeccable detective skills for the case. Tibbs is understandably reluctant to participate, and Gillespie and the officers working under him are skeptical, but the newcomer proves his mettle and earns their begrudging respect.
One of the movie's most striking scenes comes when Tibbs and Gillespie visit a plantation owned by Mr. Endicott, who's doing his best to keep the last vestiges of slavery alive, even if he has to pay his African-American workers for their labors. As the two policemen arrive on the property, they look out the window at the scene in the fields and Gillespie remarks in a matter-of-fact tone: "None of that for you, eh, Virgil?"
Writing about that scene in the printed essay that accompanies this release, film critic K. Austin Collins notes that "Jewison was able to convince Poitier to travel to Tennessee for a couple days" to shoot it. Collins goes on to say: "But you don't need to know that to feel the question creep beyond the confines of Hollywood fiction to nudge at the fact of its black star, Poitier.
"'None of that for you, eh, Virgil?': it could just as easily be a question about the real-life anonymous blacks playing those cotton pickers. None of that for you, eh, Sidney? From then on, Poitier and his career would live out the answer in all its double-edged complexity: That's right."
The bonus features on this disc are a mix of pieces ported over from a previous MGM DVD release and some new stuff. The former includes a commentary track with Jewison, Steiger, fellow cast member Lee Grant, and cinematographer Haskell Wexler. They were recorded separately and edited into one track, which has quite a lot of technical details as well as some discussion of the art of cinematic storytelling. Since everyone was recorded solo, this track doesn't suffer from the dead air and random reminiscing, or just talking about what's on the screen, that can plague group commentaries.
The other older bonus features include a 21-minute making-of piece called Turning Up the Heat: Movie-Making in the 60s, which has Jewison, Wexler, producer Walter Mirisch and filmmakers Reginald Hudlin and John Singleton talking about the tense era in which the movie was made and why it continues to resonate today. And there's Quincy Jones: Breaking New Sound (13 minutes), which discusses the musician's work on the soundtrack and how Ray Charles was recruited to sing the title song.
Then we have a nice big batch of new stuff, one of which is older but new to In the Heat of the Night on home video (as far as I know):
Interview with Norman Jewison (13 minutes): The director talks about the making of the movie in this new interview.
Interview with Lee Grant (15 minutes): Another new interview, this one features the actress talking about her role as the widow of the murder victim and her experiences making the movie, but also her encounters with another sordid chapter in American history: the Hollywood blacklist era. Grant has quite a few directing credits to her name too.
Interview with Aram Goudsouzian (17 minutes): The last new piece stars Poitier's biographer discussing the actor's career, which was fraught with difficulties stemming from his political beliefs as well as the tumultuous relationship that the African-American community had with him.
Interview with Sidney Poitier (8 minutes): This is a 2006 interview in which Poitier looks back on the making of the movie and talks about several instances in which he requested changes to the film.
Theatrical trailer (3 minutes)
In the Heat of the Night was restored in 4K for this release, with an uncompressed monaural soundtrack.
Like what you see here on Hammer to Nail? Why not pay just $1.00 per month to help keep us going?
– Brad Cook (@BradCWriter)