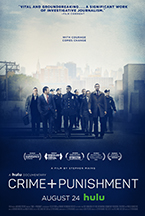 (Stephen Maing's Crime + Punishment is available now on Hulu as well in select theaters including Washington DC on August 31.)
A sharply incisive work of investigative journalism, Stephen Maing's Crime + Punishment explores the harsh realities faced by police officers of color in New York City. With over 36,000 cops on the job, the NYPD is our nation's largest police force, and ideally could function as a behavioral model for police everywhere, given that city's incredible demographic diversity. To paraphrase the lyrics of Fred Ebb and John Kander's famous movie theme song: if it happens there, it can happen anywhere. Unfortunately, New York has never been immune from the United States' long history of police brutality, brought into the cinematic spotlight in recent years thanks to other documentaries like Baltimore Rising, The Blood Is at the Doorstep, The Force, Do Not Resist, Peace Officer, as well as the many countless news reports that sometimes seem to never cease, given the dispiriting facts on the ground.
What makes Crime + Punishment stand out from its filmic cousins is its portrait, from within, of the lives of those police officers who resist their department's emphasis on arrests of low-income people of color. Though New York State banned quota-based ticketing in 2010 (the policy whereby officers are required to make a certain number of arrests per month), the practice never stopped, despite official denials to the contrary. As Maing and his subjects demonstrate through multiple secret recordings, supervisor after supervisor insists that those cops who refuse to meet numbers will be disciplined. When a small group of black and Latino officers nevertheless push back, not wanting to engage in harmful profiling within the communities on their beats, they suffer consequences. One such unfortunate is Sandy Gonzalez, removed from his patrol car and forced to stand on a freezing street corner in winter. Adding insult to injury, he is even written up by a supervisor for wearing a cap with ear flaps, something that goes against regulations above certain temperatures. Incredible, but true.
Fortunately, these men (and one woman) are not alone. Together, they formed the NYPD 12 in 2015, filing a class-action lawsuit against the NYPD for unfair sanctions. Beyond this group, we also meet private investigator Manny Gomez, himself a former officer who now pursues cases of unjust arrests and brutality, lending his talents to the NYPD 12 along the way. In parallel to the main narrative, we follow the heartbreaking story of Jessica Perez and her teenage son Pedro Hernandez, arrested for a shooting he did not commit. Perez hires Gomez to gather evidence to support their case and find the real perpetrator, which he does. Whatever the outcome of the case, the fact remains that Hernandez loses a year of his life (and of school) that he will never get back. Such is justice in America.
Why insist on arrests, then, especially since, as Maing explains, a large number of them are later dismissed for lack of evidence? Because arrests generate income. The court fees help prop up a city's budget, or as the film points out in more direct language, the budget relies on revenue from arrested black bodies. Modern-day slavery need not take the form of actual incarceration: the stop and subsequent collar are enough. Unless the system is challenged by the likes of the NYPD 12, it could go one ad infinitum. And it may, anyway, despite the lawsuit (still unresolved) and this film. William Bratton, NYPD Commissioner at the start of the movie (who resigned in 2016), always countered claims that ticket quotas were in effect; the new Commissioner, James O'Neill, does the same. It's a vicious cycle, and the wrong people are punished for the wrong crimes. Maybe one day that will change. If it does, we will have Maing and his subjects partly to thank. Gripping throughout, Crime + Punishment should be mandatory viewing for all.
– Christopher Llewellyn Reed (@ChrisReedFilm)