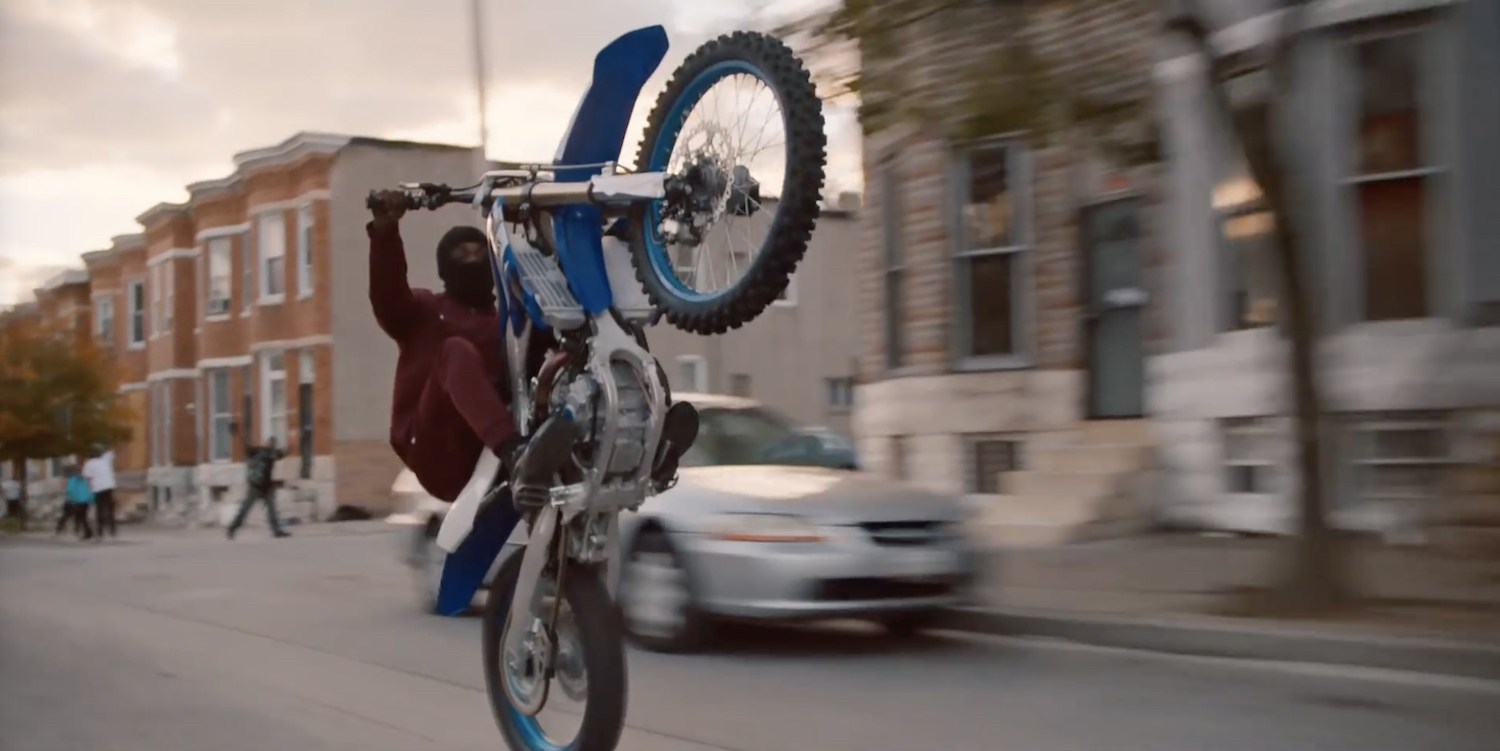 (Director Angel Manuel Soto's Charm City Kings premieres on HBO Max Thursday, October 8. Like what you see here on Hammer to Nail? Why not give just $1.00 per month via Patreon to help keep us going?)
Those of us who live in Baltimore are quite familiar with the phenomenon of the "12 O'Clock Boys" and other similar dirt bikers, who speed down city streets as an escape from the dreary humdrum of the everyday lack of opportunity for African American youth. The name comes from the way the more experienced riders can point their front wheels up at the sky as they go, like the hand of a timepiece hitting noon or midnight. Back in 2013, filmmaker Lotfy Nathan memorialized this activity and its adherents in his documentary titled, appropriately, 12 O'Clock Boys. Now comes a narrative feature that acts as both a sort of sequel (given that the main character of the documentary plays a small role as the dead brother of the new film's protagonist) and a unique examination of the root causes that lead people to pursue this often dangerous hobby. From director Angel Manuel Soto (La Granja), Charm City Kings offers a gripping drama about the many ways that systems designed to keep disadvantaged groups from prospering most often succeed at doing just that. Occasionally, however, a lucky few find a way out.
Jahi Di'Allo Winston (Proud Mary) stars as Mouse, a teenage boy on the cusp of manhood who dreams of following his deceased older sibling into the world of dirt bikes, though he does have other interests. The one that his mother, played by Teyonah Parris (Chi-Raq), can get behind is his love of animals; she hopes he will follow through on his stated ambition to become a veterinarian. Certainly, his job at a local animal hospital bodes well. But, you know, like all kids, he can be distracted by the allure of flashier things, which in this case takes the form of the MSC, a clique of twentysomething riders, some of whom knew his brother, Stro. Among the group is Blax (Meek Mill), recently out of prison and so less likely to take to a bike these days, given that it's not exactly a legal pastime if done the fun way. Instead, he remains in the maintenance shop, and becomes something of a mentor to Mouse, who yearns for his own big-boy bike (we see him embarrass himself earlier on what he currently rides). Meanwhile, Mouse's erstwhile adult-male role model, Detective Rivers (William Catlett), who met him in a big-brother program at school, isn't quite ready to give up his charge, and warily eyes the ex-con and his growing influence. The stage is set for a powerful coming-of-age moment.
And that's not even counting the complicated adolescent dynamic between Mouse and his longtime friends, each confronting similar temptations and distractions, and between Mouse and Nicki (Chandler DuPont), a new arrival from Oakland who is also a potential love interest. Mom is worried, for sure, but it's wrong to assume that Blax sets a bad example, or that riding dirt bikes is inherently terrible. Charm City Kings (the title comes from Baltimore's long-standing nickname) earns its status as a three-dimensional story by exploring the complexities of human behavior and how societal context plays a role in determining it. Rivers thinks he has the answer: do right (as he defines it) and the world is yours; Blax, actually, knows better, and is more interested in helping Mouse navigate the realities of their universe. Both men want what is best for Mouse, but he's too wrapped up in his own angst and desires to keep his head straight. Which is when the plot takes a turn for the serious.
Soto handles the material adeptly, whether photographing the bikes, the neighborhoods, Mouse's family dynamic (there's a younger sister in the mix, as well), or the way Nicki tries to gain a modicum of control through her own images (she has a brand-new camera that she cherishes). The weary set of Blax's shoulders says more than heavy, expositional backstory might, as well. Despite the specificity of setting, Charm City Kings could be about any urban area in the country where wealth and racial disparities create undue burdens on hapless populations. Filled with strong dialogue and performances, the film is a sharp portrait of the pitfalls of despair and the joys of survival. This is America, circa 2020.
– Christopher Llewellyn Reed (@ChrisReedFilm)