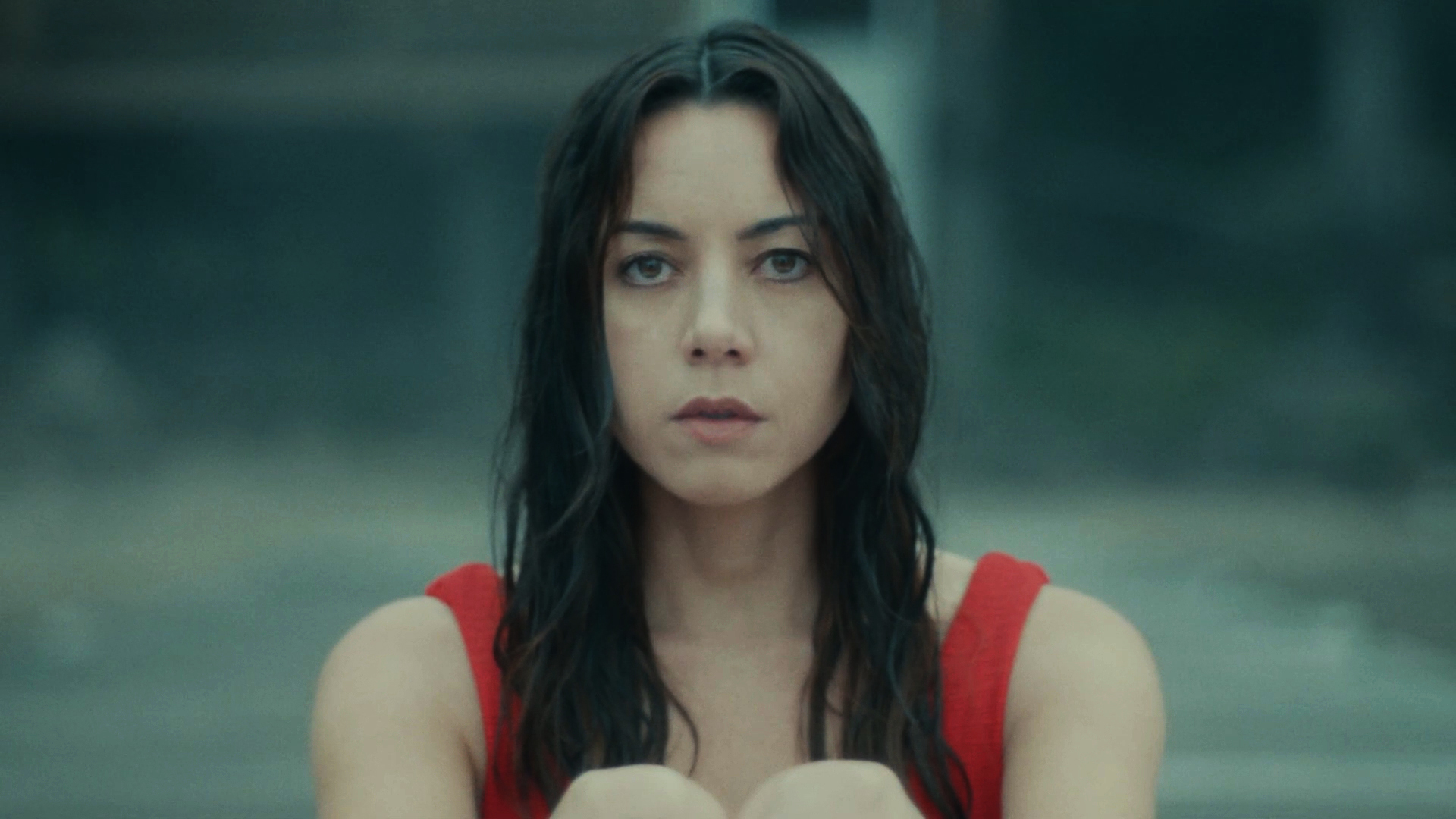 (Lawrence Michael Levine's Black Bear opens in select theaters and on VOD Friday, December 4 via Momentum Pics. Like what you see here on Hammer to Nail? Why not give just $1.00 per month via Patreon to help keep us going?)
Despite the titular creature lurking outside in Lawrence Michael Levine's Black Bear, the true monsters lie within. Aubrey Plaza (Ingrid Goes West) stars as Allison, an indie film director taking a break to rest up and find inspiration at a cabin in the Adirondacks (actually a pretty fancy property, but rustic all the same). Or is she an actress in a movie that parallels her own experiences? Perhaps it's all a construct. Wherever the truth lies, Levine (Wild Canaries) keeps us hooked, his elliptical plot folding in on itself halfway through, delivering a mirrored narrative that offers cinematic delights aplenty.
Part 1, entitled "The Bear in the Road," gives us Allison the filmmaker, emerging from a misty lakeside dock in a vivid red bathing suit, notebook at the ready, thoughtful brow furrowed in concentration. We then cut back to her arrival, where hosts Gabe (Christopher Abbott, Katie Says Goodbye) and Blair (Sarah Gadon, American Woman) greet her with open arms born from extreme boredom. They're friends of a friend of hers, and a couple increasingly at odds the one with the other, a fact not helped by Blair's pregnancy and Gabe's ambivalence towards that reality. As the night wears on, excessive drinking and pot smoking help no one; tempers rise with the arguments and flirtations, and disaster – metaphorical and real, in the form of that animal in the woods – looms increasingly large.
Cut to Part 2, or "The Bear by the Boat House." Here is Plaza, once again in her red bathing suit, only now she is no longer the manipulator; instead, those whose lives she upended in the first section now unsettle her. Gabe is the director here, and both Allison and Blair are actors in a twisted drama which replicates some of the emotional distress of Part 1. It's not an exact copy, but more of a new draft of the same old story, worked over for added emphasis on different stress marks, perhaps emerging from the next page of Allison's notebook. All has changed, yet much is the same, if inverted.
Plaza, Abbott and Gadon make a marvelous trio, each delivering two separate, fully committed performances in each half. What is the truth of our existence and what divides fantasy and reality? For creative souls whose everyday lives revolve around the expression of self in artistically unique ways, where is the line between who we are and who we wish to be? Trying on a new identity to explore the unknown can have unintended consequences. Therein lies the bear, ready to pounce.
Beyond the fascination of the structure, Levine also impresses with the clever way he incorporates the tools of his trade into the movie, itself, both crew and equipment playing prominent roles in the second part, acknowledging the simultaneous artifice and dramatic intensity of cinema. The wildness of nature may be nearby, always about to break through, but here we are inside the magical cocoon of a film set. Until, that is, we return to where we began, with Plaza in her red suit, sitting on the dock, planning her next move, notebook at the ready. Is she predator, prey, or both, entwined? Turn the page and see.
– Christopher Llewellyn Reed (@ChrisReedFilm)