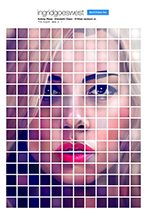 (Aubrey Plaza continues to dominate the indie-comedy landscape this summer with Ingrid Goes West from first time director Matthew Spicer. The film is in limited release via Neon now.)
I sometimes worry about the talented Ms. Aubrey Plaza (Mike and Dave Need Wedding Dates) who, in role after role, plays weirdos and misfits, using her gangly body to comically awkward effect. It's not that she's not funny – and certainly, given the continued success of her career, she needs no pity from the likes of me – but rather that, no matter what the movie, her characters all share a certain quality: let's call it "abrasive eccentric." Plenty of actors before her have been typecast – and Will Ferrell built his own career by playing variants of a lovable doofus – but I sense so much more beneath those intelligent, probing eyes of hers. Fortunately, typecasting or not, Plaza's skills of both comedy and awkwardness are used quite well in Ingrid Goes West, a new social dramedy from first-time feature director Matt Spicer. Excuse me, I should, instead, write #IngridGoesWest.
For, you see, this movie is all about social-media obsession. Or rather, it's about the desire to be famous and celebrated and/or associate with someone who is both, which social media makes easier. Films about stalkers are, like typecasting, nothing new: think Single White Female (which this film directly references, at one point) or Swimfan, to name but two. What gives Ingrid Goes West its particular bite of contemporary relevance is the way it brings in issues of the constant need, as a 21st-century society, to share every thought, however banal, and position ourselves as relevant to the common discourse through hashtagging and following. Excuse me while I tweet that out.
OK, I'm back. #Forgetme; let's discuss the movie. But remember my review, and think of me always when you remember #AubreyPlaza. So, Ingrid, as the film begins, is in the middle of one ill-fated obsession, which lands her in a psychiatric institute. Months later, she emerges, ostensibly reformed. #Not. Before long, thanks to a small inheritance, she relocates to the West Coast, where she rents a nice place near her burgeoning new obsession, a rising-star photographer, Taylor Sloane, played by Elizabeth Olsen (Martha Marcy May Marlene), whom she, of course, follows on Instagram. Mostly ignoring the attentions of her flirtatious landlord, Dan (O'Shea Jackson Jr., Straight Outta Compton), Ingrid goes after Taylor as friend, inspiration and manic infatuation. We know, from the opening scene, that this can't end well. But there is a bit of a #twistending, so hold out until then.
Ingrid Goes West is by no means perfect. Much of the dialogue is a little too on the nose, and since we've seen these kinds of stories before, we struggle to discern the new angles that Spicer and company bring to the narrative. Fortunately, the solid cast, which includes Wyatt Russell (Table 19) and Billy Magnussen (The Great Gilly Hopkins), keeps it fresh, as does Spicer's sharp attention to detail in the individual scenes. Through laughter and tears – the tools of the tragicomedy of embarrassment – we trail after Ingrid as she searches desperately for meaning in a world that values only transience. The movie ends with #IAmIngrid. GIven our hashtag-obsessed universe, we all are, indeed.