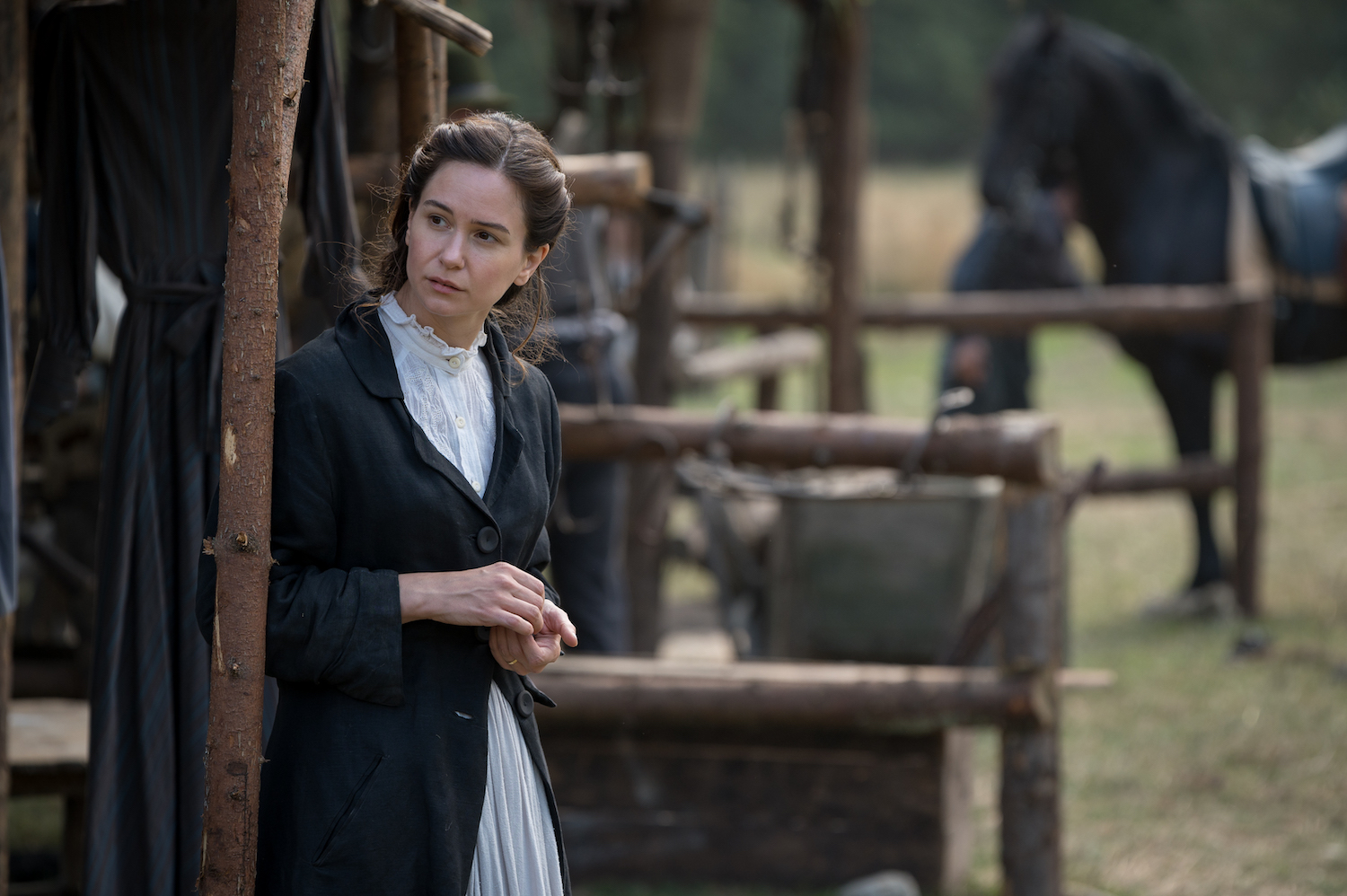 (Mona Fastvold's The World to Come is in theaters now and drops on VOD March 2 via Bleecker Street. Like what you see here on Hammer to Nail? Why not give just $1.00 per month via Patreon to help keep us going?)
Upstate New York in 1856 is a lonely place, especially after the loss of a beloved child. Such is the depressive state of Abigail and Dyer, whose daughter died the year before from diphtheria. Never overly tender the one with the other, they nevertheless form a solid couple, snugly ensconced in their farmhouse. Both of a practical mind, they embrace routine now that they can no longer embrace their dearly departed. Until, that is, new neighbors arrive, changing everything.
So begins The World to Come, the sophomore feature from Norwegian director Mona Fastvold (The Sleepwalker). Based on the title story in writer Jim Shepard's eponymous 2017 collection, it follows Abigail's slow realization that she could have so much more than what she expected. As portrayed by Katherine Waterston (State Like Sleep), she is a woman of profound emotional complexity, married to a gentle soul to whom she cannot motivate to give all of herself. As Dyer, Casey Affleck (A Ghost Story) proves a perfect foil, equally in need yet ever apart.
About those neighbors. They are Tallie (Vanessa Kirby, Pieces of a Woman) and Finney (Christopher Abbott, Black Bear), a childless couple renting a nearby farm. Though Tallie is an extrovert, Finney is a dour misanthrope. Neither man minds the growing friendship between their wives. Not at first, anyway. It's only when the women's intimacy begins to intrude on the normal course of events that trouble starts. 
The love that dare not speak its name nevertheless moans loudly in these woods. Throwing caution to the wind, Abigail and Tallie explore passions heretofore unknown, though at least they make some effort to sneak away. Nineteenth-century America is, after all, hardly open-minded about these things, and if Dyer is at heart a kind man, Finney is far less so. It's only a matter of time before this illicit idyll leads to dire consequences.
Fastvold presents the roiling drama with calculated restraint, best illustrated by the cordial, if chilly, relationship of Abigail and Dyer (though they are by no means without mutual affection). Waterston and Affleck are each magnificent, delivering master classes in behavioral performance. When Kirby shows up, she brings the fire that sparks the long-dormant kindling within Abigail. Meanwhile, Abbott has the thankless task of smoldering, which he at least accomplishes with due diligence.
Beyond the deft handling of the central crisis, what impresses most is how Fastvold recreates the period details and quotidian labor. We feel transported back in time, the seasons passing quietly, tasks rarely changing. And time, itself, is carefully marked here, thanks to Abigail's diaries (in which she pours all the feeling that she can never quite speak), seen in the frame and spoken by Waterston in voiceover. All events, however small, bear consideration when life is short and so often without joy. Seize the moment, no matter the outcome. The World to Come awaits, beyond tragedy.
**You can read Bears Rebecca Fonté's interview with Mona Fastvold here
– Christopher Llewellyn Reed (@ChrisReedFilm)