MY HEART CAN'T BEAT UNLESS YOU TELL IT TO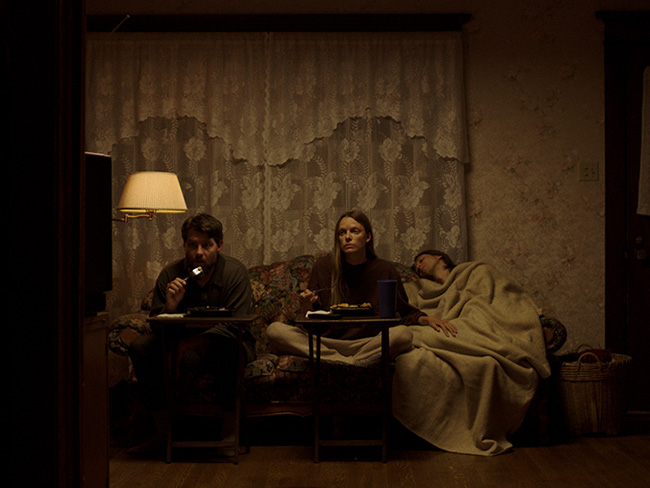 (Like many other film festivals, the 2020 Tribeca Film Festival was physically cancelled but has moved online. Hammer to Nail is excited to bring you our usual amazing coverage so keep an eye out! Like what you see here on Hammer to Nail? Why not give just $1.00 per month via Patreon to help keep us going?)
Though the great Russian author Leo Tolstoy never wrote about vampires, he could just as easily have had the characters of My Heart Can't Beat Unless You Tell It To, the  feature debut of director Jonathan Cuartas, in mind when he wrote, in the famous opening to Anna Karenina, that "each unhappy family is unhappy in its own way." Indeed, siblings Dwight and Jessie face the unique problem of how to keep their younger brother Thomas alive (in a manner of speaking), given that he needs human blood to survive. Though the setup has shades of Let the Right One In (or its American remake, Let Me In), in terms of how guardians kill to protect their undead charges, the texture of Cuartas's movie offers a far bleaker outlook on the consequences of such lethal actions than those earlier works. Nothing good comes from murder, no matter the motivations; the wages of death are more death.
Patrick Fugit (Alex & The List) stars as the glum Dwight, who when we first see him picks up a homeless man to ostensibly bring him to a shelter. The eerily thin Ingrid Sophie Schram plays Jessie, who saws through the hapless indigent's throat after Dwight beats him down. Dwight can barely watch the deed, but Jessie wears her determination like a grim mask. Owen Campbell (As You Are) plays the sickly Thomas, to whom they bring the dead man's blood in a bowl. It revives him, but he's hardly what one would call a robust vampire. Instead, from now until the end of the film, he remains fragile, both physically and emotionally, unable to accept that this is his fate.
Still, it's Dwight on whom the situation appears to take the greatest toll; there's only so much killing he can handle. Jessie is the driving force here, convinced that there is no higher duty than that owed to family, and she will stop at nothing to preserve hers. The three live together in a ramshackle house somewhere on the edge of suburbia and wilderness (the film was shot in and around Salt Lake City, Utah), a perfect visual metaphor for their crossroads existence, never fully present in any one state of being. If Dwight is a vacant shell and Jessie a brutal automaton, Thomas is a walking corpse. In a way, they're all dead, already, even if they don't know it.
Filmed within the tight contours of a 4:3 aspect ratio and in muddy, dark tones, My Heart Can't Beat Unless You Tell It To tells its slow burn of a narrative about codependency and dysfunction in dramatic fits and starts, sometimes ponderous, at others explosive. That push and pull proves an effective combination, unsettling the viewer in the exact way that the characters must feel, faced as they are with this impossible situation. The films consistently pushes the question of "how far would you go to keep a loved one alive?" As such, Cuartas need not explain whence Thomas's condition nor where the trio's parents have disappeared to. What we see is what we see, just as the choices they make are the choices they make, the result a beautiful cinematic meditation on sacrifice. You'll leave your heart, and maybe some blood for good measure.
– Christopher Llewellyn Reed (@ChrisReedFilm)