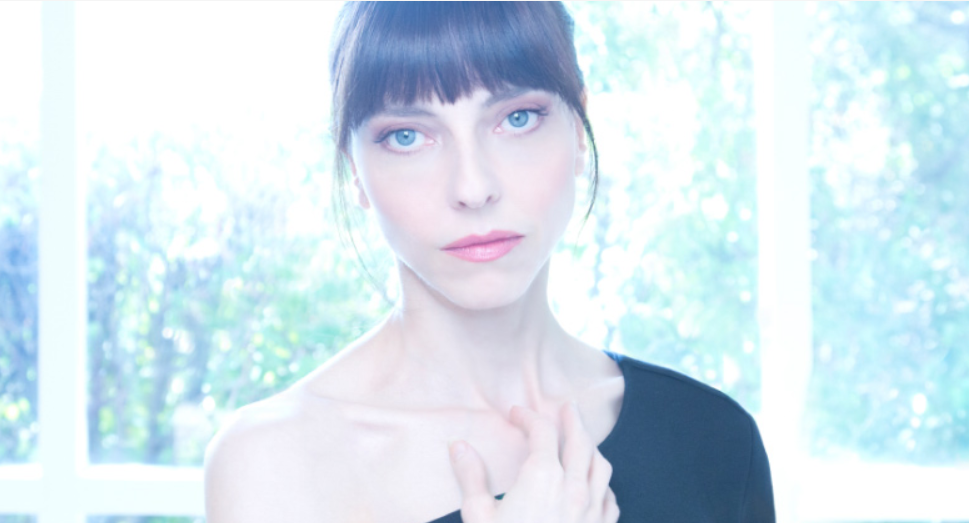 (Juliette Landau's writing/directing debut A Place Among the Dead is available now on VOD via Modern Films. Like what you see here on Hammer to Nail? Why not pay just $1.00 per month via Patreon to help keep us going?)
Fans of TV's Buffy the Vampire Slayer will forever remember Juliette Landau as Drusilla, the willowy, unhinged cockney vampire who named the stars and played rough with her dollies. The thing about playing a vampire on screen is that, after a few decades, the performer is no longer able to reprise that role convincingly. No amount of Hollywood self-care truly stops the aging process (Paul Rudd, notwithstanding). But Landau comes as close as she can to revisiting Drusilla in her writing/directing debut, A Place Among the Dead. Landau plays Jules, a fictionalized version of herself, who becomes immersed in investigating a string of murders which may or may not have been committed by a vampire. Landau (and, thus, Jules) uses her Hollywood connections to collect testimonials from vampire-adjacent celebrities. These interviews punctuate the true crime documentary she's crafting about the killer. A Place Among the Dead is an ultra-meta exploration on the ways in which pop culture glamorizes death and destruction whilst trading youth and beauty as currency. The daughter of actors Martin Landau and Barbara Bain, Landau seasons the brew with a dash of Old Hollywood pathos.
All of Landau's talking heads are playing scripted versions of themselves. Jules interviews celebrities with vampiric associations as as she delves into the psychosis of the killer and his process. His pattern involves stalking a woman, seducing her, drawing her incessantly in a series of gothic/fallen angel poses, and making a video compilation of these drawings, before ultimately slashing them to death, and staging their bodies in a final act of sadistic "art." Landau employs her husband, Dev (again, playing himself), to assist her in these investigations. It's amazing how much unfettered access Landau is given both in reality from big name entertainers like Gary Oldman, Ron Perlman, Robert Patrick, and Joss Whedon, writers Anne Rice and Charlaine Harris making their cinematic debuts, as well narrative access to crime scenes and police files. Jules longs to understand what drives the killer and what attracts his victims to him. They always appear to consent to being in his presence until it's too late to leave.
There is a lot going on in Landau's 75-minute film. Artists pontificate on the nature of real evil and the desire to stay eternally young. Jules stays in a haunted hotel. She experiences a falling out with her husband. She conducts interviews in a series of adorable dresses. She also repeatedly visits a club where the killer picks up his victims, and talks to a woman who recognizes Jules from TV and also harbors a death wish. Meanwhile, the monologue from the film's opening echoes through the viewers' head. This is a woman who grew up with two famous actors as parents. Jules' childhood was about having to fight for the spotlight. Is that what led her to this project? Do artists use the guise of an alter ego to expose themselves even more to an audience?
Despite the film's tenuous relationship with reality, there is plenty in the narrative to remind the viewer that this is fiction. For instance, the police let Jules film in a crime scene while the perp might still be there and they willingly share details of an active investigation and photos of the bodies. The only person who expresses concern about confidentiality and propriety is Gary Oldman.
Is the killer a vampire or just a man with a blood lust? Is there a difference? Landau explores these questions and more. Before the end, she also gets to go "full Dru", which will doubtless delight her fans.
– Jessica Baxter (@tehBaxter)