A Conversation with Sophie Jarvis (UNTIL BRANCHES BEND)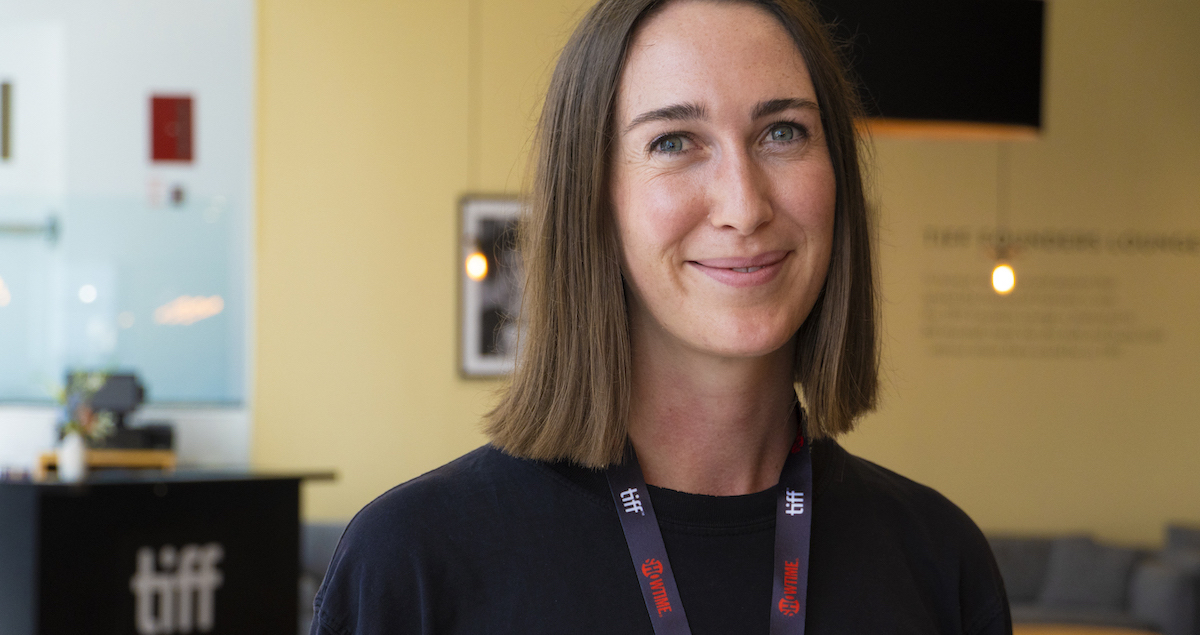 Making her feature debut at the 2022 Toronto International Film Festival (TIFF), Canadian director Sophie Jarvis has crafted a wonderful indie gem with Until Branches Bend (which I also reviewed). It's a tense drama about what happens when one goes up against a system designed to squash all dissent. Grace Glowicki (Tito) stars as Robin, a young woman working as a peach-cannery grader who finds a potentially destructive beetle inside one of the peaches. Even though everyone tells her to let it go, she won't. Grave consequences follow. I caught up with Sophie Jarvis at TIFF. Here is a condensed digest of our conversation, edited for length and clarity.
Hammer to Nail: Let's start with the simplest question, Sophie. Whence the origin of this particular story?
Sophie Jarvis: Is that the simplest question? Well, I grew up going to a place called Summerland, which is where my grandparents live and where my mom grew up. And it's in the Okanagan. It's a really, really beautiful place. And I have always been affected by the atmosphere and landscape of it. So, my mom used to tell me stories about when she used to work in a canning house as a teenager. And I guess I started thinking about ideas of things that could happen with this location and this atmosphere in mind and I was really taken with the idea of a small bug creating a big problem and looking at ways to puncture this idyllic scenario. What looks really great on the outside may have something going on underneath.
HtN: So, I'm not super familiar with Canadian geography. Where is the Okanagan?
 SJ: Vancouver is southwest in British Columbia. If you drive five hours northeast, you get into the Okanagan.
 HtN: So not so much on the coast and much more inland?
SJ: Yeah, it's called the Interior of BC. BC's huge.
 HtN: As is much of Canada.
 SJ: Exactly.
 HtN: So why this idea of a small bug creating big problems?
 SJ: Well, I think that the original title of the film was actually "Invasions." And I saw that word as being a bit of a theme throughout the whole film. There are these ideas of different types of invasions, the bug being one, Robin's pregnancy being another one. And also, there's a storyline that sort of deals with colonization within the landscape there, as well, which would be another invasion. So, what I liked about the bug is it has some parallels to her pregnancy where it's something small that can grow to be a big problem, but at first, no one really sees it or believes her or knows what it is.
 HtN: That's really interesting about the colonization theme, because you do that very subtly, through Isabelle, the wife of Dennis, the manager.
 SJ: Thank you.
 HtN: This is your first feature film. What was it like transitioning from directing shorts to directing a feature?
 SJ: It felt in some ways like a big transition and in other ways, not so big at all. When you're producing the feature, when you're actually on set, it's the same as doing a short film, but the development of it is much more challenging to get the funding you need. Just the scale of what the film is becomes so much more. So I learned a lot.
 We actually did a Swiss-Canadian co-production. I'm a little Swiss, so that kind of helped us make our budget there. But just because it was a co-production, it became a lot more complicated than any of my short films had been. But as a director, I'd say that my approach was fairly similar to how I do my shorts, except I maybe had a bit more room to dig in deeply and involve more people on a longer term, which was really exciting.
 HtN: What part of you is Swiss?
 SJ: My grandpa's Swiss. The one who lived in Summerland.
 HtN: French Swiss? German Swiss?
 SJ: French Swiss. They're in the Vallée de Joux.
HtN: Interesting! My family is from there, too, but on the French side of the border.
SJ: Wow! So, when we were in post-production on the film—we shot the film last summer, in 2021—my grandpa was still alive, but his health had been failing through the last year. It was when we were doing post-production in Switzerland that I found out that his health took a nosedive, and I unfortunately wasn't able to be there when he passed away. But I was in Switzerland and I was able to go and be with his remaining sisters and his extended family in the Vallée de Joux.
So in a way, it was so sad I could not be there for his passing, but I was able to be in the place where he was born and where he has so much history. And I was able to be with his sisters who were both in their 80s and hear about him as a kid and sort of grieve with them. And it also happened to be the weekend that the Tour de France was going through, so we just had a totally bonkers, surreal experience over this weekend in Switzerland, finishing my film there so far away from Summerland, but looking at pictures on the big screen of all the images I associate with my grandfather.
HtN: That's lovely! I had a question about location scouting, and you've already kind of answered that, but within that area, did you have to do a lot of further scouting? I mean, that cannery is so important; that big peach that they're sitting in front of at one point is such a nice bit of appropriate iconography. How did you go about finding all these spaces?
 SJ: Well, we did a lot of research for the film, so that actually led us to a lot of locations early on before we were even scouting, like going to the entomologist at the research center. We did have a really great location manager on this, his name's Dan Code. And he had just been doing a ton of projects up in the Okanagan that summer by coincidence and was pretty well-connected. For that packing house, that was really hard. A lot of the packing houses did not want us to shoot there, understandably, but we found one great spot that did. They were out near Oliver, and we got to be there for one day and we were allowed to film while everyone was working.
So we sort of planned that day as more of a documentary-style shoot, where the actors all knew what was in the script but maybe they needed to improv a bit. And the people there were so accommodating and wonderful and interested, as well. And a lot of them came out and were extras for another scene later on because they enjoyed it so much.
HtN: Which actually leads me to my next question. I want to ask about the casting of your main roles—Grace Glowicki and Alexandra Roberts—but I'm also curious about the casting of the supporting parts and was wondering how much you used locals who wanted to be in your film.
SJ: I just love Grace's work. I knew her through Raf because a friend of mine directed that and so I met her. My film could be seen as more of a melodramatic piece on the page, but I like to think that there's humor in there because I find there's comedy in tragedies sometimes. And I think that Grace is a fantastic comedic actor who understands that sensibility. She was able to elevate it from being what you might expect from a performance to being something a bit more interesting and textured and physical. She's a very physical performer.
For me, she was the most interesting choice for the role. Alexandra's a brand-new actor. This is her first film. She was in high school when we were filming and she wants to be an actor, so she was studying that in school. I think she'd done a couple of commercials, but she basically came onto this one as her very first thing. And I think that Grace was a really good big sister to Allie. She really encouraged her, was super helpful with our rehearsals. We had a lot of rehearsals together, really helped make Alexandra feel super comfortable when we started shooting.
And then for the supporting roles … well, Dennis, I mean, I think that Lochlyn Munro is just a great actor. I know him from his earlier work in the 2000s when he did that whole series of comedies back then. And I just love how he takes on a lot of different types of roles now. He just genuinely loves to work. So when he wanted to do this project, I was really excited. It feels like a role that he hasn't done before. And to me, that was kind of interesting to go against type in that way.
HtN: He's very unappealing, by design. Your film is as much about the survival of women within a patriarchal system as about its other themes.
 SJ: Totally.
HtN: So he sort of represents the worst of that toxic masculinity.
SJ: He does. And I will say, though, that I have a lot of empathy for his character because I think that at heart, Dennis is a peoplepleaser and he doesn't know how to say no, he just wants to be liked. And I think there's something a little vulnerable in that, as well. So, although he doesn't make the right decisions and says horrible shit …
HtN: I mean, he sleeps with Grace. To be fair, he doesn't know that she's pregnant.
SJ: Yeah, exactly. And he throws her under the bus later. But I don't think he means to harm anyone. I don't think he's malicious. I think he's just kind of a mess.
HtN: That's a generous way of describing his character. And then for all those smaller parts, you just used local folks?
 SJ: Some of the smaller parts, like Quelemia [Sparrow] and Cole [Sparrow-Crawford], who play Isabelle and Zach, are from Vancouver. They're both Musqueam. and actually, they're not mother/son in real life. They're second cousins, I think.
HtN: They do have a family resemblance.
 SJ: They do. I think that she is his mom's cousin and used to babysit him when he was a kid. And they're great. I loved working with both of them. And similarly to Grace and Alexandra, Quelemia has a lot more experience acting, and this was Cole's first role. And so they were really down to work together.
And then we did have a lot of locals, as well. There was Janet [Walmsley], who actually lives in Vancouver but also lives in the Interior. She was living in the Interior when we were shooting this. We had a local casting agent in Kelowna who was helping us out. Janet plays the woman who lives across the street.
HtN: The angry neighbor.
 SJ: Exactly. Many of the smaller roles were people who were local and had less acting experience, but it was really great to get to meet them and work with them. And in some ways, I think they brought a lot to the film that we wouldn't have been able to get with people who just aren't familiar with the region or the culture.
HtN: I have a question now about the score, which was written by somebody who shares your last name.
SJ: That's my brother, Kieran Jarvis. He's also a little Swiss, so that helps with our Swiss co-production points. But more than that, I think he's a really fantastic composer. And in some ways, I think of him like Grace, where I don't really know anyone like him, who makes the kind of music he makes, and because he knows me so well, it's really great to just trust that this person knows the tone I'm going for and will surprise me and elevate whatever I could have imagined beforehand. And I'm so pleased with this score. I think he did a really good job.
HtN: It certainly takes equal place with the performers because you feature it so prominently.
SJ: We really wanted to use voices and we worked with people from a choir called musica intima in Vancouver. They do a lot of choral music, but they also do a lot of experimental. And we wanted to experiment with a technique called "hocket," which is where you compose a piece that's a singular melody, but two voices bounce the notes back and forth to each other, which gives you a bit of an unsettling, organic feeling, which I thought was a really smart way to give this world a bit of that texture.
HtN: Very interesting. Well, Sophie, thank you so much for talking to me.
SJ: Thank you!