PROMISING YOUNG WOMAN GRABS RAPE CULTURE BY THE BALLS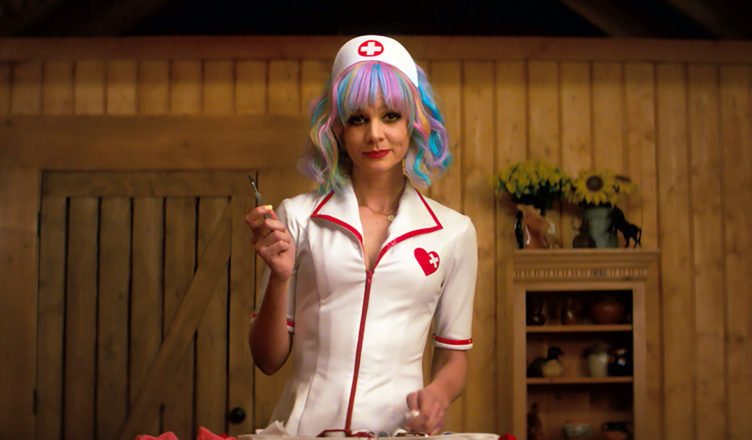 On January 26th, 2021, TV and Film journalist, Candice Frederick, hosted a press junket via Zoom for journalists around the world to discuss the powerful and divisive film, Promising Young Woman. The guests were writer/director Emerald Fennell (showrunner for Killing Eve, actor on Netflix's The Crown) and lead actor, Carey Mulligan (An Education, Drive). Promising Young Woman is a brutal examination of rape culture through the lens of a young woman who takes extreme measures to right the wrongs that led to the suicide of her lifelong best friend. Frederick introduced the first-time film director and award-winning actress, who both joined the call from their respective homes in the UK. Journalists submitted questions via chat, and Frederick chose a few to pose after asking some of her own.
Please be aware that this interview contains spoilers for the film Promising Young Woman. It also discusses issues of sexual assault. If you have experienced sexual violence and are in need of crisis support, please call the RAINN Sexual Assault Hotline at 1-800-656-HOPE (4673). 
CANDICE FREDERICK: The film has not only been the topic of conversation among its audiences, it's also earned a variety of awards distinctions. The National Board of Review named Carey Mulligan Actress of the Year, and included Promising Young Woman on its top 10 list of the Best of the Year. And just today, the Independent Spirit Awards nominated Emerald Fennell for Best Director, Carey Mulligan for Best Female Lead, and Promising Young Woman for Best Screenplay. Congratulations! I know you're both in the UK right now so thanks for joining us so late in the day.
One of the things that I love about the phenomenon of Promising Young Woman is that even people I know who are drawing on the interest of smaller independent films like this, are also talking about it. Emerald, when you were writing the film, were you trying to create a dialog?
EMERALD FENNELL: I don't know. I don't think so. I think really, when you start anything, you're just trying to tell the story. But yes, I think as it went on, I wanted to be honest about what revenge is and what this woman is going through. So inevitably, the truth, or a sort of approximation of the truth, can be provocative. But in terms of making it accessible, I definitely did want to make it accessible. I didn't want it to be a sort of lecture or medicine or a dirge. You know, I think it's important for this movie to be…for everyone to be able to watch it with their parents or with their partner – that it wasn't just preaching to the converted. It could hopefully reach as wide an audience as possible. Because I do think that this stuff is, regrettably, unbelievably common. But still, something that it's hard to discuss in an open and widespread way.
CF: Because the film explores sensitive subjects such as rape and suicide, what kind of research or preparation did both of you do in order to authenticate the story?
CAREY MULLIGAN: I think what was immediately obvious to me reading the script was how regrettably commonplace so much of this was. That in approaching it, it felt like something – the biggest challenge…and my approach was so myopic, in a way. I wanted to be as truthful as I could about this one experience. And I feel like there's endless amounts out there to read and take in about these issues and, so of course, it's important to have a broader understanding. But really it felt like such a tragically familiar story. That there are countless examples of things like this happening to people you know, and people you love and I think every woman has a connection to somebody who's been through something close to this. For myself, there was a very helpful book – by Jon Krakauer called Missoula – that investigated the subject from a lot of different angles and I found that very helpful. But the majority of the work that I did before the film was with Emerald. It was just talking about our shared experiences in the sense that really this was a culture that we grew up in. This is something that we were enured to in our childhoods and in our teen years, and coming into our twenties. And I think it was that, that we were more focused on – the more specific events. It was important that we were really clear what that event was – what happened to Nina. I think it was about being as honest as we could about that one story.
EF: Yeah, I think as Carey says, it's really a film about the kind of culture that I grew up in and the culture that every girl I know grew up in, which is probably the same worldwide… It's very difficult with stories like this. I think a lot of the time you're asked to talk about your personal relationship to the material which obviously is a difficult thing to answer and one that is probably best not discussed, honestly…But there's nothing in this film, sadly, that wasn't in comedies that I was growing up with. Because of the way this movie is framed and because of my feelings about all of this stuff, perhaps, which necessarily bleed into this world… The conversations that I've had since the film came out with people I know and I don't know is sort of what Madison says to Cassie, which is things happen all the time. And that's what this is about. The specifics, I suppose are myriad and difficult and complicated but in general, it was just about remembering growing up.
CF: There's been a lot of conversation about the type of film this is. But I am curious because it is widely considered a film about revenge. To me, it's more about Cassie seeking accountability in a justice system that often betrays female survivors. Can either of you speak to what ultimately, she aims to achieve, whether it's accountability or revenge or something else entirely?
EF: Candice, you've been so amazingly perceptive about this… Yes, it is a revenge movie but it's a revenge movie about how revenge is impossible at the moment, and futile which, obviously, as a pitch, is quite bleak. I'm glad I didn't go with that pitch to sell the movie but it's absolutely, as you say..how can you find resolution? How can you find justice when it is still such an uphill struggle? That it's still so much easier to just let it go. And that really, for me, was always what this film was about is that it's just one person – one just person, actually – saying, 'I won't let it go because I shouldn't and I can't'. And it's not only the other people in the movie that are incredibly uncomfortable with that. Even in the film itself, her other option for life – the option of letting go – is so irresistible. It's irresistible to us as an audience and it's irresistible to her because I think that what so many people…with experiences here think is, it's too much…The thing itself is so traumatic and then to double that with the aftermath is just impossible really. And so, I think that to have somebody who is going on this journey, not just for themselves, but for their friend because of the injustice, but also to forgive – she's really trying to forgive herself. She's begging for somebody to prove her wrong about the world. And occasionally that happens but mostly, it's an exercise in futility, I think. It does make the film sound very dour. I also hope that there is some hope there, and hope for redemption and forgiveness, and love, and all that.
CM: I think it was, from the outset, so much about love and loyalty and friendship, as well – somebody who will go to that degree for their friend – that comes from a place of really deep love. And I think there is a part of her that is stuck as a young girl wanting to be forgiven, wanting to be absolved of the whole thing. And the revenge narrative, it doesn't really play into the playing of it. I don't think it's even on a conscious level what she's doing. I don't think that's a word that would come into her vocabulary with what's she's doing. She's simply putting something right that's so wrong and she can't live with a world where such an injustice could be so casually ignored.
CF: When I think of revenge, I always hear – and maybe it's because I've been immersed in this genre for so long – I always equate that, or it's somewhere in the realm of violence, which I don't think is entirely central to Cassie's motivation. Though, I do think she does have it in mind in case accountability is impossible. For instance, I'm thinking of when she visits the lawyer – Alfred Molina's character. But again, we don't ever see her exact violence. Why was that important, and does that speak to the way revenge is portrayed in a very gendered way on screen?
EF: Yes, I think maybe…I love the revenge genre. But I suppose I've never felt I've seen a woman exacting revenge – if that's what this is – in a particularly female way… There's nothing I love more than a bloodbath, but I do think that it is not something that would ever personally occur to me. And the reason for that is not only, it's just not innate, for me and for many, many women. But also, it's not safe. And that is the most crucial thing…if this is a kind of subversion of the revenge genre, then it's really important that the moment we get what we think we want – the moment she gets the weapon out – we see how violence goes for women. And it is hard, but I think it felt impossible to me in that moment to say, 'And then she wins…Because it didn't seem possible. And I suppose, the thing that is so interesting to me, in general, it's like, what power do we have? If the world is one that is patriarchal – I realize whenever I talk about this film it sounds so depressing, but nevertheless – what power do we have? And that power is different but in no way less impactful. And I think the thing that's so brilliant about Cassie and so amazing about Carey's performance is she is violent…but the violence that she commits, the maiming that she does, is completely psychological. And it's so much more harrowing. Even the men that she visits before she really starts her journey – the men that just pick her up in bars – if she, I don't know, knocked their lights out, cut them up, whatever it was – she would be the psycho. She's the nut jar who goes home with them. But what she does is, sort of, worse than that. It doesn't make them a victim. It doesn't make them the kind of hero. What she does is just show them that they're fucked. They always thought they were good and they're liars. And they're not and they've been lying to themselves. And that certainly, to me, just seems to be the most harrowing thing a person could do to you. None of us want to be told we're bad. None of want, suddenly, to realize we're bad.
CF: We're gonna throw it to the audience. The ending of the film is something of a bitter pill to swallow. Was Cassie always meant to die at the end or did you wrestle a bit with that outcome?
EF: It's such a difficult question, this one, and it's one that comes up a lot. But I think that so much of the way that I write – it all happens in my head, really, I don't put pencil to paper until it's done. And so yes, of course, there are myriad different versions of what happens in that room…The good thing about doing it all in your head is you're there. You can be in the room. You can kind of smell the sticky tequila and the shame and I think that there was just no way he wasn't gonna fight for his life. And the problem with that is…I couldn't see any other way out of it. But I also couldn't see a world where Cassie didn't know that the risk was huge going there and somebody as meticulous and clever as her wouldn't have made a contingency plan for if something did go wrong. But it's certainly a Pyrrhic victory…There's the dream version of the ending. But it's the kind of Funny Games thing, isn't it? There's the real, but there's the truth too.
CF: This question's for Carey. This is your first film as a producer. Did it change your experience as an actor on the set and have you got any more projects in the pipeline?
CM: No, it didn't change my…I just felt so lucky to work on this as an actor – to come in at an earlier stage and get to watch the production take shape and be somewhat a part of some of those conversations. That just felt like a privilege… This is a film I wish had come out when I was 18. And I think what Margot Robbie's company, Lucky Chap, does is just brilliant. She promotes stories about real women and I think any part of that that I can have is such a privilege. So, no it didn't…What was so amazing was that my role – I was such a jobbing actor by the time we got on set. I was just there to be told where to stand. It was very liberating. I just had so much faith in Emerald as a director. I had absolute complete clarity and faith in her vision and felt like I could just have fun, for the most part.
CF: Could you speak about the look of the film? What made you choose bright pinks and blues, the old-fashioned décor at Cassie's parent's home, etc?
EF: Some of it's practical because when you're making a film on an independent budget and shooting it in 23 days, as we did, everything that you do – and it's the same even if you've got a billion dollars and you've got a billion years to make something – every single choice that you make, every visual choice, every set choice, every prop choice, tells you so much about a character… So often, we feel that people in distress look distressed…But if you start to think of Cassie as an addict or a self-harmer, these are the people who know how to hide. They know how to stop people asking too many questions. Both the people they love and just people in the street, I suppose. But for Cassie, it's doubly important because, as Nancy Steiner the costume director, said recently, she's in costume in her life and in her other life, too. And she's just, like a lot of women, is very, very adept at using her costumes, and her nails, and her hair to hide in plain sight, and seem innocuous, and innocent, and all of those sorts of things. And I think, really it made sense that the film felt the same way. That it seems, and is in many ways, a pleasure and fun and because of the things that we still think of somehow as kind of light and frivolous like pink, like Britney Spears…the sort of things in this movie are often not things that are treated seriously, which means that it's able to kind of hide itself, which is good. But also, these are things I love.
And this is how a lot of people's lives feel and look, so it felt right to me. But the specific thing of Cassie's parents' house – again, it just tells you so much about her mother. She's just a woman for whom, like, surface has covered everything, covered up all the pain. It's the most hyper-oppressively feminine space. There couldn't be more cherubs. There couldn't be more crystal. There couldn't be more…I don't know, curlicues, and baroque chaises lounge. But the thing about that is, when you look closer, you can't sit on anything. The beautiful, intricate table cloth is plasticated so no one makes a mark. This stuff tells you so much about the house – the world – that Cassie grew up in, and how difficult it is to talk about things and how appearance is easy to manipulate and…all of that stuff. I could literally talk about it forever and be incredibly boring.
CF: There's a remarkable control of tone in the film, in the color scheme, the casting, the performances, and even the main character's control of her very performative encounters. How did you both define that tone? How heightened? How natural?
CM: The tone was so much the combination of the incredible script but then alongside that, the playlist of music that had Paris [Hilton's] "Stars are Blind". It had Britney Spears ["Toxic"]. It had "Something Wonderful" [From the musical, "The King and I"]. It had the Wagner ["Liebestod"] that plays in the car before the tire iron smashing incident. So, there was so much wit just in the choice of music. And then this incredible mood board that Emerald showed with the sort of look of the film, and how tactile, and pretty, and inviting it was. That world was always going to feel different in a certain way. And for me, tonally, I wasn't conscious of anything. I just was playing everything straight. I couldn't have done it any other way. I couldn't have tried to play up to any moment or try and fit in. I had to just play as honestly as I could and then hand over everything, tonally, to Emerald – [of] which she was just in complete command. So, if there was a moment that needed to feel a certain way, I'd get the perfect note that didn't feel like I was being told what to do, but would sort of gently nudge me into the area that she wanted me to be in. It was so freeing and so nice when you can look at the director at the end of the scene and nod at them, and they nod at you, and you kind of know it's good. And that was how it was the whole way with us. She just yeah…had it all in the palm of her hand.
EF: I think, in a kind of slightly sickly way, I'm just gonna kind of bat that ball right back into Carey's court. I think the truth of it with the tone – it's sort of what Carey's saying – but, I think everyone plays it straight, as well. Carey's the most talented actress in the world, and so brilliantly truthful, and I was very conscious that I didn't want anyone's performance – and particularly Cassie's – to be arch. And so, to get someone like Carey – who only ever does things that feel real – that's what grounded the tone. Because you can make these decisions that are kind of knowing, and borderline arch, borderline camp. All of these things, I suppose, that there are if you're following your lead, who is just completely real, and completely truthful. And with the other actors, too, they might be comedians, and certainly, they might be people we know, and feel familiar, and fond of. But all of their performances are very honest. Nobody's hamming it up… I think it's very important that if you're gonna have a heightened world, you need to commit to very truthful performances. I think otherwise… it would have felt very jarring.
CF: Why did you want to keep Nina as a completely off-screen presence?
EF: I think…It's a really difficult one. I think that It was always important that Nina was Cassie's friend and that it happened a long time ago…It's important, I think, for her journey, how solitary she was – how much even Nina's own mother wanted this thing to be stopped – because it was so painful…it's a really difficult thing because, of course, there's a world where you have flashbacks or Nina sort of as a ghost… But the trouble with that is, then you're emotionally in the same place as Cassie all the time. It's a sort of cheat. Rather than trusting her, being with her, knowing that she's right… I wanted the audience, I suppose, to feel how it feels when somebody won't let go. I didn't want to say, 'Look! What a tragic figure! What a tragic heroine! Look at her beautiful friend as a child'. Of course, there's an argument it would have made it perhaps more emotional – pulled a few more of those strings – but that's not what the film is about. The film is about not letting go and fighting for something when everyone else has forgotten about it. That needed to be established early on that she's just by herself. I think Nina's absence is felt much, much more than her presence would have been if we'd put her in, in some kind of nebulous way.
CF: The movie also touches upon how women contribute to violence against women. Can you talk a bit more about that and the guilt that drives Cassie? Is it possible that she thought she was deserving of being killed due to what happened to her friend?
EF: Well, I'll sort of go back to the beginning on that one, I guess…I think if women are complicit, they're complicit in a very different way. And I hope that this film is clear about that. Madison, again as we discussed, has obviously had her own share of things happen and the way that she dealt with it is something that she's still protecting, because she's still friends with these people. And so, you will find it's… I've found it's very common indeed for women to forget about it, laugh it off. And because that's the way they've dealt with it, they're doubly hard, then, on the people that didn't deal with it that way…Right or wrong – wrong – but it is a sort of common thing. And in the same way, if you look at the Dean – that's a very specific job in a very, very specifically male environment. There's a reason that in that room it's only portraits of men. It's all mahogany. It's all green velvet. What do you have to leave behind in order to get to that position? And I think that's part of the problem…Really, it is not so much a comment on men and women, this film, but how a whole society can just arbitrarily decide to make equivalent being accused of assault and assaulting. That's just completely mad, really. And in terms of Cassie – the thing about Cassie is that she says she's just trying to fix it. And I think she really means that. And she does have survivor's guilt. She does have all of those things. But her main motivation is she wants to fucking tear Al Monroe to pieces. And there's a reason that she didn't look his name up. And the reason for that is that she knew that all of the control – the illusion of control she built, the little things she built around herself to keep herself safe – were gonna crumble. And I think…her fury, and her sense of injustice were the things that carried her there. Certainly, I personally have never felt that it was an act of self-harm, self-sacrifice. It was necessary, and it was dangerous, and she made a contingency plan for that. But again, it's something that me and Carey have kind of talked about a lot, but men in movies are very, very often allowed to make, sort of, brave sacrifices in order to save people. And it's rare that we question that motiv-…We're very comfortable understanding, I think, that men can just do something out of pure love and a sense of injustice, rather than as an act of self-harm. But I understand that it's also very personal and very complicated.
CF: Well, thank you guys so much, and thank you, audience. Thank you both, Emerald and Carey. Promising Young Woman. Please, watch the film! And congratulations on all your success.
EF: Thank you. Thank you so much.
Transcribed and edited for flow and clarity by Jessica Baxter. Promising Young Woman is currently streaming on major platforms.
– Jessica Baxter (@tehBaxter)