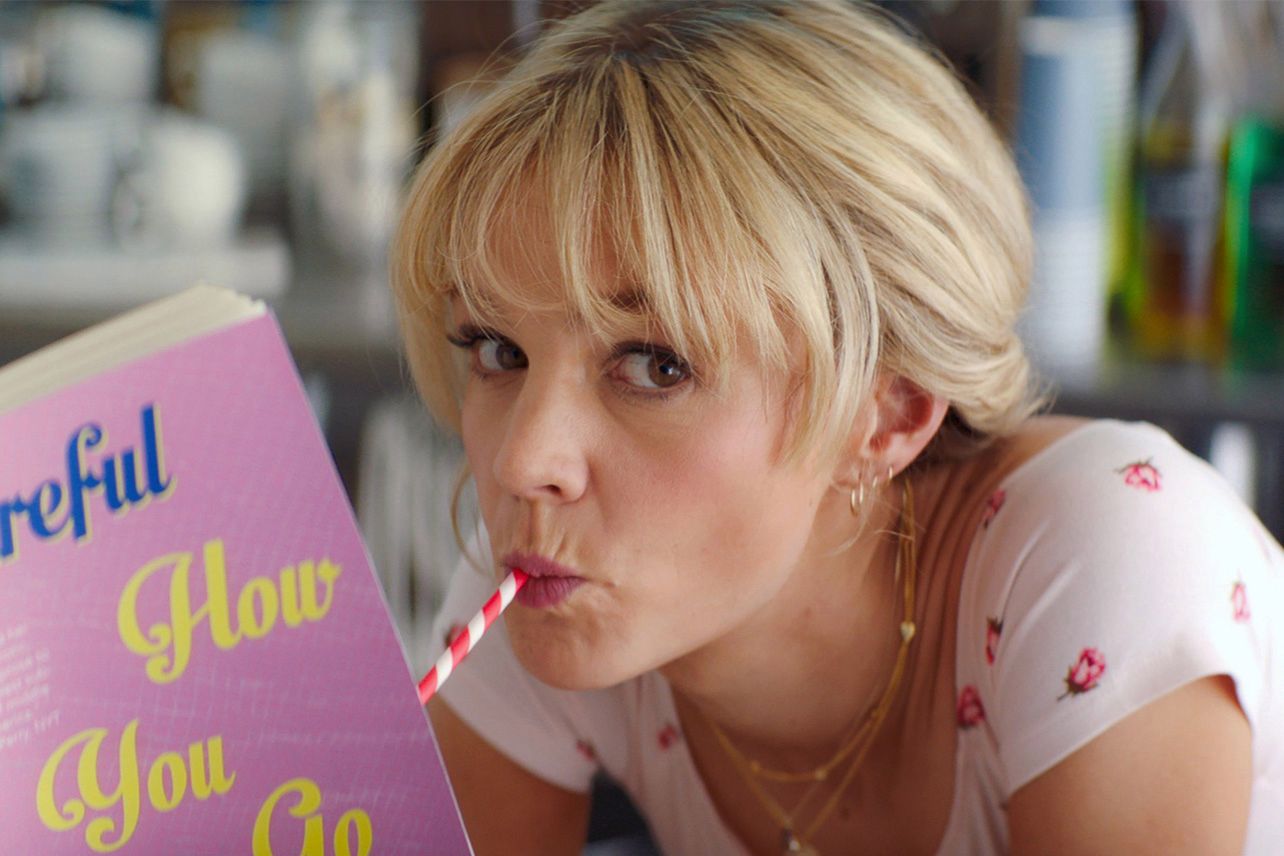 ( Emerald Fennell's rape-revenge film Promising Young Woman hits theaters and VOD in December via Focus Features. Like what you see here on Hammer to Nail? Why not pay just $1.00 per month via Patreon to help keep us going?)
I can't stop thinking about Batman. The protagonist/anti-hero of Emerald Fennell's divisive debut feature, Promising Young Woman, has so much in common with Gotham's most famous resident. Cassie Thomas (Carey Mulligan, An Education, Drive) is haunted by the loss of a loved one. Her anger regarding the violence of that loss consumes her to the point that her entire life revolves around taking elaborate, non-lethal retaliation against the portion of the population she deems responsible (mostly CIS, straight, white dudes). As such, her life has stalled. She is incapable of getting close to anyone. She leads a double life. By day she works at her friend's coffee shop and dresses in youthful pastel florals. She pretends to be OK. But after dark, she dons her costume: rumpled black and white business suits and carefully smeared YouTube tutorial makeup. She hunts the bad guys with an elaborate ruse and then teaches them a harsh lesson.
Cassie has a pretty good system going, too. She feigns blackout drunkenness in order to capture the attention of "nice" guys who want to make sure she "gets home safe." They inevitably bring her back to their place and wait for her to "pass out." Once they're holding the smoking underpants, she breaks character and launches into a lecture on consent. In the morning, she records her encounters in a color-coded journal wrapped in a scrunchie. Though she never explains the key, there are clues to cracking it. Some names are black, some are blue, and some are red. It has something to do with how they respond to her ruse. We never see a red encounter, but there's no way she's come out unscathed every time. There are so many names. Page after page of tally marks. Lest we forget the incident that led us here.
So, what prompted Cassie to become the Dark Knight of sexual assault? She was once a promising young med student, on the road to a successful career alongside her lifelong best friend, Nina. But there was a party. Cassie didn't go. Nina did. Nina was assaulted by the most popular guy in the class (a white man from a wealthy family, obvs), and no one believed her. The fallout included a lengthy, unsuccessful lawsuit, Nina dropping out of school, and then passing away. No one ever says how Nina died, but considering what happened to her, we can hazard a guess. It makes sense that no one in the story would say it out loud. A miscarriage of justice leading to a destroyed life and suicide is certainly the sort of thing we like to sweep under the rug as a society. Cassie is having none of it, though. She also dropped out of med school in order to take care of Nina. And now that Nina is gone, she's left with naught but a nagging sense of anger and injustice.
Then, a chance encounter with a man from her past (Bo Burnham, writer/director of Eighth Grade) inspires Cassie to hone in on the people she blames for the destruction of her beloved Nina. We never see Nina in the flesh, but she is always with Cassie, from photographs on her nightstand to computer desktop photos, to her name emblazoned on one half of a heart-shaped friendship pendant ever-present around Cassie's neck.
Will Cassie avenge her friend once and for all? Will she move out of her parents' house and go back to medical school? Will she find love with this new old guy? I hate to spoil things with my Batman metaphor but the guy isn't exactly known for healthy choices.
Fennell's film has so many moving parts that it's dizzying. First, there's the soundtrack. Female vocals on party tracks where the lyrics take on new meaning. Ironic covers of songs like "It's Raining Men" and "He Hit Me (And It felt Like a Kiss)" punch you right in the gut. You won't soon forget the instrumental version of Britney's "Toxic" that scores a pivotal scene. That Paris Hilton song you totally forgot about will be in your head for days and you'll never again hear it the same.
There's whatever is going on with Cassie's parents (Jennifer Coolidge and Clancy Brown). We rarely see them get up from the kitchen table but that house is blinking messages to the viewer. The rooms are tiny, the ceiling puzzlingly low, but filled with a middle-class person's idea of luxury. Plastic covers the stately furniture. Her parents want their freshly-turned-thirty-year-old daughter to move out but they don't know how to force the issue, so they resort to passive-aggressive conversations over breakfast and a suitcase as a birthday gift.
Then, there's the color scheme. This movie is so glossy, it looks like it just got back from a high-end mani-pedi. Carey Mulligan makes a blonde braid and a floral print sundress feel iconic. The smeared red lipstick. Cassie's multi-colored pastel nails poignantly drumming. The blue neon sign that bathes Cassie whenever she's working. The rainbow confections in Gail's coffee shop. Not to mention the cotton candy wig from the trailer that you will certainly be ubiquitous next Halloween. In yet another Gotham connection, Cassie channels Harley Quinn in that final act. (Incidentally, Margot Robbie threw her umbrella over this production with her company, Lucky Chap).
Mulligan is perfection in the role of Cassandra (allusion to the Greek myth is not accidental). Whatever you feel about Cassie's behavior, you understand why SHE makes these choices. Also, terrific is Burnham as the nicest of nice guys. She is characteristically dismissive of his flirting until he surprises her by matching her biting wit and letting her take the lead. He continues to say all the right things, catching her off guard time and time again. Can this Prince of Consent melt her icy triggered heart? Or is she just using him to get close to Nina's assailants with whom he still pals around occasionally?
Allison Brie also destroys in a small but pivotal role as another med school acquaintance who joined the ranks of people who thought Nina was "crying wolf." Laverne Cox is underused as Cassie's living BFF and coffee shop boss, but she makes the most of it whenever she's on screen. Likewise, the unflappable Molly Shannon as Nina's mother.
Honestly, this whole movie is one delicious smack in the face after another. I get that song now. Promising Young Woman hit me and I was glad. This film isn't perfect, but it's a bold and memorable debut. You can't deny that it turns those wheels between your ears. You'll never see the ending coming, but once it does, it will seem like the only possible conclusion. Despite the #MeToo movement, sexual assault remains pervasive. For every judicial triumph, there are many more cases of miscarriage. A white male rapist's potential still matters more than a woman's destroyed life. Promising Young Woman might not be the rape revenge movie that we need, but it is definitely the one we deserve.
"If you or someone you know has been affected by sexual violence, you are not alone. You can contact the National Sexual Assault Hotline at 800.656.HOPE or online.rainn.org. It's free, confidential, and available 24/7 in English and Spanish."
– Jessica Baxter (@tehBaxter)