A Conversation with Paolo Sorrentino (THE HAND OF GOD)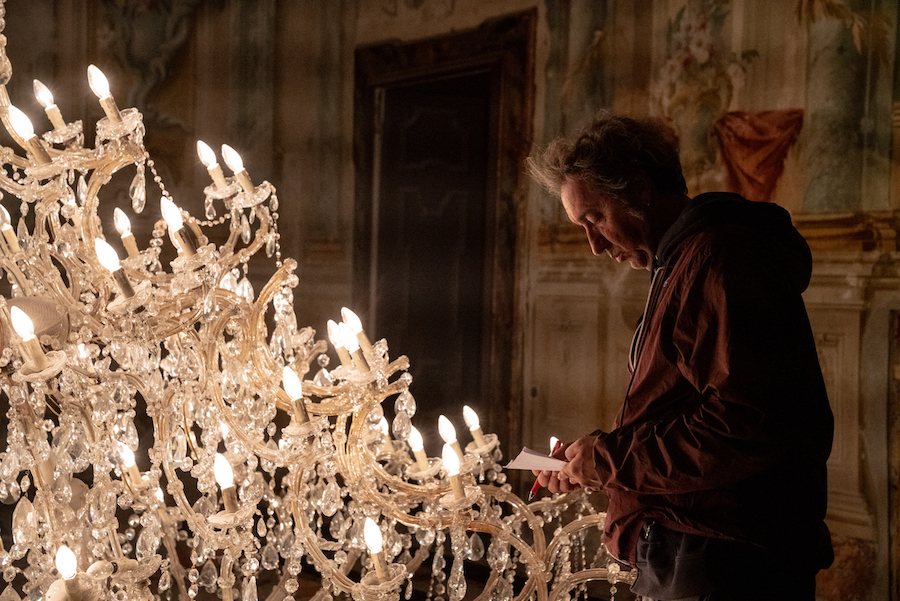 Italian director Paolo Sorrentino has already won one Oscar, for his 2013 The Great Beauty, and now he is nominated for another one, for last year's The Hand of God (which I reviewed out of the Middleburg Film Festival). This latest movie is autobiographical in nature, inspired by his own youth and the unfortunate tragedy that struck the family in his late teenage years. Ahead of this year's Academy Awards, I spoke with Sorrentino by Zoom, and here is a condensed digest of our conversation, edited for length and clarity, with occasional adjustments for the American idiom.
Hammer to Nail: Your new film, The Hand of God, is deeply personal for you. How much is taken straight from your own life and how much did you change in the process of writing the story?
Paolo Sorrentino: It's a mix. Many things are true; mostly, it's true. I changed the chronology sometimes for dramaturgical reasons, so that some things that may have happened when I was 24 I pretended had happened when I was 18. But the things are mostly real. The starting point was to be true and honest about the feelings of the characters in the movie even when I changed the facts for narrative purposes.
HtN: What was it like for you to revisit this personal story and return to your native Naples, where you hadn't made a film since your debut feature, One Man Up?
PS: It was, of course, very intense, because I had missed Naples for many years, and in the few times I had been back to Naples I had never gone to see the places where I grew up. And so, after many years, I returned to those places for the first time since I had grown up: my school, my house, the gardens where I hung out with friends. And so it was very emotional and painful, but in many cases also a kind of joyful rendezvous with friends I hadn't seen for a long time. It's always interesting to see people whom one hasn't seen since they were teenagers; now they are adults with children and their own lives. There's a tenderness in that encounter.
HtN: Well, the film certainly feels, in part, like a love poem to Naples. What motivated you to make this film now, at this point in your career?
PS: I don't know. I imparted a great importance, perhaps without reason, to the fact that I had turned 50. I thought that was a big milestone. I thought that maybe I was old enough to face my painful past and that a movie like this would be a good way to talk about my pain with other people instead of what I did for many years: a long monologue with myself. In this case, I preferred to share with other people and it was very helpful because, of course, I found out I was not alone and that many people have the same feelings and the same pain and similar grief.
HtN: It's also about your coming of age as a cinephile and your growing love of the movies, and so there's that joy of discovery of this art form that you have loved so much. The Hand of God, like all your films, is exquisitely crafted and beautifully photographed, but it feels more restrained compared to movies like The Great Beauty and Loro, or shows like The Young Pope. How would you describe this slightly different approach?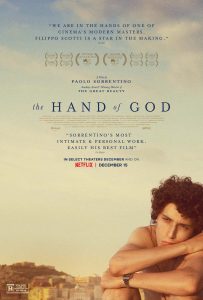 PS: From the beginning, it was pretty clear to me that these feelings required a simple style, a more straightforward style. And at the same time, I was a little bit tired of my old style. I had done many films following a very precise aesthetic and I thought there was a serious risk that after so many films it had become a sort of mannerism, and so in this case, I found a story that didn't need this kind of aesthetic and I was very happy to change my style. 
HtN: That's interesting that you worry about developing mannerisms, because many great directors, such as you, do, of course, develop a recognizable style, and people can say, "Ah! That's a film by that director!" Your films certainly have a distinct feel, starting with that first 2001 feature, One Man Up. How did you develop that style? 
PS: I really don't know. Maybe I was influenced by some directors that I used to watch in those years. For example, Peter Greenaway, an English director with a very precise aesthetic and stylized mise-en-scène, probably influenced me a lot.
HtN: But your editing is a lot flashier than Peter Greenaway's. And I love your style of editing! I can see how your compositions might flow from your love of his work, but the editing is definitely not Greenaway.
PS: (laughs) No! Maybe with the editing I was really influenced by Martin Scorsese. He was always a strong reference. Even if I am slower than his movies. (laughs)
HtN: Well, you definitely have great influences and you are a great artist, yourself. So, it's no surprise that you cast Tony Servillo in The Hand of God, since you've been collaborating with him for years, but what about the rest of the cast, especially Filippo Scotti, who plays a younger version of you, Fabietto?
PS: I found Filippo Scotti in a very simple way, through auditions of young actors in Naples. My casting director did a very good job in finding him. The rest of the cast are all actors and actresses that I knew very well because I grew up in Naples. For example, Teresa Saponangelo, who plays my mother, is an old friend. And the other actors are also people I know well, belonging to the Naples theater world. For me, to gather that cast was pretty simple, because I had every actor in mind, other than Filippo Scotti.
HtN: So you really populated the film with people actually from Naples.
PS: Yes, because the movie is spoken in Neapolitan dialect and it's not easy for other Italians to speak in that dialect. So it was important to have real Neapolitan actors.
HtN: How do you see the metaphor of soccer star Diego Maradona joining the Naples soccer team in the context of Fabietto's own story? What does it mean to you?
PS: For me and for the people of my generation it was a sort of miracle. We were young, and before the arrival of Maradona, Naples was not in good shape; it was a city full of problems. And so, in a simple way, Maradona was a sort of hope for us, at the time, and a miracle. It was unbelievable to us that the most important soccer player in the world had arrived in our city. It was not a rich team. And so for me and for the people of my generation it was a revolution. This wild freedom that Maradona brought with him was a kind of inspiration for all of us who were young and eager to be free and wild like other young people. 
HtN: Well, I want to thank you very much for making this, and all your films, and for chatting with me.
PS: Thank you very much.
– Christopher Llewellyn Reed (@ChrisReedFilm)
The Hand of God; Paolo Sorrentino; Paolo Sorrentino interview