A Conversation with Lisa D'Apolito (LOVE, GILDA)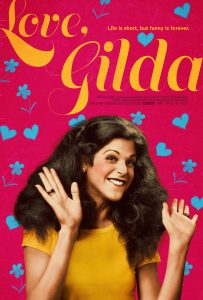 I met with documentary director Lisa D'Apolito on Thursday, June 14, 2018, at AFI DOCS, to discuss her feature debut Love, Gilda (which I also reviewed). The film offers a comprehensive cinematic portrait of the late, great Gilda Radner, part of Saturday Night Live's original cast and and top comedic star of the 1970s and '80s. Mixing archival footage with present-day interviews, D'Apolito creates an entertaining and informative homage to Radner in all her glory, reminding us of why she mattered then and still matters today. Here is a condensed digest of our conversation, edited for length and clarity.
Hammer to Nail: So, why make a film about Gilda Radner now? She died in 1989. Why has it taken so long for someone to make a movie about her?
 Lisa D'Apolito: I don't know! That's why I'm really lucky. I've done all the fundraising videos for Gilda's Club, in New York City, for the last 7 years – Gilda's Club is a place for people with cancer that was founded by Gene Wilder and Gilda's friends after she died – and I would talk to people and interview them, and they would talk about Gilda as if she were a friend. Many of them had read her book, and I thought, "She really has an amazing legacy!" 28 years after she died, people still talk about her as if she's still here. So, I really thought her story was important.
HtN: How did you become involved with Gilda's Club?
LD: Well, I have a production company. I started out in an advertising company, and I was head of production, and we started doing these kinds of pro bono videos, and I just fell in love with Gilda's Club. When I left, I continued to do their videos, and I still do them now. I just love the organization.
HtN: This, however, is your first feature-length film. Were there particular new challenges that you faced as a first-time feature director, even though you have been making films for a while?
 LD: Well, I do a lot of long-form branded content, up to an hour, hour and twenty minutes. So, I've done longer-form work, but it was always paid for. (laughs) So, being a first-time filmmaker, you're raising your funds, yourself, and I didn't really realize how challenging that is. I had no idea what I was getting into.
HtN: As someone who has done a lot of promotional filmmaking, I sometimes have to readjust when I'm making a more personal project. What kind of challenges did you face there, if any, in terms of that mental realignment?
LD: It's interesting that you mention that, because along the way, I've always shown cuts of the film to other filmmakers and other people, and I screened the first cut of the film to Erica Ginsberg of Docs in Progress, and she told me it was hagiographic. And I was like, "What does that mean?" And she said, "It's only the good stuff." So, I think that's what a promotional film is: when you're doing promotion, you're promoting the good stuff. It really gave me a good insight into how I needed to show all of Gilda, and not just people talking about her, saying, "She was so funny!" So, that was a big change for me, creatively.
HtN: Yes, I agree that it is a big challenge to not just make a life-of-the-saint kind of thing, which is one of the things I really like about both your film and the recent film about Mister Rogers, Won't You Be My Neighbor?. That film is, indeed, largely about how great he was, but also doesn't shy away from the things he did wrong. So, how long did this film take to make, start to finish?
LD: About four years. The first two years, it was on and off. I would do a corporate job, then save money and take time off to do the film. It took time, little by little, to get people on board: Gilda's friends were very protective of her, and it took a while to build their trust and get interviews. So, all in all, it was four years.
HtN: And how much of that was post-production? I can imagine you gathered quite a lot of footage…
 LD: You know, post was happening almost from the beginning, because I was always making cuts to try and get grants, since I was fundraising the whole time. So, really, this is a post-production film, in some ways: it's almost four years of post-production. But the last year and a half was pretty intense.
HtN: Now I'd like to ask about reaching out to particular individuals to be in the film. There are a few notable absences: I'm thinking of, from the first few years of Saturday Night Live, Jane Curtin and Bill Murray. So, what were the challenges of reaching out to your interview subjects, and why are those two people not in the film?
 LD: Well, it's really hard to get directly to people, because there's no money in documentaries, and you go through their agents, and they get lots of requests. And it's really hard to get to people directly. Bill Murray is someone who would be wonderful for the film, and every audience asks me why he isn't in it. Even his closest friends said to me, "You'll never get Bill. He just won't do it." And I actually saw a documentary in Toronto, which is about how Bill just shows up at parties, and I realized, "Yeah, he's not going to want to be sat down for an interview."
HtN: You just needed to throw a party! (laughs)
 LD: (laughs) Yeah! A dorm party in a college, or something, and just…
HtN: (laughing)…and just prepare for him to show up…
LD:…have questions ready. So, yeah, I tried hard, and even had some of his really close friends reach out to him. And with Dan Aykroyd, we tried, too, but we just never heard back. But we tried over a period of time. And Jane passed, twice, on us, and I was really disappointed, because I really wanted the girls. A friend of mine was at the 92nd Street Y, where Jane Curtin was speaking, and she told her, "Oh, my friend did this documentary! Why weren't you interviewed?" And Jane said, "I'm really excited about the documentary and I've heard great things, but I'm a really private person, and I really loved Gilda, and I just didn't feel like being interviewed." So, I really respect that if someone doesn't want to be in it, then that's their right.
HtN: Sure. And now we have that answer from her about how much she loved Gilda!
LD: Right!
 HtN: And at least you have Laraine Newman, which is great, and Lorne Michaels, as well.
LD: And for Lorne Michaels to do it, too, I'm very happy about that. And he was at the premiere, as well.
HtN: At Tribeca.
 LD: Yes, Tribeca. It means a lot. And Tina Fey introduced the film. It was more than I ever dreamed about.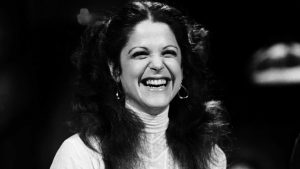 HtN: Speaking of Tina Fey, could you talk about your decision to include the present-day comedians – the heirs, so to speak, of Gilda – reading from her diaries? Did you have any trouble getting access to those diaries?
 LD: The film was originally going to be a smaller film, and I asked Gilda's brother if he had anything personal of Gilda's, which I knew he did – but I didn't know he had 15 boxes of things! – and over several trips to Detroit he gave me access to her personal audio tapes and her diaries. Once I got her diaries, somehow I wanted them to be included in the film, but I never really wanted an actress to pretend to be Gilda and read them, so that's why there's some animation and why there are what I call the "modern-day comedians." And one of the challenges of making the film was that people were concerned that no one might still know who Gilda is anymore, or young people don't know who she is, or she's not relevant, though there had been some films about her on TV before. And in my research, I saw that so many comedians have been inspired by Gilda, so I thought it would be an important part of the film to include them.
HtN: So, concerning whether Gilda is relevant or not, the fact is that she was very funny, and was acknowledged as being funny at the time, as were Laraine Newman and Jane Curtin. Why do you think we continue to have these debates about women carrying movies, particularly comedies. We've had plenty of really funny women, even before Bridesmaids. So many years after Gilda was such a hit, why do you think we're still having these conversations?
LD: Yeah, I don't know! Because I love watching Melissa McCarthy and I love The Marvelous Mrs. Maisel…
HtN: I love that show, too!
LD: I love watching funny women! So…I don't know!
HtN: It is odd! Well, congratulations on the film. I really enjoyed it!
 LD: Thank you!
– Christopher Llewellyn Reed (@ChrisReedFilm)