WON'T YOU BE MY NEIGHBOR?
Peerless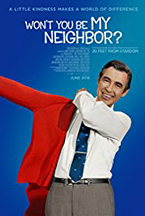 (The Maryland Film Festival ran May 2-6 in, you guessed it, Maryland. We have a slew of reviews coming your way so keep your dial tuned to HtN!)
Fred Rogers (1928-2003), that great cultural icon and television personality of the second half of the 20th Century, was a fixture of my childhood, as he was for a lot of Americans born in the 1960s and afterwards. As an adult with a preternatural patience with, and interest in, children, he taught us that we mattered, and that we could understand complex issues if they were presented to us in simple terms. Though some right-wing conservatives have tried to convince us that this attempt to make human beings feel valued as individuals is actually a pernicious evil, those of us who saw the love pouring off our TV screens know how wrong they are. Though not perfect, by any means (I'll admit to finding his show quite corny, now), Fred Rogers was the absolute antithesis of so many ostensible leaders who degrade our nation today. Want to make America (and the world) great? Start by studying Mister Rogers' Neighborhood.
In his documentary Won't You Be My Neighbor, Oscar-winning filmmaker Morgan Neville (20 Feet from Stardom) gives us the cinematic homage that Rogers deserves, rich in its portrait and compelling in its delivery. The title, of course, comes from the song that Rogers sang at the start of every episode (and if you don't know it, then where have you been for the last 50 years?). By no means an unadulterated hagiography, the film explores the man's motivations and aspirations, starting with his training as a Presbyterian minister (he was eventually ordained), and early forays into the nascent medium of television in the 1950s in his native Pittsburgh. A lifelong registered Republican (different times), he was moved to create what was essentially a TV ministry for children because of his horror at the programming he saw directed at them: violent, loud and crass. That has its place (I love me some Tom & Jerry), but he envisioned other possibilities. And so, his singular – in many ways awkward – show was born (one on-camera interviewee in Neville's film says the program featured everything you were not supposed to do to be successful on TV).
Neville walks us through the important milestones of Rogers' career, including his important defense of the Public Broadcasting Service (PBS) in front of Congress in 1969 (he effectively saved the, at that time, very young PBS), and his post-retirement PSA about the events of September 11, 2001. He had his occasional lapses in judgment, for sure: at one point, for example, he did not initially support a gay colleague as he should have (he eventually did the right thing). All who knew him and discuss him on camera (even that gay colleague) speak of him with love and joy, however. In so many ways an exemplary human being, Fred Rogers showed us that it's OK to be gentle and kind; that, in fact, it is necessary for us to thrive as a species. Thank you, Mister Rogers, for a wonderful life, and thank you, Mister Neville, for this wonderful movie.
*loosely adapted and expanded from a capsule review I wrote as part of my Maryland Film Festival recap for Film Festival Today.
– Christopher Llewellyn Reed (@ChrisReedFilm)
2 Responses to "WON'T YOU BE MY NEIGHBOR?"
David M Says:
June 3rd, 2018 at 7:09 pm

I am consistently surprised when one political side or another uses someone of genuine character to brow beat the other side. That's not what Mr. Rogers would have wanted and your review, while complimentary, is the antithesis of his life.

I have many liberal and conservative friends who all equally love Mr. Rogers and his message that everyone is special. You may be correct that some conservatives object to rewarding everyone equally for showing up, but that is very different. Some liberals clearly believe the same and don't really want everyone to be equal in society.

Mr. Rogers is not talking about that. He is talking to children about their own self-worth, which helps them far more than the political activists ever will. He spoke to every child as though they were special, because they were and are.

Mr. Rogers' life and messages transcend politics. Tying him to only one side of things is despicable and narrow minded, which is exactly what Fred was not.

But get as many friends as you can to go and see this movie. Regardless of divisive reviews like this, it would be fantastic if the movie picked up a large audience for a documentary.

Christopher Llewellyn Reed Says:
August 2nd, 2018 at 10:18 am

I am glad you like both the movie and Mr. Rogers. However, I am surprised that you find this review divisive, since all I do is point out the horrid things said, within the movie, from one political side of the spectrum. Yours is a false equivalency, I am afraid, between two sides that, in this case, are far from equal in their views . . .
Leave a Reply