A Conversation with Logan Kibens (OPERATOR)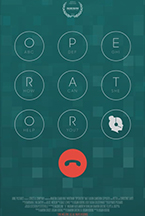 I met with director and co-writer Logan Kibens to discuss her debut feature, Operator, for which I also wrote a review, on Tuesday, March 15, 2016. Here is a condensed digest of that conversation.
– Christopher Llewellyn Reed
Hammer to Nail: So your film, among other things, the intersection of life and technology and how it affects our ability to connect with real people. I know you based it on your feelings about what happened to your own relationship when you moved to Los Angeles. Can you discuss that, just a little bit?
LK: Sure. I moved to Los Angeles with my wife, Sharon Greene, who co-wrote the film with me. We moved there so I could go to grad school at CalArts. She was still working for the Neo-Futurists, which is the theater company that's in the film. She was splitting her time between Chicago and L.A. So even in that first year, we saw each other maybe 50 percent of the time. And then she started to go to grad school at USC. So we were both really divided, really focusing on ourselves, individually. We've always had a supportive relationship where we support each other as individual artists and people, and it's important to us that we're both independent. But I think we went too extreme with that, and we tripled down on trying to make ourselves better independent artists, and it just slowly drove us apart, not consciously, but if you're not spending time with somebody and you're experiencing so much in a day, you can't translate that back, especially if you don't have the time, at the end of the day, to download.
So, cumulatively, that started pulling us apart, and as we were learning more about ourselves, individually, and encountering other people, and other people were finding us interesting – and, you know, no infidelity happened – you see other options and you wonder why you're in your current situation. And honestly, the thing I found most interesting about it – and Sharon's an incredible person, and very, very complex and smart, and loyalty is very important to her, which is so important in a long-term relationship – was one day when we walked out to this spot in our neighborhood in Echo Park and watched the sun set, and we were so frustrated with each other, it was like the lowest point in our relationship, and we talked, very genuinely and very logistically, about what our options were, and we both realized that there was still a deep connection and deep love that had nothing to do with our logistical reality, even though we were so far apart, and we wanted to do the work to get back to having that make sense. And so we wanted to tell a story, in this film, about what it's like to do that work.
 HtN: Got it. Thank you for that detailed backstory. But in this film, you made a conscious choice to put technology front and center, and in that history you just related, technology has really nothing to do with it. In the film, technology seems like a construct that represents our avoidance of intimacy. What role do you think technology actually plays in relationships?
 LK: The first that comes to mind is something I read – I don't remember where – about how we no longer have any moments of boredom or uncertainty anymore. Your friend goes to the bathroom for ten seconds, and you pull your phone out. You used to just sit there and look around and people watch and check in with yourself and see what you're feeling, and we don't do that anymore, and those moments are so valuable. To not have them…it's basically what I was saying about distancing from my wife and vice versa. You're doing that with yourself. You don't check in and digest everything you've experienced. But I also think it's really tied to anxiety, which is why I wanted to pair that with Joe (Martin Starr's character) who deals with panic attacks and anxiety. Technology can't reflect your experience back, or it's not going to tell you anything new. It's a closed feedback loop, where you are only going to continue to rattle around in your own brain. It's not going to say, I've been sitting here and listening to you, and here's my interpretation. You know? (laughs)
HtN: Although he [Joe] does try to design it so that it would do that.
LK: Exactly!
HtN: Speaking of the design of the technology, I really enjoyed the graphic representations of Joe's algorithms. How did you come up with them?
 LK: So it was a company called MK12, which did the graphics for Stranger Than Fiction. Do you know that movie?
HtN: I do.
LK: I've always loved the graphics in that movie, and they were my dream company to work with, and they continued to be throughout the entire process. They came on a little late to the project, so we had a compressed amount of time to do them in, but we'd spent years developing the graphics…Sharon and I did, with some other designers, as well. They were just fantastic. They brought to it what I really wanted, which was a lot of technical precision, but also artistry. I wanted them to take our ideas and interpret them and make them better; not just do them by rote. The benefit of working with other people is that they add to it. And they really did that.
HtN: So Sharon Greene, your wife and co-writer, did a comedy show in Chicago, as you already mentioned. Your film is set in Chicago, and you have the Neo-Futurists as part of your story. Is Chloe, the character played by Cameron Esposito, based on her?
LK: It's all an amalgam. But Chloe Johnston is the character that Cameron Esposito plays, and Chloe Johnston is the exact name of Sharon's best friend, and she is from the company. That character is not a representation of that person (laughs) she's also an amalgam. And then the character that Mae Whitman plays isn't…you know, Joe and Emily (Whitman) are not just versions of Sharon and me, where I'm Joe, and she's Emily…we have traits of both, it's like Jungian dream theory, like we invented them, we're everyone in the movie (laughs) I will tell you, though, that the first play that Emily does in the film is, verbatim, the first play that Sharon did, in the Neo-Futurists, when she auditioned. It's what got her in.
HtN: So in that moment, Emily is doing exactly what Sharon did.
LK: Yes, which is so trippy. And the real Chloe is sitting in the back of theater, with Sharon, while we're shooting, and Cameron is on the side, and Mae is in the front, and she's saying Sharon's words, so it was a very internally meta experience. (laughs)
HtN: That's fascinating. So can you talk about how you got from the Sundance Lab – because the script was workshopped there – to actual production.
 LK: Yeah. It's a very bumpy, circuitous road. We had a lot of good support from various fellowship programs. Film Independent came in at a certain time, and I went through the Fast Track program, and that was incredibly helpful to keep pushing the film forward. There were years, though, where nothing seemed to be happening and we were in "development" for so long, which was just Sharon and I in our house, writing a screenplay, you know (laughs) nothing fancier than that.
People in L.A. talk about momentum, and you do feel that, when people are attracted to your project and they want to help you push it forward … but when nothing is happening … and we did have both of those kinds of moments. So to get it all to finally come together, it really happened when we went through the Fast Track program where we met agents at various talent agents who helped connect us to talent. We met the person who connected us to our financier; we met Aaron Cruze, our producer; and that was enough to kickstart it back and to let those pieces fall back into play. It's such a puzzle and it's such a strategy and really it's all coming from an internal driving force that Sharon and I had to create and to continue for a long time.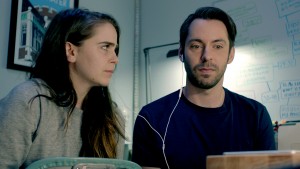 HtN: So speaking of getting in touch with your talent, how did you find your cast? How did you get Mae Whitman, Martin Starr, Nat Faxon, etc?
 LK: So, Martin was the first person to come on. First of all, we had an awesome casting director, Barbara McCarthy, and she was really helpful and we did a lot of auditions and I think having auditions for those roles helped people be, like, this is real, this is happening, let's also set up meetings with actors who may not audition, but, you know, would take a meeting, and that was the case with Martin. Martin's agent at the time was somebody who really loved the project and she had followed it for about a year and a half. There were a few people who really dedicated themselves to helping this project and without them, it wouldn't have happened, and she's absolutely one of them. She just really wanted to help cast it; she understood the film; she stuck with it through the waves of momentum and she suggested Martin.
It's funny; the whole casting process is so weird. I just got an email, and when you get an email with the header "casting suggestion," you get a little photo of the actor's headshot and their bio and, honestly, I just had a feeling, when I opened that email, I was like, oh, that makes sense. That feels right. And then I met with him. We had the weirdest first meeting and not because of each other, but because we were trapped in some insane traffic: it was the Armenian genocide parade. All of a sudden, there were 250,000 people, and we're trying to meet each other in the middle of it. Anyway, at that first meeting, we just talked about a lot of the themes and issues in the film, and realized that we had a lot of similar films in common, that we loved, and things we wanted to do, and so it was really about that personal connection, and I'm so glad that it worked out. Once he signed on, then it became more real to everybody, and people could place what it was going to be. He comes from an indie comedy world, so it was like, OK, this film is in the genre of that, now other agents know what actors to submit.
HtN: So that one choice led to the others.
LK: Yeah.
HtN: Well, congratulations on getting it made, and I wish you all the best with it.
– Christopher Llewellyn Reed (@ChrisReedFilm)